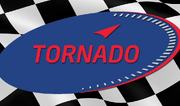 Overview
TornadoF1 are a team that have been in FF1M since the 2002 season. They are managed by Tobias and are notable for winning the constructor's championship on their first attempt and winning another three up to the 2013 FF1M Season . They have taken a total of 35 wins in the Management era plus an extra 5 from the Retro era.
History
FF1M
Tornado entered their first season with Ferrari engines and FF2M champions Ricardo Zonta and Juan-Pablo Montoya spearheading their assault on the Championship. Even with such a strong combination it may have been a surprise to see Montoya taking their first win in only their 5th race. Everything looked good after the German Grand Prix when Montoya looked on course to overtake Fernando Alonso for the championship lead. But his luck took a massive nose-dive; 5 retirements in the final 5 races spelled the end of his championship challenge. The constructor's championship was a different story. Their race in Canada was the turning point with Zonta's first win, taking a championship lead that Tornado wouldn't lose, despite a stern challenge from Dark Wolf towards the end.
Tornado kept Montoya for the 2003 season, but Zonta was dropped in favour Canadian Jacques Villeneuve, fresh from Ajay Motorsport's withdrawal from the series. Compared to last season though, Tornado's season was a disaster. Montoya and Villeneuve managed to score just one podium each on Tornado's way to 7th in the championship.
All was changed for 2004 with an all British line-up of David Coulthard and Jenson Button. Tornado also kept the Renault engine with plans of a turbo midway through the season. The first half of the season turned out to be a disaster due to the lack of Turbo where they only scored 4 points. Once Tornado had finally researched the Turbo, they became much more competitive where Button took poles at Hockenheim and Interlagos. Although Tornado gained a considerable amount of Power, they also gained a fair amount of Unreliability and as a result, they lost several chances to get either car on the podium which ultimately left them in last place in the constructors after Spa. From Monza onwards though, things turned much better for the team as an improvement on Reliability saw them able to achieve strong results. Particularly at Monza where both cars were running 1-2 with 10 laps to go only to be pipped by a 2-3 when FJR's Jarno Trulli made a last gasp effort when he caught both cars and overtook Coulthard on the final lap to rob Tornado of achieving their first ever 1-2. With both cars consistantly scoring points in the final several races. Tornado had leaped from 11th (last) all the way to 6th and also beating Gui Racing. If Tornado had a reliable Turbo right from the start of the season, then they may have challenged for the title and scored a few number of victories.
The whole team remained the same for 2005 with both Jenson Button and David Coulthard retained along with the V10 Renault Turbo. Initially, the season was looking bright for them after their strong finish to last season and having their Own Car close to being researched but it turned out to be a complete nightmare of a season for the team. Despite a solid start to the season, Tornado would only go on to score just 7 points throughout the year which turned out to be enough to plummet them all the way down in last place. This led to question marks as to whether team boss Tobias was commited at continuing with FF1M as he admitted there was 'no more joy' there anymore. 2005 had to be described as being Tornado's 'worst ever season.' 
For 2006, the team had decided to ditch their Renault Turbos and keep Jenson Button but Coulthard was dropped in favour of German Nick Heidfeld who was also on a two-year-deal. 2006 was more or less a development season for the team as they were researching CFD that would double the amount of grip earned through testing. Much like 2004 though, there were many opportunities for strong results that were vanished due to Unreliability or just plain bad luck, particularly with Button who also delivered the most out of the car. There were a couple of strong results for the team though. Including Heidfeld setting the fastest lap in the race at Monza and Button's superb podium finish at Suzuka after making such a strong start. Overall, it was not a bad season for Tornado as they also managed to qualify for every race after the new Q1 was introduced. However, after Heidfeld's underachievement, Tobias decided to release him from his 2-year contract.
2007 saw Mark Webber and Giorgio Pantano driving for team and keeping the Mercedes V8 engine which was now on a two-year deal. It turned out to be a much more competitive and consistant year for the team that saw the team clinch 4th in both championships and also their first victory since 2002 that was achieved by Pantano at Singapore after both Hamilton and Vettel retired along with a great overtake for the lead on former Tornado driver, Jenson Button in the Shannon. What was also remarkable about this win was that Pantano had only qualified 16th and on a street circuit. However, even though Webber was the slightly quicker driver, he had really bad luck throughout the season after losing atleast 5 other chances of getting a podium finish where he only got one podium finish at Suzuka compared with Pantano's 6. Webber's season was also plagued by Shake n' Bake's Gianmaria Bruni compromised him in atleast 3 out of the first 7 races. Most notably at Montreal after Bruni went off track, Webber was approaching to lap the Shake n' Bake until Bruni carelessly rejoined in the path of Webber and both collided. This caused the Aussie to crash out in the barrier after a podium was in reach but the Italian carried on with no damage what-so-ever. This made team boss Tobias very angry about Bruni and hired Liam Neeson to "take care of the subject." It ended with Bruni, disguising as a burly black man. having his face smashed in by Liam who was not to be fooled and this left Bruni him no option but to retire from FF1M due to his horrific facial injuries. Despite all this, it was Tornado's best season since 2002 if not dramatic.
The 2008 season saw Jenson Button returning to the team partnering Giorgio Pantano along with the return of the blue Gauloises livery. The first few races saw Button take 2 opening victories but was soon followed by 3 consecutive DNF's. Engine faliure at Imola, crashing out at Valencia and then a collision with FJR's Fernando Alonso at Nurburgring. Whilst Jenson had crashed out very early in the race at Valencia, Pantano was able to capitalise on his team-mates error and took his first and only victory of the season. Nurburgring was by far the worst race of the year for the team as both drivers retired due to collisions with other drivers. Button had absolutely needed to get some consistancy at Monaco and responded with aveangeance when he lapped the entire field, Pantano was running in 2nd before a mechanical faliure occured with only 3 laps to go that robbed Tornado of their first 1-2. Canada was dissapointing for them with Jenson having to pit very early in the race and only able to finish 5th despite qualifying on pole whilst Pantano had crashed out at the wall of champions. Austria saw a solid result for the team despite Gui Racing gaining more points with Kubica winning and Button getting a poor start from pole. Button got another pole position, this time at his home grand prix at Silverstone and although despite another poor start, he drove the race of his life after catching Alonso in the FJR when his engine failed along with catching and passing the other Tornado of Pantano on the final lap that finally saw the team clinch their first ever 1-2. Hockenheim could be described as a turning point in the season after both Gui Racings controversially collided and both retired. This should have been the race where Gui Racing would have built a much bigger lead on Tornado after Button was having a right mess of a race but this was not to be and then another double DNF would follow for Gui Racing at the Hungaroring. This meant that the team had gained 32 points on Gui Racing in just 3 races that inevitabley resulted in Button and Tornado taking the lead in both championships that they would not lose. Further victories followed for the team at Monza and Interlagos, both coming from Button. Although the winning rate lessened in the 2nd half of the season, the consistancy picked up as Jenson finished in the top 5 for 10 consecutive races starting at Monaco all the way to Abu Dhabi where he finally won the title after Klien, for Gui Racing, needed to finish 5th or higher since Button finished 2nd but could only manage 6th, therefore handing the title to Jenson with 2 races to spare. The constructors title was won a race later at Suzuka, despite a double DNF although Gui Racing struggled and could only manage a single point that gave Tornado their 3rd constructors championship and their 2nd drivers since the classic 1986 season where Alain Prost won in a Brabham BMW chassis. The team clinched 7 victories, 7 poles, 15 podiums and 182 points that was the highest points tally in one season for a team in FF1M excluding the masters era.
2009 saw Kimi Raikkonen partner reigning champion Jenson Button and sticking with the Mercedes V8 engine for a 4th consecutive season. It was a strong season overall for both drivers, scoring a total of 7 wins, but they were no match for Lewis Hamilton and the turbo engined Shake 'n Bake, and had to settle for 2nd.
Kimi Raikkonen was maintained for the 2010 season, but he had a new teammate in the form of Spaniard Fernando Alonso, who had to endure a tricky 2009 with Ajay Motorsports. He was on top form however, taking 3 wins in the first 6 races and even sharing the championship lead with Lewis Hamilton at the halfway point of the season. However, failing to finish the final four races prevented him from maintaining the championship challenge, but luckily for Tornado, Kimi Raikkonen was on hand to secure Tornado's 3rd constructors championship, and their 2nd in two seasons.
Hopes were high for the 2011 season, with Fernando Alonso being joined by Mark Webber, who won the final race of 2010 with the LeBlanc team. Mercedes were once again on hand for the 6th season in a row to supply Works engines for the team. Alonso was determined to win the drivers championship for the first time since 2002 when he drove for MRD, and he achieved his long awaited goal in part thanks to a very strong middle part of the season. Tornado were on course to being the first team to defend the constructors championship since Gui Racing all the way back in the 1999 and 2000 seasons, but thanks to Lewis Hamilton and the Pedersen team, they lost out by a mere 2 points.
For the 2012 season, the team took on the services of Lewis Hamilton and Daniel Ricciardo. Going into 2012, Tornado were seen as the favourites. This was mainly thanks to what was arguably the strongest driver lineup on the grid in a time where there was very level playing field amongst the teams. Despite only being a customer team, Tornado would go onto to rack up 7 race wins across the season and almost 200 points. This would in the end comfortably lead the team to their 4th constructors title in the mainstream series (5th including the classic FF1M of the 1986 season). Five wins for Hamilton resulted in him to clinch his 3rd world drivers championship and 35 points clear of teammate Ricciardo. Ricciardo in only his second full time FF1M season achieved two race wins in Silverstone and Hungaroring after a very impressive season in which he finished 2nd position in the standings by just one point over Nico Rosberg as well as two points ahead of Fernando Alonso. Both of which were in works engine machinery. Although Tornado were not as quick in qualifying trim as their Ferrari works counterparts SCM, they had a noticebly more superior car in race trim thanks to the qualifying power deficit being neutralised on race day. 
2013 will mark another new driver lineup, an all French affair. Acquiring the services of Romain Grosjean and Jean-Eric Vergne, the French duo will be hungry to win their first FF1M races with the reigning champions. Tornado will also be looking to defend the constructors title in what promises to be a fascinating season.
Retro FF1M
Classic
Tornado also competes in the Classic FF1M seasons. The first season, labelled as 1986, ran over 10 races as Tornado signed up Alain Prost and Stefan Johansson to drive the Brabham-BMW. Despite Prost not scoring any points in the first three races, he was in his stride for the next seven, winning five of the races and with it, both championships.
Tornado were unable to defend either championship for the following season however, as Nigel Mansell could only manage 20 points, while Rene Arnoux couldn't even manage 1!
1950
Tornado has also raced in the 1950 FF1M race at Silverstone as part of the 250th race celebration. Juan Manuel Fangio and Reg Parnell drove for the team using the Gordini chassis. Both drivers finished in the top eight with Fangio finishing in 5th place, scoring 2 points in the process.
Results
Year
Chassis/Engine
Ch. Pos
Races
Points
Wins
Drivers
Ch. Pos
Races
Points
Wins
1950
Gordini
4th
1
2
Juan Manuel Fangio
5th
1
2
Reg Parnell
8th
1
0
1986

(C1)

Brabham/BMW
1st
10
52
5
Alain Prost
1st
10
51
5
Stefan Johansson
16th
10
1
1987 (C2)
Ford
7th
10
20
Nigel Mansell
6th
10
20
Rene Arnoux
NC
10
0
2002
Ferrari
1st
16
123
4
Juan Pablo Montoya
3rd
16
66
2
Ricardo Zonta
6th
16
57
2
2003
Renault
7th
16
43
Juan Pablo Montoya
14th
16
19
Jacques Villeneuve
11th
16
24
2004
Renault V10
6th
17
48
David Coulthard
14th
17
18
Jenson Button
9th
17
30
2005
Renault V10
11th
17
7
David Coulthard
23rd
17
1
Jenson Button
20th
17
6
2006
Mercedes V8
8th
17
25
Jenson Button
13th
17
19
Nick Heidfeld
20th
17
6
2007
Mercedes V8
4th
17
82
1
Mark Webber
13th
17
18
Giorgio Pantano
4th
17
64
1
2008
Mercedes V8
1st
17
182
7
Jenson Button
1st
17
116
6
Giorgio Pantano
6th
17
66
1
2009
Mercedes V8
2nd
18
168
7
Jenson Button
4th
18
66
4
Kimi Raikkonen
2nd
18
102
3
2010
Mercedes V8
1st
18
138
6
Kimi Raikkonen
3rd
18
64
2
Fernando Alonso
2nd
18
74
4
2011
Mercedes V8 (W)
2nd
17
120
3
Fernando Alonso
1st
17
87
3
Mark Webber
10th
17
33
2012
Ferrari (C)
1st
17
199
7
Lewis Hamilton
1st
17
117
5
Daniel Ricciardo
2nd
17
82
2
2013*
Ferrari (C)
 Romain Grosjean
Jean-Eric Vergne
FF2M
Tornado Motorsport also runs an FF2M team, unconventionally known as the Spaniel team. They have raced since the 2002 season.
Season
Engine
Ch. Pos
Races
Points
Wins
Drivers
Ch. Pos
Races
Points
Wins
2002
Renault
5th
12
63
Franck Montagny
9th
12
34
Stephane Sarrazin
11th
12
29
2003
Renault
4th
12
73
Franck Montagny
4th
12
51
Neel Jani
10th
12
22
2004 (Asia)
Mecachrome
1st
8
123
2
Franck Montagny
1st
8
66
1
Ricardo Zonta
3rd
8
57
1
2004 (Europe)
Mecachrome
1st
8
70
3
Franck Montagny
6th
8
35
1
Ricardo Zonta
5th
8
35
2
Community content is available under
CC-BY-SA
unless otherwise noted.