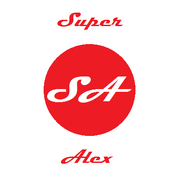 Super Alex were a team that competed during the Masters era of FF1M. They entered three seasons between 1992 and 1994, and nearly caused one of the biggest shocks in FF1M history when David Coulthard almost pinched the drivers championship.
FF1M History
1992
Super Alex's first season was 1992 when they replaced the departing Aracing. They had a preference for things Japanese with the Footwork chassis, Honda engines, and Takuma Sato as their lead driver. Their first points came in round 8, where their second driver David Coulthard took 6th place. Four more points finishes put them 9th in the constructors championship ahead of the established Willow Images and Ajay.
1993
The line-up was almost identical for the following season save for the departure of Honda and the arrival of their subdivision, Mugen. Their stable approach to the regulations and driver market allowed Takuma Sato to take a very commendable 5th place at the first race in South Africa, which he then followed up with an 8th in Brazil.
David Coulthard however, would go quite a few better than that. Despite retiring from the first three races of the season, Coulthard took Super Alex's first ever podium finish at Imola, which was then followed by another 2nd at Barcelona. At the British GP at Silverstone, he took yet another 2nd in front of his home crowd. After this race, DC amassed 28 points, at this point, 22 behind championship leader Fernando Alonso.
Drivers Championship with six races to go
| Positions | Driver | Constructor | Points | Wins |
| --- | --- | --- | --- | --- |
| 1st | Fernando Alonso | Maestro Motorsport | 50 | 3 |
| 2nd | Lewis Hamilton | Maestro Motorsport | 38 | 1 |
| 3rd | Ayrton Senna | Gui Racing | 32 | 1 |
| 4th | Alain Prost | J Racing | 30 | 1 |
| 5th | David Coulthard | Super Alex | 28 | 0 |
Although Super Alex's qualifying wasn't particularly spectacular, they made up for that in race pace, and in Monza and Suzuka, Coulthard took two unbelievable wins, both from outside the top ten on the grid. Thanks to some sloppy performances from championship leader Alonso, Coulthard arrived into the final race just one point behind the Spaniard. One more good race could give Super Alex an unlikely and sensational first championship.
Drivers Championship with one race to go
| Position | Driver | Constructor | Points | Wins |
| --- | --- | --- | --- | --- |
| 1st | Fernando Alonso | Maestro Motorsport | 62 | 3 |
| 2nd | David Coulthard | Super Alex | 61 | 2 |
| 3rd | Ayrton Senna | Gui Racing | 55 | 2 |
Unfortunately for Coulthard, he qualified way down in 20th place for the final race of the season, and retired during the race, ending Super Alex's hopes of the drivers championship. Nevertheless, it had been a brilliant season which netted the team 5th in the constructors championship, only nine points behind 2nd placed Gui Racing.
1994
A lot had changed for the 1994 season as both Coulthard and Mugen left the team to join FJR. In their places were Martin Brundle and works Ford engines. Unfortunately, their season was an unmitigated disaster with just one point from the whole season, which came at the Italian GP courtesy of Takuma Sato. By the start of the following season, Super Alex were no more.
Results and Statistics
Year
Chassis-Engine
Ch. Pos
Races
Points
Wins
Drivers
Ch. Pos
Races
Points
Wins
Season 5
Footwork-Honda
9th
16
9
 Takuma Sato
17th
16
3
 David Coulthard
16th
16
6
Season 6
Footwork-Mugen
5th
16
78
2
 Takuma Sato
14th
16
17
 David Coulthard
3rd
16
61
2
Season 7
Footwork-Ford
11th
16
1
 Takuma Sato
20th
16
1
 Martin Brundle
21st
16
0