The 1995 Masters season was the eighth and final season of FF1M under the Masters era, and it saw Fernando Alonso and Gui Racing win the drivers and constructors championship.
The season is known for the first seasons of Super Dodgy and Sean Connery Racing, both essentially B-Teams created by Dodgem and Gui Racing in order to fill the grid. To date, this is Super Dodgy's only season in FF1M, while Sean Connery Racing took over the Gui Racing name for the 2012 season. The season is also notable for the absence of Pedersen, their only season out of FF1M, and also the final victory for Exolite/J Racing.
Teams and Drivers
Team
Engine
No.
Drivers
 AquinoPlus
Renault
0
Mika Hakkinen
2
Nigel Mansell
 Gui Racing
Renault (Works)
3
Nico Rosberg
4
Fernando Alonso
Maestro Motorsport
Renault (Works)
5
Lewis Hamilton
6
Kimi Raikkonen
J Racing
Mugen Honda
7
Jenson Button
8
Jacques Villeneuve
FJR
Ferrari (Works)
9
Michael Schumacher
10
Jean Alesi
Willow Images
Mugen Honda
11
Juan Pablo Montoya
12
Felipe Massa
Dodgem
Mercedes (Works)
14
Gerhard Berger
15
Damon Hill
 Sean Connery Racing
Ford (Works)
16
Karl Wendlinger
17
 Luca Badoer
Super Dodgy
Ferrari
18
Mika Salo
19
Mark Blundell
Ajay Motorsports
Ford (Works)
20
Ukyo Katayama
21
 Jan Magnussen
VTR
Mercedes
22
Eddie Irvine
23
David Coulthard
Results and Standings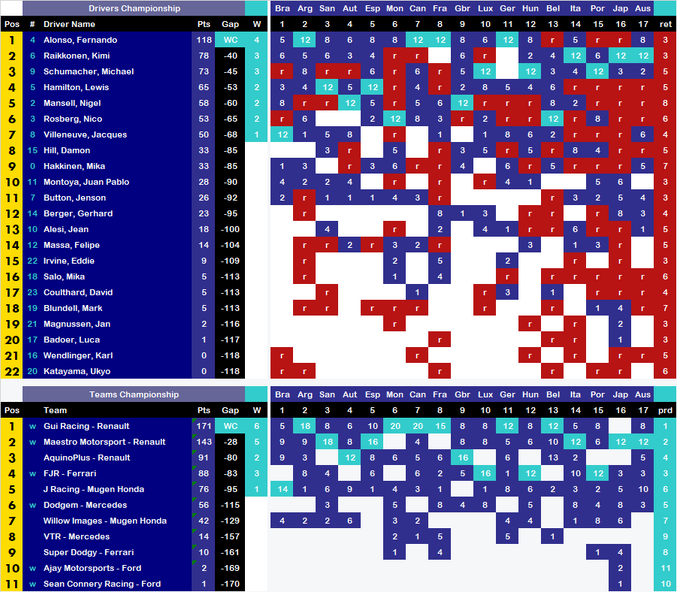 Community content is available under
CC-BY-SA
unless otherwise noted.