Masters Season 6 was the sixth season of FF1M. Although previously called the 1993 FF1M Season, it did not contain drivers solely from that year, being run at the time as a Masters event. However the series followed the Formula 1 Calendar of that year and teams used liveries and engines from that year.
The Drivers Championship was won by Fernando Alonso for the second season in succession after a tight battle with Ayrton Senna and David Coulthard at the final race, whilst Maestro Motorsport won the Teams Championship for the third and last time.
Teams and Drivers
Entry List
Team
Chassis
Engine
No.
Race Drivers
Test Driver/s
Maestro Motorsport
Lotus
Ferrari (Works)
1
Fernando Alonso
2
Lewis Hamilton
M-Sport
Ferrari
Mugen
3

Jacques Villeneuve

4

Juan-Pablo Montoya

FJR
Williams
Renault (Works)
5

Jean Alesi

6

Felipe Massa

Gui Racing
Tyrrell
Renault (Works)
7
Ayrton Senna
8
Timo Glock
Dodgem
Sauber
Ford (Works)
9
Nigel Mansell
10
Martin Brundle
Pedersen
Ligier
Mugen
11

Damon Hill

12

Mika Hakkinen

AquinoPlus
Benetton
Ferrari
14
Jenson Button
15
Nico Rosberg
JRacing
McLaren
Ferrari
16
Alain Prost
17
Kimi Raikkonen
Super Alex
Footwork
Mugen
18

Takuma Sato

19

David Coulthard

Willow Images
Jordan
Ilmor (Works)
20
Heikki Kovalainen
21
Michael Schumacher
Ajay Motorsports
Minardi
Ford
22

Gerhard Berger

23

Rubens Barrichello
Season Review
Round 1 - South Africa
After the monumental success of the season before, Maestro Motorsport were keen to keep as identical a set-up as they could for this season with Fernando Alonso and Lewis Hamilton being retained. The only difference was that they were now running works Ferrari engines after Honda had pulled out as a manufacturer. Despite their engine swap, qualifying showed that they still had the edge as Alonso took pole position with Willow Images' Michael Schumacher alongside him on the front row.
The first race was a race of attrition as only eight cars finished. Alonso was one of those eight as he converted his first pole of the season into his first win of the season. Finishing 2nd was the Pedersen of Damon Hill, while AquinoPlus' Jenson Button avoided the unreliability to go from 11th on the grid to finish 3rd.
Round 2 - Brazil
Fernando Alonso's pole position in South Africa was Maestro Motorsport's tenth pole position in a row, at the time, a record in FF1M. In Brazil, the streak finally ended thanks to Michael Schumacher, who took Willow Images' first pole position since Season 1. In fact, both Maestro drivers occupied row two as Alain Prost qualified 2nd for J Racing (Exolite but with a different name).
The race wasn't quite as attritional as Kyalami, but half the grid still didn't make the finish, including Schumacher and Alonso. Taking his first win since becoming champion for the second time was Alain Prost, and it was J Racing's first win since Season 4. Lewis Hamilton opened up his season with 2nd, while Jean Alesi finished 3rd. Alesi's drive was particularly impressive from 20th on the grid, but a shortage of engine power during qualifying was hindering FJR's campaign.
Round 3 - Europe
For the first time in FF1M history, there were two British races on the calendar as Donington Park hosted the third round of Season 6. Fernando Alonso was back on form after his race retirement at Interlagos as he beat Michael Schumacher to pole position, while it was an all Finnish second row with Mika Hakkinen in front of Heikki Kovalainen.
In the race, the top four on the grid were usurped by the driver who started 5th, as M-Sport's Jacques Villeneuve took his first FF1M win since the Spanish Grand Prix of Season 2. Alonso's 2nd place moved him into the championship lead, just three points ahead of the Canadian. Finishing in 3rd and opening his points tally for the season was Ayrton Senna, who had suffered two race retirements in the first two races.
Round 4 - San Marino
The final race of the first quarter took place at Imola for the San Marino Grand Prix, but sadly for the Italians, they wouldn't have any drivers to cheer on. Instead they would have to cheer on three Italian-engined teams and one team using a Ferrari livery. The good news for Italians was that six of its eight drivers took the top six places on the grid, with Maestro locking out the front row.
The first three races saw three different winners, and Imola, the fourth race, saw a fourth different winner in the form of Lewis Hamilton. With polesitter Fernando Alonso failing to finish, this moved the Brit into the championship lead by four points. Taking 2nd in the race, but more importantly the team's first ever podium finish was David Coulthard for Super Alex. It was DC's first podium as well, and it was a particularly impressive one coming from 12th on the grid. Finishing in 3rd was another driver who took his first ever FF1M podium, Nico Rosberg for AquinoPlus.
Drivers Championship
| Position | Driver | Team | Points |
| --- | --- | --- | --- |
| 1st | Lewis Hamilton | Maestro Motorsport | 24 |
| 2nd | Fernando Alonso | Maestro Motorsport | 20 |
| 3rd | Jacques Villeneuve | M-Sport | 17 |
Constructors Championship
| Position | Team | Points |
| --- | --- | --- |
| 1st | Maestro Motorsport | 44 |
| 2nd | AquinoPlus | 23 |
| 3rd | M-Sport | 22 |
Round 5 - Spain
At this stage in the championship, all drivers had remarkably scored at least one point, except for Kimi Raikkonen, who had three retirements and a finish outside of the points at Donington. This was despite qualifying in the top ten on three occasions. He made it a fourth with 8th on the grid at Barcelona, while Michael Schumacher took his second pole position of the season, just ahead of home hero Fernando Alonso.
Like his other pole position of the season, Schumacher was unable to capitalise on it as he suffered his third retirement of the season. In his previous four attempts at Barcelona, Alonso's only finish was a 4th place in Season 4. This time around, he finally broke his Catalunyan jinx by taking his second win of the season. Taking his second 2nd place in a row was David Coulthard, while the same applied to 3rd-placed Nico Rosberg. Elsewhere, Raikkonen finished 5th which meant that remarkably, all drivers had scored points.
Round 6 - Monaco
The previous four races at Monaco have been won by four different drivers from four different teams. None of those four winners were Fernando Alonso, and keen to alter this statistic, he took pole position ahead of Michael Schumacher. Despite their podium finishes in the previous two races, David Coulthard and Nico Rosberg weren't particularly suited to the circuit as they shared the eighth row.
The race saw Fernando Alonso finally break his Monaco duck by dominating to his third win of the season, extending his championship lead in the process. J Racing's Alain Prost and Gui Racing's Ayrton Senna took their second podium finishes of the season, while Michael Schumacher once again suffered a retirement.
Round 7 - Canada
The championship made its only visit to North America of the season for the Canadian Grand Prix, and at this point, qualifying had been the Alonso vs Schumacher show, with four poles for the Spaniard and two for the German. At the Circuit Gilles Villeneuve, it was the turn of Schumacher to qualify on pole, but he had the other Maestro of Lewis Hamilton alongside him on the front row instead.
The general pattern for the season was that although Schumacher would qualify somewhere up front thanks to the powerful qualifying engines Ferrari provided, only for the Willow Images driver to fade during the race. This time around, Schumacher's race engine was more than gutsy enough to be able to challenge for the win, and he grasped at the opportunity brilliantly to take his first win since the Japanese Grand Prix of Season 3 and Willow Images' first since the German Grand Prix of Season 1. The two Maestro drivers were 2nd and 3rd with Hamilton ahead of Alonso.
Round 8 - France
For the first time this season, neither Michael Schumacher nor Fernando Alonso were on pole position. Instead, it went to Lewis Hamilton, who took his first pole of the season, and his first since Japan last season. The two French drivers on the grid had differing fortunes with Alain Prost up in 4th and Jean Alesi down in 18th for the struggling FJR.
Hamilton wasn't able to capitalise on his pole position as he faded during the race to finish down in 6th… never mind, could be worse… Alonso didn't even make the finish. Instead, it was Mika Hakkinen who took his first win of the season and Pedersen's first since the European Grand Prix of Season 4. The podium was completed by Ayrton Senna and Jacques Villeneuve.
Drivers Championship
| Position | Driver | Team | Points |
| --- | --- | --- | --- |
| 1st | Fernando Alonso | Maestro Motorsport | 50 |
| 2nd | Lewis Hamilton | Maestro Motorsport | 38 |
| 3rd | Jacques Villeneuve | M-Sport | 26 |
Constructors Championship
| Position | Team | Points |
| --- | --- | --- |
| 1st | Maestro Motorsport | 88 |
| 2nd | Pedersen | 43 |
| 3rd | M-Sport | 35 |
Round 9 - Great Britain
FF1M made its annual pilgrimage to Silverstone for the British Grand Prix, and the fans had six drivers to cheer on. One of which, Lewis Hamilton, was very much in the championship hunt, and he showed a strong hand during qualifying with 3rd behind the Fernando Alonso and Michael Schumacher maelstrom. The next highest placed Brit on the grid was Damon Hill, who had qualified 5th.
Only a third of the British drivers finished the race, albeit in the points, but it was Ayrton Senna who took his first victory of the season for Gui Racing. Finishing 2nd after an unbelievable drive from 18th on the grid was Super Alex's David Coulthard, while Alain Prost came home 3rd. Nigel Mansell finished 8th, while Hamilton, Hill, Jenson Button, and Martin Brundle all retired, as did Alonso and Schumacher.
Round 10 - Germany
Having retired in five out of the first nine races, Michael Schumacher was hoping for better reliability at his home race. He very nearly delivered in qualifying as he secured his eighth front row start of the season, with Fernando Alonso on pole once again.
Hockenheim's long straights and low downforce set-up meant that reliability was very much at a premium with only ten finishers. The German crowd got their wish with a home win, but it wasn't the driver they were expecting. In what was a bit of an anomalous race with pretty much all championship contenders failing to finish, it was the Gui Racing of Timo Glock who took an unexpected win having not had a sniff of it all season. Finishing 2nd and taking his first podium of the season was M-Sport's Juan Pablo Montoya, while Nico Rosberg made it two Germans on the podium.
Round 11 - Hungary
After the somewhat bizarre German Grand Prix, almost normal service was resumed at the Hungaroring with Michael Schumacher on pole, but this time around, he was joined on the front row by Ayrton Senna. Championship leader Fernando Alonso was down in 5th, his worst qualifying of the season so far.
It didn't get any better for the Spaniard as he suffered his fourth retirement in a row. Although he still led the championship after Lewis Hamilton could only manage 5th, a different driver became Alonso's nearest challenger as Senna took his second win of the season and moved to within six points of the championship lead. Completing the podium were Schumacher and Damon Hill.
Round 12 - Belgium
After leading the championship quite convincing after Canada, things hadn't been going right for Fernando Alonso and as a result, his championship lead had been ebbed away to the point where another poor race could see him losing the top spot to the likes of Ayrton Senna and Lewis Hamilton. The Gui Racing driver had the momentum and outqualified Alonso to take 3rd behind Michael Schumacher and Alain Prost.
Things would go disastrous wrong for the polesitter as on lap 12, Schumacher and FJR's Felipe Massa collided at Blanchimont and both slammed into the barriers at unabated speed. Schumacher lost three wheels and a sidepod, while Massa's car briefly resembled a helicopter before crash-landing with one wheel missing. The scattered debris ripped off the front wings of Heikki Kovalainen and David Coulthard.
At this point, Senna was leading from Prost, but it wouldn't remain that way as the Brazilian suffered an ill-time retirement, leaving the way for Prost to take his second win of the season and move into championship contention. Jacques Villeneuve put in a strong drive from 13th on the grid to finish 2nd, while the other J Racing of Kimi Raikkonen took 3rd and his first podium of the season. Despite his smashed front wing, DC finished 4th, one place ahead of Alonso, who seemed happy to finally score points again, especially after the retirements of his teammate and Senna.
The drivers championship was still wide open as with 48 points on offer, even 18th-placed Takuma Sato could mathematically win the championship, but realistically, it was between the top five drivers.
Drivers Championship
| Position | Driver | Team | Points |
| --- | --- | --- | --- |
| 1st | Fernando Alonso | Maestro Motorsport | 54 |
| 2nd | Ayrton Senna | Gui Racing | 44 |
| 3rd | Alain Prost | J Racing | 42 |
| 4th | Lewis Hamilton | Maestro Motorsport | 42 |
| 5th | Jacques Villeneuve | M-Sport | 39 |
| 6th | David Coulthard | Super Alex | 33 |
| 7th | Michael Schumacher | Willow Images | 31 |
Constructors Championship
| Position | Team | Points |
| --- | --- | --- |
| 1st | Maestro Motorsport | 96 |
| 2nd | M-Sport | 66 |
| 3rd | Gui Racing | 64 |
Round 13 - Italy
Monza was next on the calendar, which meant that once again, the Italians could cheer on their respective engines and car livery. They got their wish with the Ferrari-engined Fernando Alonso returning to form with pole position ahead of his teammate Lewis Hamilton. The highest placed thing that wasn't Ferrari-related was Pedersen's Damon Hill in 6th place.
The race at the super high speed Monza circuit often throws up a strange race, much like Hockenheim, its German big brother, and this season in particular was no exception as nobody expected David Coulthard to charge his way through the field and take a brilliant first win for himself and for Super Alex despite starting 14th on the grid.
Ayrton Senna's rise from 13th to 2nd was just as impressive, and crucially for him, Alonso once again failed to finish, while Pedersen's Mika Hakkinen finished 3rd. With Hamilton 4th and Alain Prost 5th, the championship tightened up even more with leader Alonso and 5th-placed Coulthard separated by just nine points.
Controversy of an unusual kind then occurred post-race as J Racing's five points earned in this race had actually been added to M-Sport's total. An investigation was launched and it transpired that M-Sport's points tally was actually correct as the five points they earned from the Spanish Grand Prix had mysteriously vanished, so the AFIA took no action, much to the chagrin of J Racing. Ultimately, it made no difference to the final standings, but nevertheless, the points totals were amended after an internal audit was launched once the 2013 season had concluded.
Round 14 - Portugal
Thanks to Ayrton Senna's 2nd place at Monza, he was now within striking distance of the floundering Fernando Alonso. However, qualifying went badly for the Brazilian as he could only manage 12th, while Alonso took his eighth pole position of the season. With many ravenous drivers snapping away at his heels, the Maestro driver badly needed a good result…
…and that was exactly was the Spaniard didn't get. Rather than suffering another retirement, Alonso had a terrible race as he finished outside of the points. Worse than that, he found himself not leading the championship for the first time since the San Marino Grand Prix as Senna finished 6th and moved into the lead by a single point. The race was won by Pedersen's Mika Hakkinen, who all of a sudden became an outside shot of the drivers championship. Completing the podium were Jacques Villeneuve and Juan Pablo Montoya.
Drivers Championship
| Position | Driver | Team | Points |
| --- | --- | --- | --- |
| 1st | Ayrton Senna | Gui Racing | 55 |
| 2nd | Fernando Alonso | Maestro Motorsport | 54 |
| 3rd | David Coulthard | Super Alex | 49 |
| 4th | Lewis Hamilton | Maestro Motorsport | 49 |
| 5th | Jacques Villeneuve | M-Sport | 47 |
| 6th | Alain Prost | J Racing | 46 |
| 7th | Mika Hakkinen | Pedersen | 42 |
Round 15 - Japan
With the top seven separated by just 13 points with 24 on offer, the drivers championship was anyone's guess. It wasn't quite as tight in the constructors championship. In fact, Maestro Motorsport could afford to give away two points to M-Sport at Suzuka and be crowned champions such was their lead. It started off well for them as Lewis Hamilton took only his second pole position of the season with Michael Schumacher and Fernando Alonso following suit.
As has been the case for quite a few races this season, the race was an attritional frenzy and provided yet another unexpected result. Although he qualified down in 11th, David Coulthard got his race set-up absolutely spot on as he charged his way through the field to take his second win of the season. As for the other championship rivals, only Alonso finished, and it was a very useful 2nd place to move him back into the championship lead, albeit by just a single point from DC. Not only that, but with M-Sport, Gui Racing, and Pedersen failing to score, this gave Maestro their third constructors championship in a row. Meanwhile, Schumacher came home in 3rd place.
Round 16 - Australia
The final race of the season at Adelaide saw its fourth consecutive championship showdown and one that had the potential to produce one of the biggest shocks in FF1M history. Although Fernando Alonso led the championship, his nearest challenger was, unexpectedly, the Super Alex of David Coulthard, while Ayrton Senna was a further six points behind. Although Maestro and Gui Racing had the advantage in qualifying, Super Alex had arguably the best race car, and one more good race could seal an amazing championship win for DC.
None of the three championship contenders qualified on pole, that honour went to Michael Schumacher. Senna was the in the best shape with 4th, Alonso was two places further back in what was his worst qualifying of the season… never mind, could be worse… DC was down in 20th. He would need Super Alex's superior race-pace the most for the race.
Unfortunately for DC, he retired early from the race leaving Senna and Alonso to battle it out for the championship. Although Senna had perfect race to take the win, it ended up being a bittersweet result as Alonso finished 3rd, which was enough for him to win the championship by a single point. Considering his mid-season slump, Alonso could consider himself fortunate to have still won the championship. Sandwiching the two championship protagonists in the race was Lewis Hamilton.
Results and Standings
Race by Race
| Rnd | Grand Prix | Circuit | 1st | 2nd | 3nd | |
| --- | --- | --- | --- | --- | --- | --- |
| 1 | South Africa | Kyalami | Fernando Alonso (Maestro Motorsport) | Damon Hill (Pedersen) | Jenson Button (AquinoPlus) | |
| 2 | Brazil | Interlagos | Alain Prost (JRacing) | Lewis Hamilton (Maestro Motorsport) | Jean Alesi (FJR) | |
| 3 | Europe | Donington Park | Jacques Villeneuve (M-Sport) | Fernando Alonso (Maestro Motorsport) | Ayrton Senna (Gui Racing) | |
| 4 | San Marino | Imola | Lewis Hamilton (Maestro Motorsport) | David Coulthard (Super Alex) | Nico Rosberg (AquinoPlus) | |
| 5 | Spain | Barcelona | Fernando Alonso (Maestro Motorsport) | David Coulthard (Super Alex) | Nico Rosberg (AquinoPlus) | |
| 6 | Monaco | Monte Carlo | Fernando Alonso (Maestro Motorsport) | Alain Prost (JRacing) | Ayrton Senna (Gui Racing) | |
| 7 | Canada | Montreal | Michael Schumacher (Willow Images) | Lewis Hamilton (Maestro Motorsport) | Fernando Alonso (Maestro Motorsport) | |
| 8 | France | Magny Cours | Mika Hakkinen (Pedersen) | Ayrton Senna (Gui Racing) | Jacques Villeneuve (M-Sport) | |
| 9 | Great Britain | Silverstone | Ayrton Senna (Gui Racing) | David Coulthard (Super Alex) | Alain Prost (JRacing) | |
| 10 | Germany | Hockenheim | Timo Glock (Gui Racing) | Juan Pablo Montoya (M-Sport) | Nico Rosberg (AquinoPlus) | |
| 11 | Hungary | Hungaroring | Ayrton Senna (Gui Racing) | Michael Schumacher (Willow Images) | Damon Hill (Pedersen) | |
| 12 | Belgium | Spa | Alain Prost (JRacing) | Jacques Villeneuve (M-Sport) | Kimi Raikkonen (JRacing) | |
| 13 | Italy | Monza | David Coulthard (Super Alex) | Ayrton Senna (Gui Racing) | Mika Hakkinen (Pedersen) | |
| 14 | Portugal | Estoril | Mika Hakkinen (Pedersen) | Jacques Villeneuve (M-Sport) | Juan Pablo Montoya (M-Sport) | |
| 15 | Japan | Suzuka | David Coulthard (Super Alex) | Fernando Alonso (Maestro Motorsport) | Michael Schumacher (Willow Images) | |
| 16 | Australia | Adelaide | Ayrton Senna (Gui Racing) | Lewis Hamilton (Maestro Motorsport) | Fernando Alonso (Maestro Motorsport) | |
Drivers Championship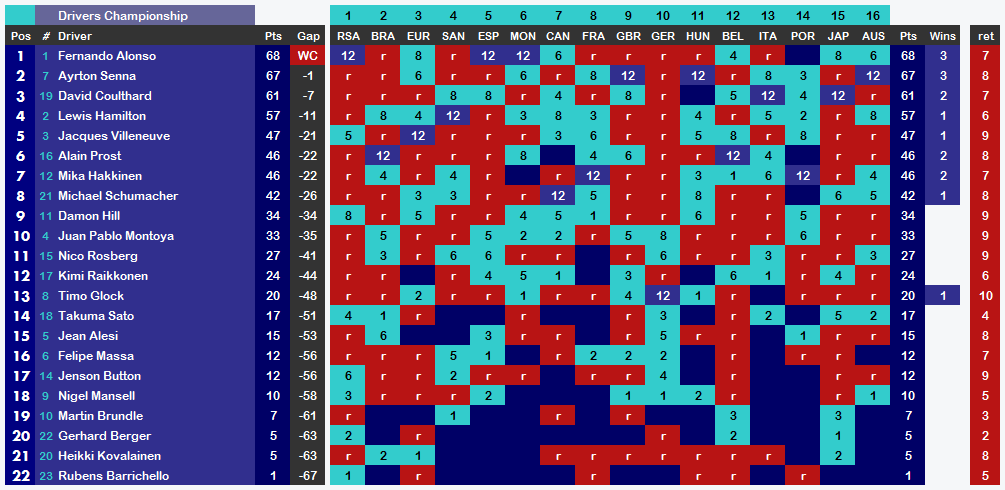 Teams Championship

Qualifying Positions