Masters Season 5 was the fifth season of FF1M. Although previously called the 1992 Season, it did not contain drivers solely from that year, being run at the time as a Masters event. However for the first time the series followed the Formula 1 Calendar of that year and for the second season, the teams used liveries from that year.
Both championships were dominated by the Maestro Motorsport team, scoring record numbers of wins and points in both the Drivers and Teams Championships. The Drivers Championship was won by Fernando Alonso, his first championship win.
Rule Changes
Calendar
From Season 5 onwards, all FF1M season calendars would follow the calendar from the year on which they were based as much as possible.
Engines
From Season 5 onwards, Engines were split into Works and Customer engines. The Works engine would gain the full effect of testing, whilst Customer engine's would only get half development from testing.
Also from now on only Engine Manufacturers from the year in which the season was based would be available. Engine Manufacturers would come and go just like they did in real life. As a result this seasons championship winning engine Honda would leave the sport at the end of the season.
Tyres
Goodyear's departure from FF1M left Bridgestone as the sole tyre supplier.
Teams and Drivers
Entry List
Team
Chassis
Engine
No.
Race Drivers
Test Driver/s
Dodgem
Brabham
Honda
1
Alain Prost
Riccardo Patrese
2
Jenson Button
Riccardo Patrese
Maestro Motorsport
Lotus
Honda (Works)
3
Fernando Alonso
4
Lewis Hamilton
AquinoPlus
Benetton
Renault
5
Jacques Villeneuve
6
Giancarlo Fisichella
Exolite
McLaren
Renault
7
Nigel Mansell
8
Gerhard Berger
FJR
Williams
Ilmor (Works)
9
Jean Alesi
10
Felipe Massa
M-Sport
Ferrari
Renault (Works)
11
Mika Hakkinen
12
Damon Hill
Pedersen
Ligier
Ferrari
14
Michael Schumacher
15
Kimi Raikkonen
Gui Racing
Tyrrell
Ferrari (Works)
16
Ayrton Senna

Luca Filippi


Nico Rosberg

17
Nico Rosberg
Luca Filippi
Willow Images
Jordan
Ferrari
18
Juan Montoya
Jarno Trulli
Jarno Trulli
19
Heikki Kovalainen
Ajay Motorsports
Minardi
Hart (Works)
20
Rubens Barrichello
21
Martin Brundle
Super Alex
Footwork
Honda
22
Takuma Sato
23
David Coulthard
Season Review
Round 1 - South Africa
Having driven for M-Sport and AquinoPlus for two seasons each, Fernando Alonso moved to current constructors champions Maestro Motorsport. A strong chassis and a very balanced Honda engine, plus a determined motivation after coming close in the previous two seasons, he was therefore billed as a pre-season favourite for the drivers championship.
For the first race at South Africa, he started 4th on the grid with Gui Racing's Ayrton Senna on pole position, but the Brazillian faded to 7th during the race, and it was indeed Alonso who took the win. Taking 2nd and 3rd were the two FJRs of Felipe Massa and Jean Alesi. It was a particularly impressive result for Massa who had last raced for Exolite back in Season 1 and hadn't even scored a point let alone a podium before this race.
Round 2 - Mexico
The South American double header of the season kicked off in Mexico, where Pedersen's Michael Schumacher took pole position. Having had a dreadful time the season before thanks to unreliability, this was just the boost he needed. Unfortunately, his plan to run light and disappear into the distance was ruined after the one-stopping Jean Alesi jumped him at the start and proved impossible to overtake despite Mexico's long main straight. 
In the end, Schumacher didn't finish the race while Alesi's one-stop strategy worked out perfectly as he took his second career win by more than 30 seconds. Perhaps the drive of the race came from AquinoPlus' Giancarlo Fisichella, who finished 2nd after starting way down in 17th. Finishing 3rd was Fernando Alonso.
Round 3 - Brazil
The ever popular Interlagos circuit played host to the third round of the championship, and the crowd were hoping for one of its three Brazilian drivers and two Brazilian teams to take the top step of the podium. It certainly started off well as Ayrton Senna used superior Ferrari qualifying engines to take pole position.
However, as was the case in South Africa, Ferrari's race engines were no match for the Honda powered Maestro Motorsport team, and Senna could only manage 4th. It looked as if Fernando Alonso would lead home a 1-2 finish, but on the final lap, his car's electrics suddenly failed at Junção and the car ground to a halt. This gifted Lewis Hamilton his first ever FF1M win, with M-Sport's Damon Hill finishing 2nd and Jean Alesi taking another podium finish and with it, the lead in the drivers championship.
Round 4 - Spain
After the crushing disappointment of his last-lap retirement in Brazil, Fernando Alonso was looking to put things right in front of his adoring fans, but it was Ayrton Senna who once again took pole position, with Alonso two places further back. With Jean Alesi starting down in 9th, it looked good for Alonso to take an enormous slice out of his championship lead.
Sadly for the Spaniard, he suffered another retirement, albeit much earlier in the race. Somewhat fortunately for Alonso, his teammate and Alesi also failed to finish the race. It was Damon Hill who put in an incredible drive from 15th on the grid to win. Making it a British 1-2 was the Exolite of Nigel Mansell, while the other M-Sport of Mika Hakkinen was 3rd. It was after this race when Gui Racing's second driver, Nico Rosberg, was sensationally dropped in favour of Luca Filippi for the rest of the season.
Drivers Championship
| Position | Drivers | Team | Points |
| --- | --- | --- | --- |
| 1st | Jean Alesi | FJR | 24 |
| 2nd | Damon Hill | M-Sport | 22 |
| 3rd | Fernando Alonso | Maestro Motorsport | 19 |
Constructors Championship
| Position | Team | Points |
| --- | --- | --- |
| 1st | Maestro Motorsport | 38 |
| 2nd | FJR | 36 |
| 3rd | M-Sport | 32 |
Round 5 - San Marino
The second quarter of the season began at Imola for the San Marino Grand Prix, and surprisingly, it was FJR's Jean Alesi who led the drivers championship thanks to three podium finishes in a row. He managed to split the two Maestro drivers in qualifying, with Fernando Alonso taking his first pole position of the season.
In the race, more unreliability cost the Spaniard another good result, and it was his teammate who took his second win of the season ahead of Alesi and Mika Hakkinen. With Damon Hill also failing to finish, Lewis Hamilton moved up to 2nd in the championship, just one point behind Alesi.
Round 6 - Monaco
Having been absent from the FF1M calendar in the previous season thanks to Zandvoort hosting a one-off race, Monaco made a welcome return, and it was Lewis Hamilton who carried his Imola form over and took his first ever FF1M pole position, with Michael Schumacher alongside him on the front row.
Although it wasn't exactly a race of attrition, those that were heading the championship failed to finish, including both Maestro drivers, Jean Alesi, and Damon Hill, and it was the M-Sport of Mika Hakkinen who won having started down in 8th. Schumacher managed to convert his front-row start into a 2nd place, while the consistent Ayrton Senna finished 3rd. Despite failing to finish, Alesi still clung on to the championship lead by single point, while FJR's lead in the constructors was just as slim from Maestro and M-Sport.
Round 7 - Canada
FF1M travelled to the Circuit Gilles Villeneuve for the Canadian Grand Prix, and the season's best qualifier so far, Ayrton Senna, took another pole position, his fourth of the season. The two Maestro drivers were 2nd and 3rd, while Jean Alesi was 5th.
Having suffered from poor reliability in the last four races, Fernando Alonso was finally back on the podium in the race. Not only that, but he was on the top step as well. Another championship contender, Damon Hill had another strong race to go from 9th to 2nd, while Lewis Hamilton finished 3rd and took the lead in the drivers championship. Although the FF1M circus didn't know it yet, this race would prove to be a major turning point in the championship.
Round 8 - France
Having won at Dijon during the previous season with AquinoPlus, Fernando Alonso was looking to make it back-to-back French Grand Prix wins on different circuits, and it started off well for him as he took his second pole position of the season with Michael Schumacher alongside him on the front row. The two home heroes, Alain Prost and Jean Alesi, shared the third row.
Both French drivers experienced contrasting fortunes in the race, as Jean Alesi suffered a retirement, while Alain Prost enjoyed a trouble-free race to finish 2nd, sandwiching the two Maestro drivers. It was Fernando Alonso who did indeed win his second French Grand Prix in a row, with his teammate Lewis Hamilton 3rd. The result put Maestro Motorsport in relatively firm control of both championships, and they looked hard to beat as well.
Drivers Championship
| Position | Drivers | Team | Points |
| --- | --- | --- | --- |
| 1st | Fernando Alonso | Maestro Motorsport | 43 |
| 2nd | Lewis Hamilton | Maestro Motorsport | 43 |
| 3rd | Damon Hill | M-Sport | 35 |
Constructors Championship
| Position | Team | Points |
| --- | --- | --- |
| 1st | Maestro Motorsport | 86 |
| 2nd | M-Sport | 72 |
| 3rd | FJR | 54 |
Round 9 - Great Britain
With Lewis Hamilton in a race winning and potentially championship winning car, the British crowd were very much expecting nothing short of perfection. In qualifying, Hamilton delivered, sending the Silverstone crowd into a minor frenzy. His teammate and main championship rival lined up alongside him on the front row.
The race saw an epic duel between the two Maestro drivers which eventually went the way of the Spaniard, much to the disappointment of Hamilton's adoring fans, but the Brit still finished 2nd, strengthening the team's position in the constructors championship. As for the other British drivers, Damon Hill and Jenson Button failed to finish, Martin Brundle finished outside of the points, Exolite's Nigel Mansell finished 7th, while David Coulthard was last of the points scorers for FF1M's newest team, Super Alex, who had scored their first points in the race before.
Round 10 - Germany
Maestro Motorsport had really hit their stride with three double podium finishes in a row and three wins in a row for Fernando Alonso, but they were far from finished as they secured their second front row lockout in a row with Alonso on pole position. They were followed by the two FJRs, with Felipe outqualifying his teammate for the first time this season.
Once again, the race was a Maestro domination as Alonso took his fourth win of the season, with Lewis Hamilton dutifully following him home. Both FJRs faded during the race, although their cars were reliable enough to finish in the points, and it was left to Damon Hill to finish 3rd. Home hero Michael Schumacher finished out of the points.
Round 11 - Hungary
From an ultra-fast circuit to an ultra-twisty one, and the Hungaroring located near the country's capital. Fernando Alonso took his fourth pole position of the season, but this time, he was joined on the front row by Nigel Mansell, who put in a sterling effort to outqualify the other Maestro of Lewis Hamilton.
In the race, Alonso took yet another win, his sixth of the season and at the time breaking the previous record of five wins in a single season. Remarkably, there were still five races to go! This was also his fifth win in a row, a record that remains unbeaten to this day. Although Mansell had qualified 2nd, it was different Brit who split the two Maestro drivers as Damon Hill finished 2nd. With Mansell 4th and David Coulthard 8th, 66% of Brits finished in the points.
Round 12 - Belgium
Having secured his maiden victory at Spa the season before, Jean Alesi was looking to make it two in a row, and in qualifying, he certainly put himself in contention with 5th on the grid alongside his teammate. Michael Schumacher and Ayrton Senna shared the second row, while the Maestro drivers assumed their now familiar place on the front row, with Fernando Alonso on pole position.
It looked good for Alonso to take his sixth win in a row, but unfortunately, he suffered his fourth retirement of the season, and it was Lewis Hamilton who took a significant chunk out of his teammate's championship lead. Completing the podium were the two FJRs, with Alesi in front of Massa.
Drivers Championship
| Position | Drivers | Team | Points |
| --- | --- | --- | --- |
| 1st | Fernando Alonso | Maestro Motorsport | 79 |
| 2nd | Lewis Hamilton | Maestro Motorsport | 77 |
| 3rd | Mika Hakkinen | M-Sport | 51 |
Constructors Championship
| Position | Team | Points |
| --- | --- | --- |
| 1st | Maestro Motorsport | 156 |
| 2nd | M-Sport | 100 |
| 3rd | FJR | 73 |
Round 13 - Italy
Such was the lead that Maestro Motorsport had in the constructors championship that they had the opportunity to clinch it in this race. They needed to score four more points than M-Sport in order to do so, and in qualifying, they secured yet another front row lockout, although it was Lewis Hamilton who took pole position this time around. One oddity was Felipe Massa, who had qualified last.
The was yet another Maestro massacre as Hamilton and Alonso battled for the win, with the Brit coming out on top. His win moved him ahead of Alonso in the drivers championship, and the 1-2 finish helped Maestro secure back-to-back constructors championships. Finishing 3rd was the super-consistent Ayrton Senna.
Round 14 - Portugal
The circus travelled to a circuit that was shamefully copied by Barcelona, but it still had plenty of Fernando Alonso supporters to encourage the Spaniard in his battle against Lewis Hamilton. The event also saw Dodgem's Jenson Button being replaced by Riccardo Patrese for the remainder of the season, as well as Willow Images' Jarno Trulli taking the place of Juan Pablo Montoya.
In qualifying, it was business as usual as both Maestro drivers locked out the front row, with Hamilton on pole. However, in an usual twist, neither driver finished the race, and it was Gui Racing's Ayrton Senna who finally broke the streak as he took his first win since the Canadian Grand Prix last season. Mika Hakkinen took 2nd, while Jean Alesi finished 3rd. The result left Hamilton and Alonso still separated by two points, a long way ahead of a ferocious battle for 3rd in the championship.
Drivers Championship
| Position | Driver | Team | Points |
| --- | --- | --- | --- |
| 3rd | Mika Hakkinen | M-Sport | 61 |
| 4th | Damon Hill | M-Sport | 57 |
| 5th | Ayrton Senna | Gui Racing | 55 |
| 6th | Jean Alesi | FJR | 51 |
| 7th | Alain Prost | Dodgem | 49 |
Round 15 - Japan
Even though the constructors championship had already been decided, the drivers championship was far from decided. Lewis Hamilton held a very slim upper hand over his teammate, and it perhaps because of this knowledge that gave Hamilton the edge in qualifying, with his fifth pole position of the season.
The two were set for their customary inter-team squabble in what was a crucial race. However, the pendulum swung dramatically in Alonso's favour when Hamilton suffered a retirement, and the Spaniard took full advantage of this by winning and moving ten points clear in the championship. Finishing 2nd and moving up to 3rd in the championship was Damon Hill, while Ayrton Senna finished 3rd, and moved to equal 4th with Mika Hakkinen.
Round 16 - Australia
It was back to one race in Australia per season as Adelaide played host to the final race of Season 5. The previous two visit had seen Fernando Alonso narrowly miss out on the championship to Alain Prost on both occasions. This time around, he had his teammate to worry about. Both drivers had five pole positions each going in the final qualifying session of the season, and it was Alonso who took his sixth as Maestro locked out the front row for the seventh time this season.
Being ten points behind, Lewis Hamilton needed to win with Alonso 8th or lower to snatch the championship, but in the race, the opposite happened, as Hamilton retired while Alonso took his eighth win of the season. Nevertheless, both drivers managed to score a total of 200 points, a record which stood until the 2009 season when Shake 'n' Bake scored 230 points, in part thanks to two extra races during that season.
Results and Standings
Race by Race
| Rnd | Grand Prix | Circuit | 1st | 2nd | 3nd | |
| --- | --- | --- | --- | --- | --- | --- |
| 1 | South Africa | Kyalami | Fernando Alonso (Maestro Motorsport) | Felipe Massa (FJR) | Jean Alesi (FJR) | |
| 2 | Mexico | Mexico City | Jean Alesi (FJR) | Giancarlo Fisichella (AquinoPlus) | Fernando Alonso (Maestro Motorsport) | |
| 3 | Brazil | Interlagos | Lewis Hamilton (Maestro Motorsport) | Damon Hill (M-Sport) | Jean Alesi (FJR) | |
| 4 | Spain | Barcelona | Damon Hill (M-Sport) | Nigel Mansell (Exolite) | Mika Hakkinen (M-Sport) | |
| 5 | San Marino | Imola | Lewis Hamilton (Maestro Motorsport) | Jean Alesi (FJR) | Mika Hakkinen (M-Sport) | |
| 6 | Monaco | Monte Carlo | Mika Hakkinen (M-Sport) | Michael Schumacher (Pedersen) | Ayrton Senna (Gui Racing) | |
| 7 | Canada | Montreal | Fernando Alonso (Maestro Motorsport) | Damon Hill (M-Sport) | Lewis Hamilton (Maestro Motorsport) | |
| 8 | France | Magny Cours | Fernando Alonso (Maestro Motorsport) | Alain Prost (Dodgem) | Lewis Hamilton (Maestro Motorsport) | |
| 9 | Great Britain | Silverstone | Fernando Alonso (Maestro Motorsport) | Lewis Hamilton (Maestro Motorsport) | Mika Hakkinen (M-Sport) | |
| 10 | Germany | Hockenheim | Fernando Alonso (Maestro Motorsport) | Lewis Hamilton (Maestro Motorsport) | Damon Hill (M-Sport) | |
| 11 | Hungary | Hungaroring | Fernando Alonso (Maestro Motorsport) | Damon Hill (M-Sport) | Lewis Hamilton (Maestro Motorsport) | |
| 12 | Belgium | Spa | Lewis Hamilton (Maestro Motorsport) | Jean Alesi (FJR) | Felipe Massa (FJR) | |
| 13 | Italy | Monza | Lewis Hamilton (Maestro Motorsport) | Fernando Alonso (Maestro Motorsport) | Ayrton Senna (Gui Racing) | |
| 14 | Portugal | Estoril | Ayrton Senna (Gui Racing) | Mika Hakkinen (M-Sport) | Jean Alesi (FJR) | |
| 15 | Japan | Suzuka | Fernando Alonso (Maestro Motorsport) | Damon Hill (M-Sport) | Ayrton Senna (Gui Racing) | |
| 16 | Australia | Adelaide | Fernando Alonso (Maestro Motorsport) | Ayrton Senna (Gui Racing) | Alain Prost (Dodgem) | |
Drivers Championship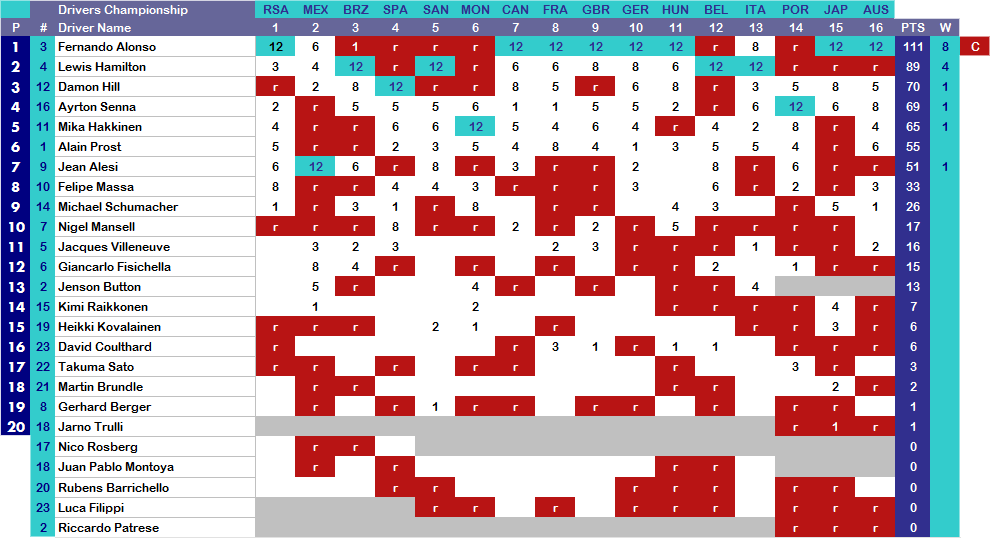 Teams Championship

Qualifying Positions