Masters Season 3 was the third season of FF1M. It began at the American Grand Prix at Phoenix. The Drivers Championship was won by Alain Prost driving for Pedersen. The Constructors Championship was won by M-Sport.
The season is notable for being one of two during the Masters era to feature a tyre war between Bridgestone and Goodyear. Bridgestone supplied 7 teams, while Goodyear supplied 4, and it was the American manufacturer that won both the drivers and constructors championship.
Although previously referred to as the 1990 Season of FF1M, this year was retroactively given to the season. The season was in no way linked to the 1990 Formula One Season and contained drivers and engines from many different years over the 90's and 2000's.
Teams and Drivers
The following Teams and Drivers took part in Season 3.
Team
Engine
Tyre
No.
Race Drivers
Test Driver/s
Gui Racing
Ford
1
Nigel Mansell
2
Ayrton Senna
AquinoPlus
Ferrari
3
Fernando Alonso
4
Giancarlo Fisichella
M-Sport
Ferrari
5
Michael Schumacher
6
Jenson Button
Maestro Motorsport
Ferrari
7
Kimi Raikkonen
8
Mika Hakkinen
Pedersen
Ferrari
9
Alain Prost
10
Rubens Barrichello
FJR
Ford
11
Jean Alesi
12
Nelson Piquet

ARacing

Ferrari
14
Gerhard Berger
15
Jarno Trulli
Willow Images
Honda
16
Jacques Villeneuve
17
Olivier Panis
Dodgem
Ilmor
18
Ralf Schumacher
19
Takuma Sato
Exolite
Ferrari
20
Damon Hill
21
Lewis Hamilton
Ajay Motorsports
Honda
22
David Coulthard
23
Martin Brundle
Season Review
Round 1 - United States
For the opening round of the 3rd ever season, FF1M returned to the Phoenix street circuit, scene of the first ever race which was won by Aracing's Gerhard Berger. From pole position, Fernando Alonso had a terrific start, but was passed by M-Sport's Michael Schumacher at the start of the 2nd lap. Neither driver was destined to finish however, as Alonso's engine blew up, and then Michael squandered a huge lead by crashing into the barriers. Other retirements included crashes for Ralf Schumacher in the newly named Dodgems, and both Willow Images. Jacques Villeneuve's crash managed to destroy the M-Sport of Jenson Button's front wing, delaying his race.
That left the Exolite of Damon Hill in the lead, but he then soon retired, paving the way for Maestro Motorsport's Mika Hakkinen to win the race from the two Gui Racings, reigning champion Nigel Mansell, and Ayrton Senna.
Round 2 - Brazil
Home to both AquinoPlus and Gui Racing, Interlagos often provides a hearty atmosphere from its passionate fans. AquinoPlus were hoping for a second home win having done so in the first season, while Gui Racing were looking for their first, but it was M-Sport's Jenson Button who took a surprise debut win, and he was joined by the two Maestro Motorsport drivers of Kimi Raikkonen and Mika Hakkinen.
Round 3 - San Marino
After a disappointing opening two races, Fernando Alonso was looking to kickstart his season. From pole position, he had another brilliant start, which was more than could be said for his teammate. Contact with a Willow Images sent Giancarlo Fisichella into a series of barrel rolls, destroying his car in the process. On lap 2, an off-track moment for Alonso allowed the Pedersen of Alain Prost into the lead, which he kept for one lap before a mechanical problem allowed Alonso back into the lead.
Further down the order, both Exolites were capturing the action, as Hill suffered an engine failure, while Hamilton was showing just what he could do by going round the outside of Raikkonen at Acque Minerali before suffering his own mechanical problem. Some laps later Michael Schumacher then threw away 2nd place with a mistake at the same corner and required a new front wing. He recovered to overtake FJR's Nelson Piquet for 4th with just three laps to go.
Alonso was pretty much untouched since he retook the lead from Prost, and even had time for a massive off-track excursion at Rivazza on the final lap before taking the win from Gerhard Berger and Jacques Villeneuve.
Round 4 - Austria
The Austrian GP moved to an earlier slot in calendar compared to its mid-season date of last season. Nigel Mansell was hoping to repeat his success from his championship winning season, but he suffered a retirement. Instead, Alain Prost bounced back from his disappointment at Imola to take his first win of the season ahead of Michael Schumacher and Mika Hakkinen.
Drivers Championship
| Position | Driver | Constructor | Points |
| --- | --- | --- | --- |
| 1st | Mika Hakkinen | Maestro Motorsport | 18 |
| 2nd | Fernando Alonso | AquinoPlus | 12 |
| 3rd | Jenson Button | M-Sport | 10 |
Constructors Championship
| Position | Constructor | Points |
| --- | --- | --- |
| 1st | Maestro Motorsport | 24 |
| 2nd | M-Sport | 19 |
| 3rd | Gui Racing | 17 |
Round 5 - Spain
After a win and a 5th in the first four races, Fernando Alonso was looking for a home win, just like he did in the 1988 season. From another pole position, he kept the lead at the end of the first lap, but just as in Phoenix, he lost it to Michael Schumacher at the start of lap 2, and then another to Alain Prost. The top two then battled over the next couple of laps before the French driver eventually took the lead. Meanwhile, Damon Hill crashed out at turn 3 during lap 4. Having dropped down to 3rd, Alonso then lost another position to the Aracing of Gerhard Berger, and then a few laps later, Alonso's engine broke the hearts of his Spanish fans as it blew up.
As the race progressed, the Gui Racing of Ayrton Senna was on a charge having started way down the order. He overtook many drivers including Giancarlo Fisichella and Jarno Trulli. He might've gained another as Gerhard Berger had an off at turn 3, but rejoined having lost just one position to Mika Hakkinen. The Finn would eventually finish 3rd behind Michael Schumacher and race winner Prost.
Round 6 - Europe
Once again, the Nurburgring played host to the European GP, and Alain Prost was hoping to make it three wins in a row, and his second in a row at the German circuit. He started 3rd, behind Fernando Alonso and polesitter Michael Schumacher.
Schumacher held the lead after the Castrol S, but a feisty Damon Hill shot into the lead going into the Ford curve before Schumacher retook the initiative. going into the Bit curve. Prost then caught Hill napping at the Veedol chicane. Further back, the Castrol S scramble saw Gerhard Berger rolling into retirement. Schumacher's lead didn't last long as he retired with a suspension failure, while Prost suffered an engine failure. This left the two Exolites to control the race and take the win, with Hill 1st and Lewis Hamilton 2nd. It was a particularly good result considering they nearly didn't make the grid before the season began. Due to being on holiday, Exolite team boss James Whiteley wasn't able to sort his team out, and FJR's James Brickles helped him out. Much to Brickles' chagrin, Exolite turned out to be much more competitive having scored five times as many points as FJR at this stage in the season.
Round 7 - Monaco
The tight confines of the Monaco street circuit saw the sixth different winner in seven races. This time around, it was Kimi Raikkonen who mastered the twisty riviera to win in front of Alain Prost and Fernando Alonso. Prost's 2nd place moved him to 26 points, the same as Mika Hakkinen, but Prost was effectively leading the championship having scored two wins to Hakkinen's one.
Round 8 - Canada
Montreal saw Michael Schumacher take pole position, and having not won a race so far this season, he was particularly keen for a good result. He didn't have a good start and lost two positions to Mika Hakkinen and Lewis Hamilton. The two Hs battled for a few laps before Hamilton powered in front on lap 3.
Turn 8 provided much action during the race as Rubens Barrichello botched an outbraking manoeuvre on an Ajay, while Jarno Trulli tried his best to slam Olivier Panis into the wall and only received karma. Meanwhile, Schumacher was experiencing yet another mechanical failure in the form of an engine failure. He was running in 3rd at the time, which wasn't as bad as Lewis Hamilton's race ending puncture from the lead on lap 41. Further down the field, Jean Alesi converted his FJR into a Formula Ford after fighting tankslappers and an impatient Martin Brundle.
From 7th place on lap 46, Alain Prost began a charge, firstly taking Giancarlo Fisichella for 6th, which became 4th after Ayrton Senna and Gerhard Berger made their final pit stops, and then 3rd when Hakkinen's car broke down from the lead. By lap 52, he was just four tenths behind the battling Kimi Raikkonen and Damon Hill, but Raikkonen was struggling, and he lost the lead and 2nd place to Hill and Prost. On the next lap, Prost completed his charge by outbraking the Exolite driver into the hairpin. He duly went on to take a superb win ahead of Hill and Giancarlo Fisichella, who passed the ailing Raikkonen in the closing stages.
Drivers Championship
| Position | Driver | Constructor | Points |
| --- | --- | --- | --- |
| 1st | Alain Prost | Pedersen | 36 |
| 2nd | Mika Hakkinen | Maestro Motorsport | 26 |
| 3rd | Kimi Raikkonen | Maestro Motorsport | 19 |
Constructors Championship
| Position | Constructor | Points |
| --- | --- | --- |
| 1st | Maestro Motorsport | 45 |
| 2nd | Pedersen | 37 |
| 3rd | M-Sport | 28 |
Round 9 - France
Magny-Cours marked the halfway point of the season, and an on-form Alain Prost was hoping for a first podium on home soil. He managed just that with a 3rd place, although Mika Hakkinen took two points out of his championship lead with a 2nd place, but it was Michael Schumacher who finally had some good fortune with a commanding win to take him within 15 points of Prost. Another Frenchman had a good race, as Jean Alesi took a much needed 5th place for the reliable, but slow FJR.
Round 10 - Great Britain
The fast and flowing Silverstone circuit saw a return to form for Fernando Alonso as he took his second win of the season ahead of Alain Prost and Kimi Raikkonen, but it was a bad race for Mika Hakkinen as he failed to reach the chequered flag. The highest placed British driver was the Exolite of Lewis Hamilton, who came home in 5th. It was at this point of the season when a new points system was being discussed to award points down to 8th place and the winner being awarded 12 points rather than the traditional 10. This was agreed by all team bosses.
Round 11 - Germany
The ultra-fast and popular forest setting of the Hockenheim circuit saw Fernando Alonso start from pole position and maintain it comfortably going into the first chicane. That first chicane saw Gerhard Berger tangle with Alain Prost, and then the Frenchman made a mess rejoining the circuit as he cut in front of Lewis Hamilton and spun, dropping him well down the order.
On lap 2, Alonso went briefly off-track at the exit of the Ostkurve and rejoined just before Mika Hakkinen could take the lead. The delay allowed Kimi Raikkonen to thread through the pair and take the lead into the third chicane. Hakkinen then tried to dummy Alonso going into the stadium, but the Spaniard resisted. Further back, Ayrton Senna collided with Giancarlo Fisichella and before he could rejoin, he was obliterated by the Ajay of David Coulthard, and both retired on the spot.
On the next lap, Alonso retook the lead going into the first corner but had a slow exit, which allowed both Maestros and Michael Schumacher to get involved. Under braking for the first chicane, Alonso made a mistake and went wide, and then shoved Berger off the road as he tried to rejoin. This left Raikkonen in the lead from the battling Schumacher and Hakkinen, although Mika would retire from the race later on. On the same lap, Jenson Button collided with Fisichella at the Ostkurve and both were interlocked at the exit.
With a few laps to go, Alonso had fought his way back up to 2nd behind Raikkonen and frightened Kimi into a spin at turn 1, which eventually put Schumacher up into 2nd behind race winner Alonso. With Prost down in 4th, the result moved Alonso to within 13 points of Prost's lead.
Round 12 - Hungary
For the first and only time during this season, the Gui Racing of Ayrton Senna started from pole position, but he immediately lost three places off the line to Mika Hakkinen, Fernando Alonso, and Michael Schumacher. On lap 3, Schumacher assumed 2nd from Alonso, and then two laps later, he took the lead from Hakkinen.
The slippery surface was catching many drivers out. David Coulthard was the first to spin, and then amazingly, under pressure from Senna, Alonso made it as far as the wall and retired from 3rd place. Next to spin was Jenson Button, who had his path back onto the circuit interrupted by an out of control Takuma Sato. The other drivers caught crashing out of the race were Jean Alesi and Gerhard Berger. Berger in fact threw away 4th place in favour for a spectacular slide and smash at turn 4.
Both Maestros suffered from two separate mechanical failures whilst running in the top four, although they weren't anywhere near Schumacher, who dominated the race to win by over 40 seconds from Senna, and an entire lap from Jacques Villeneuve. With Prost failing to finish, this moved Schumacher to within striking distance of the Pedersen driver.
Drivers Championship
| Position | Driver | Constructor | Points |
| --- | --- | --- | --- |
| 1st | Alain Prost | Pedersen | 49 |
| 2nd | Michael Schumacher | M-Sport | 44 |
| 3rd | Fernando Alonso | AquinoPlus | 36 |
Constructors Championship
| Position | Constructor | Points |
| --- | --- | --- |
| 1st | Maestro Motorsport | 59 |
| 2nd | M-Sport | 57 |
| 3rd | Pedersen | 50 |
Round 13 - Belgium
With both championships tightly condensed, 1990 had the potential for a dramatic grandstand finish. However, none of the championship contenders were able to steal a convincing march at Spa as Damon Hill took his second win of the season ahead of Fernando Alonso and Gerhard Berger. With Prost and Schumacher failing to finish, the top three had closed to just 7 points.
Round 14 - Italy
Heading into Monza, the driver under pressure was Mika Hakkinen. Having led the championship earlier in the season, he had now slipped to 17 points behind Alain Prost having not scored points since France, and he badly needed a good result to remain in the championship hunt. Unfortunately, the worst possible result happened for Maestro, with both cars failing to finish and Prost taking a vital win ahead of Jenson Button and Michael Schumacher. The result meant that Maestro lost the constructors championship lead, and Prost had the chance to mathematically wrap up the championship at the next round.
Drivers Championship
| Position | Driver | Constructor | Points |
| --- | --- | --- | --- |
| 1st | Alain Prost | Pedersen | 59 |
| 2nd | Michael Schumacher | M-Sport | 48 |
| 3rd | Fernando Alonso | AquinoPlus | 42 |
Constructors Championship
| Position | Constructor | Points |
| --- | --- | --- |
| 1st | M-Sport | 67 |
| 2nd | Maestro Motorsport | 62 |
| 3rd | Pedersen | 60 |
Round 15 - Portugal
Fernando Alonso failure to finish in Monza left him on the back foot going into the sweeping Estoril circuit, but he brilliantly bounced back to win, with Kimi Raikkonen and Jacques Villeneuve completing the podium. His victory was made sweeter with the retirements of Alain Prost and Michael Schumacher, and now Alonso was the Frenchman's nearest challenger. Yet another retirement for Mika Hakkinen mathematically ruled him out of the championship.
Round 16 - Japan
With two races to go, the top three were separated by 11 points, and a win for Prost would give him and Pedersen their first championships, but he couldn't manage it as he retired from the race. Fortunately for him, Alonso wasn't able to capitalise as he retired as well, but unluckily for Alain, Schumacher won the race, which moved him to just 1 point behind the Frenchman. Completing the podium were Mika Hakkinen and Lewis Hamilton.
Drivers Championship
| Position | Driver | Constructor | Points |
| --- | --- | --- | --- |
| 1st | Alain Prost | Pedersen | 59 |
| 2nd | Michael Schumacher | M-Sport | 58 |
| 3rd | Fernando Alonso | AquinoPlus | 52 |
Constructors Championship
| Position | Constructor | Points |
| --- | --- | --- |
| 1st | M-Sport | 79 |
| 2nd | Maestro Motorsport | 74 |
| 3rd | AquinoPlus | 70 |
Round 17 - Australia
With there being three-way battles for both championships, the promised grand finale was well and truly on. Although Pedersen were favourites for the drivers championship with Alain Prost, the lack of results for Rubens Barrichello ruled the team out of the constructors championship. The race was an intense fight between the three main protagonists for the drivers, and although Fernando Alonso won the race, 2nd place was enough for Prost to take his first drivers championship. The podium was completed by Gerhard Berger. Schumacher's 4th place was enough for M-Sport to clinch the constructors championship by a single point from a resurgent AquinoPlus.
Results and Standings
Grands Prix
| Rnd | Country | Circuit | 1st | 2nd | 3nd | |
| --- | --- | --- | --- | --- | --- | --- |
| 1 | USA | Phoenix | Mika Hakkinen (Maestro Motorsport) | Nigel Mansell (Gui Racing) | Ayrton Senna (Gui Racing) | Highlights |
| 2 | Brazil | Interlagos | Jenson Button (M-Sport) | Kimi Raikkonen (Maestro Motorsport) | Mika Hakkinen (Maestro Motorsport) | |
| 3 | San Marino | Imola | Fernando Alonso (AquinoPlus) | Gerhard Berger (A Racing) | Jacques Villeneuve (Willow Images) | Highlights |
| 4 | Austria | A1 Ring | Alain Prost (Pedersen) | Michael Schumacher (M-Sport) | Mika Hakkinen (Maestro Motorsport) | |
| 5 | Spain | Barcelona | Alain Prost (Pedersen) | Michael Schumacher (M-Sport) | Mika Hakkinen (Maestro Motorsport) | Highlights |
| 6 | Europe | Nurburgring | Damon Hill (ExoliteF1) | Lewis Hamilton (ExoliteF1) | Mika Hakkinen (Maestro Motorsport) | Highlights |
| 7 | Monaco | Monte Carlo | Kimi Raikkonen (Maestro Motorsport) | Alain Prost (Pedersen) | Fernando Alonso (AquinoPlus) | |
| 8 | Canada | Montreal | Alain Prost (Pedersen) | Damon Hill (ExoliteF1) | Giancarlo Fisichella (AquinoPlus) | Highlights |
| 9 | France | Magny Cours | Michael Schumacher (M-Sport) | Mika Hakkinen (Maestro Motorsport) | Alain Prost (Pedersen) | |
| 10 | Great Britain | Silverstone | Fernando Alonso (AquinoPlus) | Alain Prost (Pedersen) | Kimi Raikkonen (Maestro Motorsport) | |
| 11 | Germany | Hockenheim | Fernando Alonso (AquinoPlus) | Michael Schumacher (M-Sport) | Kimi Raikkonen (Maestro Motorsport) | Highlights |
| 12 | Hungary | Hungaroring | Michael Schumacher (M-Sport) | Ayrton Senna (Gui Racing) | Jacques Villeneuve (Willow Images) | Highlights |
| 13 | Belgium | Spa | Damon Hill (ExoliteF1) | Fernando Alonso (AquinoPlus) | Gerhard Berger (A Racing) | |
| 14 | Italy | Monza | Alain Prost (Pedersen) | Jenson Button (M-Sport) | Michael Schumacher (M-Sport) | |
| 15 | Portugal | Estoril | Fernando Alonso (AquinoPlus) | Kimi Raikkonen (Maestro Motorsport) | Jacques Villeneuve (Willow Images) | |
| 16 | Japan | Suzuka | Michael Schumacher (M-Sport) | Mika Hakkinen (Maestro Motorsport) | Lewis Hamilton (ExoliteF1) | |
| 17 | Australia | Adelaide | Fernando Alonso (AquinoPlus) | Alain Prost (Pedersen) | Gerhard Berger (A Racing) | |
Drivers Championship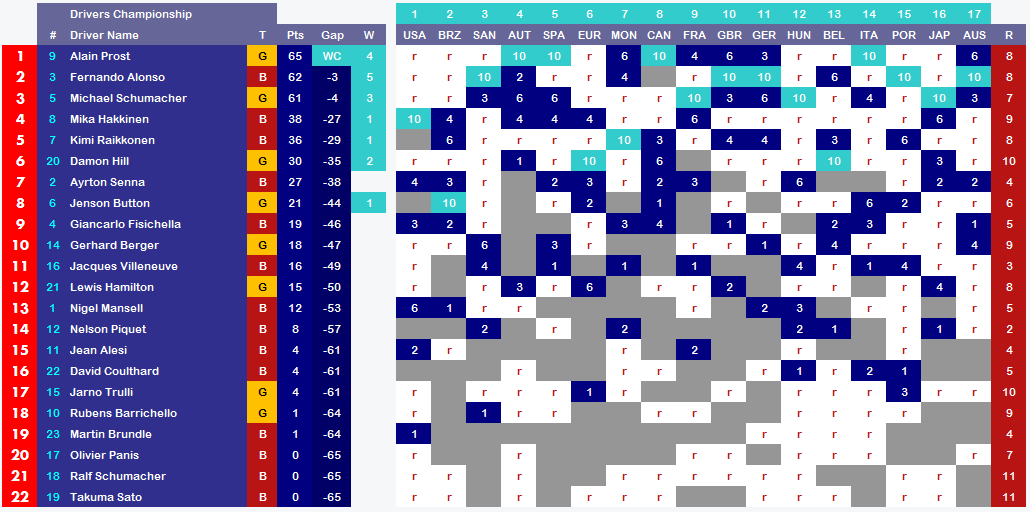 Teams Championship
Pole Positions
9 - Fernando Alonso
5 - Michael Schumacher
1 - Ayrton Senna, Alain Prost, Mika Hakkinen