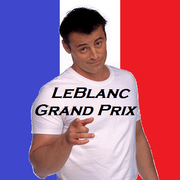 LeBlanc Grand Prix were a French FF1M team that raced in two seasons. During their tenure, they took a total of three wins, one from Mark Webber during the 2010 Japanese GP, and two from Jenson Button during the 2011 Spanish GP and the 2011 Canadian GP. They hold the unique distinction of winning races in every FF1M season they've entered.
History
2010
Following the withdrawal of Dodgem, Autodynamics, and Ajay Motorsports, plus the return of the 11 team limit, LeBlanc submitted an entry for 2010 with former race winners Mark Webber and Bruno Senna heading the driver line-up, and Renault engines powering the French team. They had a spectacular start to the season with Senna taking two podiums in the first two races to briefly run 2nd in both the drivers and constructors championships.
Although most teams had poor finishing records, LeBlanc had one of the least reliable cars on the grid with 25 retirements out of a possible 36 finishes, a 30% finishing rate. Nevertheless, there were at least a couple more highlights with Webber taking the team's first (and the only one of their career) pole position at the United States GP, and then taking the team's debut win at the final race at Japan. This helped them to beat Andy Racing for 9th in the constructors championship by just one point. Such was the competitiveness of that season that they were only 18 points off of 4th placed FJR.
2011
The team switched from Renault power to a Ferrari engine, ironically a customer to Andy Racing who they had beaten the season before. They also had a new driver line up with Jenson Button and Australian rookie Daniel Ricciardo, although the French connection just about remained with test driver Nathanael Berthon.
The line-up proved to be extremely rewarding, particularly in the first half of the season with podiums for both drivers, including two wins for Button in Spain and Canada, and Ricciardo taking a best result of 2nd in Malaysia. By the halfway point of the season, Button was just two points behind championship leader Nico Rosberg and the team were nine points behind Shake n Bake, but a difficult second half of the season saw LeBlanc slip down to 5th come the championship's end, although they were by far the best-placed team with a Ferrari engine and they did beat the two most experienced teams on the grid. By the time 2012 rolled around, LeBlanc had pulled out.
Results and Statistics
Year
Engine
Ch. Pos.
Races
Points
Wins
Drivers
Ch. Pos.
Races
Points
Wins
2010
Renault
9th
18
42
1
Mark Webber
12th
18
26
1
Bruno Senna
18th
18
16
0
2011
Ferrari
5th
17
75
2
Jenson Button
7th
17
47
2
Daniel Ricciardo
11th
17
28
0
FF2M History
LeBlanc have also competed in the 2010 FF2M Season under the name Elf Racing, with Giedo van der Garde and Christian Vietoris as their drivers. Although they didn't record any wins, van der Garde proved to be a very consistent performer with regular points finishes helping him to 5th in the drivers championship
Results and Statistics
Year
Engine
Ch. Pos.
Races
Points
Wins
Drivers
Ch. Pos.
Races
Points
Wins
2010
Renault
6th
20
56
0
Giedo Van Der Garde
5th
20
49
0
Christian Vietoris
17th
20
7
0