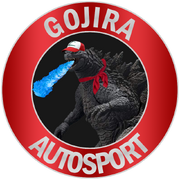 Gui Racing is one of FF1M's "founding teams," having been present since the series' inception and competing in every season, although under different monikers in the most recent years. The team was founded by Brazilian-born pizza enthusiast Gui Cramer, who is noted for his controversial remarks, outlandish news articles, and banter with other team principals and the AFIA. "Gui Racing" was the official name from 1988 to 2011, when Gui decided to forego retirement and instead rebrand the team as Sean Connery Motorschhh - promoting his B/FF2M team to the forefront. That is until his latest rebranding to Gojira AutoSport, from the 2013 FF1M season onward.
FF1M History
Masters Mayhem (Season 1-Season 4)
For the very first season, Gui Racing opted for an all British line-up with Nigel Mansell and Jenson Button, and Ferrari engines. Team boss Gui Cramer wanted two Brazilian drivers but due to driver signing formats of the time, missed out on Ayrton Senna and Felipe Massa, who were instead signed by Exolite - Cramer consequently began what would become his signature bantering techniques by accusing Exolite of espionage. James Whiteley's response was to stick a couple of fingers up. Racing-wise, the inaugural season was a mixed bag as Button struggled and Mansell had polarizing results, with six retirements from the first six races but achieving seven pole positions and two wins, at Monza and Adelaide. The difficult start and Button's uncanny ability to avoid the points left Gui Racing 7th in the constructors championship.
Mansell and Ferrari remained with the team for Season 2, although the big team story was that Cramer had finally obtained a Brazilian driver, even if it was Rubens Barrichello and not Ayrton Senna. Cramer described this moment as like "winning a brand new car but having to build it yourself, with no instructions on how to do so." Either Barrichello's confidence was dented because of this, or he voluntarily assumed a 'Number 2' status by being comprehensively outperformed by his teammate aside from a podium finish at Magny-Cours. As for Mansell, he proved that he was more than just a qualifying specialist, as he took a total of five wins (at Silverstone, Monaco, Spielberg, Hockenheim, and Monza). At the penultimate race in Indianapolis, Mansell's 3rd place finish gave Gui Racing its first glimpse of championship success as Nigel secured the drivers' championship, with the team finishing 2nd overall in the constructors' table.
A joyous Nigel Mansell stayed with the team for Season 3 but the biggest news was Rubens Barrichello being replaced by Gui's longstanding target, the talented Ayrton Senna, creating one of the more frightening driver line-ups ever seen on the FF1M grid. The season started off promisingly with a double podium finish at the terminally turgid Phoenix Street Circuit, despite Mansell nearly being wiped out by Giancarlo Fisichella at the start. Unfortunately for Gui Racing, that was one of the few highlights of the season as they were crippled by an underpowered Ford engine. Cramer later claimed their engine supply deal was meddled by competing team bosses, afraid of the team's potential domination. Mansell's championship defence was a sour one, as the podium in Phoenix was his only of the season, with Senna managing only a podium finish at the Hungaroring. Gui Racing eventually finished 6th in the constructors championship, the highest placed Ford runner. Gui Racing's press officer, Angus McBarnes, held an off-season conference where he stated, "These (Ford) engines are as good as green nail polish on a horse's hooves. Except it's not a horse but instead a sea horse. And not nail polish but instead a backgammon board!" before throwing himself out the window. Seasoned observes deciphered Angus's interview as a sign the team would be switching engine suppliers ahead of the next season.
To nobody's surprise, Gui Racing switched back to the Ferrari engines for Season 4, which had already given them seven wins and a drivers championship during the first two seasons. Gui Racing fielded a very patriotic driver line-up with Nelson Piquet and a returning Rubens Barrichello. Sadly for Rubens, his performance was lackluster and he was replaced by Nelsinho Piquet ahead of the Hungarian GP, making headlines as FF1M's first father-son line-up! Nelson Sr had a consistent season which started off with a podium finish at Melbourne, then followed by multiple points finishes and another podium at Dijon. Spa marked the first and only time both Piquets finished in the points before a brilliant drive to avoid the Monza chaos bagged a victory for big Nelson, much to the exuberant delight of Cramer. The lack of a consistent second driver meant that Gui Racing could only finish 7th in the constructors championship.
Honing the Inexperienced (Season 5-Season 8)
After spending a relatively positive season with M-Sport during Season 4, Ayrton Senna rejoined Gui Racing for Season 5, where he would have the inexperienced Nico Rosberg as his teammate. Like in the previous season, the team was a 1-car performer, with Nico Rosberg failing to impress and being replaced by Luca Filippi. Fortune did not change and Senna had to carry the burden of scoring all of the team's. The Ferrari engine was a bit of an enigma with Senna using their extremely powerful qualifying engines to take four pole positions, all in the first seven races, before falling back on race pace due to the engine's detuning. However, it was a reliable engine with only two retirements all season, and all races Senna finished were in the points. He took a total of five podium finishes (at Monaco, Monza, Estoril, Suzuka, and Adelaide) with a win in Estoril. Both Ayrton Senna and Gui Racing finished 4th in their respective championships.
Season 6 saw Senna team up with another inexperienced German in the form of Timo Glock, but the big change was in the engine department, as confusion in the off-season meant the extrenuously developed Ferrari engine, then believed to be the best on the grid, was replaced by brand new works Renault engines. The relationship got off to a poor start as the car reveal featured a buffet with Cramer's homemade pizzas, which were far more successful than the French engines, having just joined the grid. Renault's power philosophy mirrored that of Ferrari's, with sub-par qualifying performances and strong race performances, although it took only until the third race, at Donington Park, for Senna to score a podium finish, finishing the race in 3rd. Two more podiums followed at Monaco and Magny-Cours before Senna achieving fantastic wins at Silverstone and the Hungaroring. Although Gui Racing had started off the season relatively off the pace, the team famously developed the Renault engine into a steady performer, and Senna's two wins plus a floundering Fernando Alonso brought the Brazilian into championship contention. With just two races to go, Senna took the lead by one point! A retirement at Suzuka and Alonso's 2nd place finish put the Brazilian at a significant disadvantage going into Adelaide, where Senna produced an incredibly victory, sadly overshadowed by Alonso's 3rd place, meaning the Brazilian driver finished behind by a single point, much to the painful agony of Cramer. Senna's heroics and the outstanding engine development meant Gui Racing finished a (then) career best 2nd place in the constructors championship, but it would not have taken much imagination to wonder how well the team would have performed had they kept the Ferrari engine.
Senna left for Gui Racing's compatriot team AquinoPlus for Season 7, but Cramer had managed to draft Mika Hakkinen to team up with a returning Nico Rosberg, who since his brief stint at the beginning of Season 5, had been part of Gui Racing's testing programme in order to refine his driving talent. At one point, Cramer suggested to Nico that he should try growing a moustache, which was estimated to be around half a second a lap quicker than clean shaven racers. The stubborn Rosberg refused as he didn't want to be seen copying his father, and as a result, he experienced a difficult start to the season with just two points finishes in the first seven races. In fairness to the German, Hakkinen had similar troubles, but he managed a podium at Montreal. From then and thanks to the continued development of their Renault engine, Gui Racing's form improved as both drivers became regular points scorers, with Hakkinen winning at Hockenheim and Rosberg securing his maiden victory at Spa and a second win at Suzuka. Though they couldn't match the dominant AquinoPlus, the benefactors of the Gui's Ferrari engine development, Cramer was delighted that it was Senna who won the drivers championship in his final season in FF1M.
The final season of the masters era saw Cramer field two teams in order to aid the series, due to the departure of Super Alex and the unexplained absence of Pedersen. His second team was known as Sean Connery Motorschhh, named after the renowned Scottish actor who remained ignorant as to ever having a role in the series, and they fielded Karl Wendlinger and Luca Badoer. To ensure no disruption of the regular runners, Sean Connery Motorschhh were forced to re-use the catastrophically underpowered Ford engines, which combined with the inexperience of Wendlinger and Badoer, ensured SCM finished last in the championship.
As for the A Team, the impressive Rosberg would have a tough teammate in the form of double world champion Fernando Alonso, who had lost out to Ayrton Senna by two points in the previous season. The gutting disappointment of losing a championship combined with the hunger for a third world championship inspired Alonso into a stupefying run of form where he scored 11 podium finishes in a row. In amongst that sequence were four wins at Buenos Aires, Montreal, Magny-Cours, and Hockenheim, and he duly dominated the drivers championship. Although not a match for his teammate, Rosberg had his moments of glory with two wins at Monaco and Spa on his way to 6th in the championship. Alonso's and Rosberg's combined efforts ensured that the final season in the masters era would be remembered for Gui Racing's first - and dominating - constructors championship and Alonso's third title.
The Ford Alliance (1996-2001)
The beginning of the management era, dubbed 1996, already started off in a controversial manner for Gui Racing. Coming off a dominating season, the flamboyant Brazilian found his team's championship bid nerfed yet again - some say due to conspiracy from team owners - as he had to give up his Renault works deal, finding himself with the same works Ford engines that SCM ran in the final masters season. Once again, Gui Racing had to (re)start from scratch although the team secured a works deal, alongside Ajay Motorsports. Low-cost customer versions would also be supplied to Willow Images and the financially-strained FJR. Pre-season expectations of struggle for Gui Racing were miserably wrong as thanks to Cramer's renowned engine development and three teams testing the Ford power unit, team newcomer Jacques Villeneuve took back-to-back wins at Magny-Cours and Silverstone, followed by two more podiums at Hockenheim and Monza. Despite not winning a race, Rubens Barrichello scored a series of podium finishes and even outscored his teammate come the end of the season. Gui Racing took a valiant 3rd in the constructors championship, although Cramer was a bit sour over losing his expertly developed Renault engines to AquinoPlus and Maestro Motorsport, who took the top two places.
Embarrassed by Ford's competitiveness in 1996 and Angus McBarnes's persistent press conferences, apologetic Ford executives met up with Cramer to call a truce on their feud and initiate talks on a new engine deal which would give Cramer exclusivity on a works Ford engine deal. Discussions were lengthy but a deal was eventually made on the proviso that Gui Racing would run whichever engines they wanted in 1997 before committing to Ford in 1998. The deal was celebrated over a glass of fresh milk, which Cramer described as "delicious," but before then, Gui Racing needed to find a supplier for 1997, and Ferrari were happy to once again provide engines for the Brazilian team.
As for the driver line-up, Jacques Villeneuve was joined by Damon Hill, fresh from a very productive season with Ajay Motorsports, and right from the very first race, he and the car were on top form as the Brit won the opening two races at Melbourne and Interlagos, with Villeneuve making it three out of three for Gui Racing at Buenos Aires! However, shortly after the first race of the season, Gui Racing sensationally had their constructors points stripped for breach of rule 13.1b, which stated that "no team shall post pictures of Sean Connery in a mankini or they could face disqualification." The misdemeanour was later traced down to the pre-season launch, where Sean Connery made a guest appearance and found himself himself in a racey photoshoot with Angus McBarnes, Gui Racing's press officer.
Nevertheless, Hill and Villeneuve took another win apiece at Barcelona and Monaco. Having been relatively unchallenged during the first part of the season, the two works Renault-powered teams then rose to the front with FJR and VTR cutting into Gui Racing's championship lead. The final round saw a championship showdown between the two Gui Racing drivers, who were separated by just two points (in favour of Villeneuve). The race proved to be a somewhat nervy encounter between the two drivers as the car was no match for FJR, but with Hill finishing 4th and Villeneuve 7th, the British driver was able to win the championship by a single point. The constructors championship wasn't as close as the race made it seem, as Gui Racing took their second career constructors title with a meaty 25 points lead over FJR.
The first of nine consecutive seasons for the Ford/Cosworth engine partnership began in 1998, a season unique for having three tyre manufacturers. Gui Racing continued some sort of American theme by supplier his cars with Goodyear tyres, which proved highly effective in the hands of FJR and VTR in the previous season, although a European flavour was maintained in the driver line-up with rookie Ralf Schumacher joining the team alongside the mercurial Jean Alesi. The inter-team battle between the Bratwurst and the Baguette was rather overwhelmingly one-sided as Ralf was easily the quicker driver. In only his second race, Ralf delivered a superb performance at Gui Racing's home race to win. The celebrations were such that on the following day after the race, Cramer headed to a local embassy to apply for dual citizenship for Ralf, who had been christened by the Brazilian media as 'O herói,' with Ralf receiving Brazilian citizenship (unbeknownst to him). 1998 was defined by the two Schumacher brothers, as Ralf and Michael, then driving for the rejuvenated Dodgem team, shared 12 wins between them. An untimely gearbox seizure and subsequent shunt at Singapore for Ralf decided the championship in favour of his older brother. A stronger second driver for Dodgem, Mika Hakkinen, ensured them the constructors championship, with Gui Racing settling for 2nd place.
Much of the line-up remained the same for 1999 aside from a new teammate for Ralf, none other than his older brother Michael, making it an all-Schumacher driver line-up for the first time in FF1M history - another FF1M first by the team. The relationship didn't get off to a good start after Michael questioned his brother's dual citizenship and accused him of denouncing his place of birth. This led to Michael being booed when the teams headed to Interlagos, and to rub salt into his fully German wound, his younger brother qualified on pole, bringing the locals to an absolute uproar, although the race was won by FJR's Heinz-Harald Frentzen. The European season began with Michael gaining the upper hand over his brother with wins at Imola and Barcelona, but at the season progressed, Ralf was proving the more consistent driver with only three race retirements compared to Michael's eight throughout the seaosn. With seven races to go, Ralf narrowly led the championship from Maestro Motorsport's Juan Pablo Montoya by five points, with Frentzen a further five behind and Michael a further two behind. However, none of the championship contenders were prepared for the relentless onslaught from MRD's Jarno Trulli. The Italian was 33 points behind Ralf going into Hungary, but four wins and seven podiums out of seven races saw the Italian catch everyone napping and win the drivers championship in impressive style. Despite their frosty relationship, both Schumacher brothers were quick enough to ensure Gui Racing won another constructors championship.
Michael was quite eager not to be Ralf's teammate and left to join FJR. This paved the way for reigning champion Jarno Trulli to join Ralf for the 2000 season. The combination of Trulli and Ralf was a much more harmonious one than Gui Racing's previous driver line-up as the Italian shared a story about how MRD team boss Marc Downie described him as an honorary Scot after the championship success. At one point, Downie suggested to Trulli that he should consider expanding his vineyard business to accommodation whiskey distillery to which the Italian seemed very keen on doing once his racing career was over. For now, he had to make do with driving for Gui Racing, and he got off to a great start with three consecutive wins at Imola, Silverstone, and Barcelona. Ralf was equally as solid, although his 4th place at Montreal was extremely bizarre as his engine failed on the lap he was due in the pits, but the pitstop actually cured the problem. It was hypothesized by the paddock that the newly named Cosworth engine had been mis-badged as a Ford for the race, and that Cramer quickly rewrote some software that gave Ralf a fresh engine but that theory was dismissed and the paddock concluded that Ralf had simply become the "luckiest bastard in FF1M history."
Both drivers scored wins at Spielberg (Trulli) and Hockenheim (Ralf), but then Gui Racing's season started to come undone as at Hockenheim, Trulli ran wide going into the stadium and rejoined right into the path of Olivier Panis, causing a massive shunt and in another FF1M first, with regards to team punishment, exclusion from competing at the next round. His place was taken by Dario Franchitti, who was running 8th before flying into the barriers with 17 laps to go. Gui Racing's next brush with the stewards came at Monza, where at the start, an outbraking manoeuvre by Ralf going into the tight first chicane resulted in both MRD drivers simultaneously and comically flipping. Trying to regain control, Ralf then shoved his teammate into the gravel, causing his retirement as well. Although Ralf survived to finish 2nd, a protest from MRD resulted in his disqualification from the race, effectively ending his drivers championship challenge. Trulli was still very much in it, and could've taken an 11 point lead going into the final race but suffered an untimely engine failure on the last lap. This meant that he only had a three point lead over Michael Schumacher and a further three from Fernando Alonso going into Suzuka. In what turned out to be a dramatically anti-climactic race, Trulli was in the middle of having a poor race in 6th before another engine blow up on lap 15. This opened the door for Michael to win the championship before suffering a heartbreaking suspension failure seven lap later, and then two laps later, Alonso's gearbox broke while running 3rd, This left Trulli a very lucky champion, much to the relief of Cramer. Later after the race, the team's press officer, Angus McBarnes, declared 2000 as a "Very tough season riddled with bad fortune! We definitely did not expect to have the Netherlands beaten by Italy." A bit of a strange press release considering Gui Racing managed to win both championships despite the unwarranted penalties, although seasoned observers were keen to point out that "Angus McBarnes is barely a functional human, and he thought he was giving a press conference for the Euro 2000 championship."
With Trulli leaving to rejoin MRD, Ralf needed yet another new teammate. In the 2000 FF2M season, Gui Cramer had been running Bruno Junqueira and Dario Franchitti, but it was another Brazilian driver that caught his eye, that of Cristiano Da Matta, who had won the FF2M championship in the hands of STV Racing. Impressed by his form, Cramer signed him for the 2001 FF1M season, a move which Ralf was pleased with as he had always wanted a Brazilian teammate. One thing Cosworth wasn't pleased with was a rule change that stated "no works and customer engines, all engines of a manufacturer will have the same power levels," which prompted a press release from Angus McBarnes declaring the rule change a "decision designed to hinder the best team in the world." The boss of the AFIA responded to this by saying that the "best decision is my decision."
New for the 2001 season was the innovation of technologies. During the season, the majority of teams researched technologies, and Gui Racing went a similar way to FJR by researching the F-Duct, which improved straight line speed, and Two-Way Telemetry, which improved reliability. As for the racing, Gui Racing got off to a solid start with two podiums in the first two races Da Matta, and a win for Ralf at Interlagos, which once again sent the partisan Brazilian crowd into a frenzy. In amongst the celebrations, Angus McBarnes found himself tied to the Christ the Redeemer statue in Rio de Janeiro, wearing nothing but knee-length socks, swimming briefs, and a wig. Unfortunately for Ralf and Gui Racing, that would prove to be the team's only win of the season as they didn't quite have the pace compared to FJR and in particular the Pedersen, and the team could only manage 3rd in the constructors championship. However, Da Matta had other ideas. His consistency and reliability was such that he mounted a genuine challenge for the drivers championship. Heading into the final race, he headed an unprecedented five-way championship showdown by just two points from Pedersen's David Coulthard, and a further four from FJR's Kimi Raikkonen. Jarno Trulli sat seven points behind the Brazilian, and Michael Schumacher was the outsider, 11 points off of Da Matta. In a race of high attrition, Coulthard was the first to fall at one third distance with engine failure, then Michael's outside shot ended with a tyre failure. With eight laps to go, Da Matta was running 4th behind Trulli when the Italian crashed out at the Esses right in front of the Brazilian. He wasn't far away from being wiped out, and a paddock insider reported Cramer jumping so high that he put a hole on the ceiling. Reports are still unknown about brain damage. This left just Raikkonen as Da Matta's challenger, but with the Finn running 2nd and a country mile behind the dominant Heidfeld, Da Matta would still be crowned champion with a podium finish. The order remained that way until the end, and remarkably, Da Matta won the drivers championship in his debut season without a single race win. Cramer was beside himself with joy.
Up and Down Years (2002-2006)
To the surprise of many, Ralf Schumacher left the team before the start of the 2002 season, citing his embarrassment of being beaten to the championship by a winless, yet world champion rookie. Cramer had hoped Ralf would find another drive, but amazingly, he couldn't, not even a test driver role or a place in FF2M. Luckily, Trulli's conflicting allegiance between Gui Racing and MRD continued, as he rejoined the Brazilian team. This time, he was joined by Dario Franchitti, whose four wins had enabled him to challenge Ricardo Zonta for the 2001 FF2M championship. To continue the surprising of many, Franchitti had the measure over his double world champion teammate. The Scot scored five podiums compared to the Italian's one, although it was Trulli who scored the team's only win of the season at Monza. It was by no means a bad season with Franchitti finishing 4th in the drivers championship and Gui Racing 3rd in the constructors championship, only 19 points behind champions Tornado, but after a series of championships, Cramer admitted to "still being hungry for more wins."
The line-up for 2003 was almost identical compared to the previous season, but with the tricky Bridgestone tyres now supplying the Brazilian team. Much of Cramer's pre-season preparations were spent working out why Trulli wasn't as quick as expected, and one suggestion was found when Cramer visited the Italian's vineyard. He was shocked to find that Trulli had expanded his vineyard to not only accommodate whiskey under Marc Downie's suggestion, but another distillery had been built to create absinthe using the unused grapes as a base. When asked about this, Trulli explained that he was making sure he had his retirement sorted. Cramer retorted this by saying that he "wasn't finished in FF1M… yet." Trulli took this rather ominous message to heart as he drove far more decisive and outpaced his teammate. However, there was a new problem in that the 2003 Gui Racing car was nothing like as competitive as before. Two probable reasons for this were that the Bridgestone tyres weren't as good as the Michelins, and the turbo's advantages were astronomical. Both drivers could only manage two podium finishes each and Gui Racing finished down in 5th.
After the 2003 season had finished, Trulli expressed his desire to move to a different team for 2004 as he wanted to combine racing with his side-project without restrictions. Cramer suggested moving to FJR, but it was a devious suggestion as he told Trulli that FJR team boss James Brickles was a raging alcoholic and would most likely lose concentration on the racing by taking an enthused interest in his vineyard. What Trulli didn't know that Cramer did was that Brickles was straight-edge, so the theory was that Brickles would vehemently disapprove of Trulli's side-project, damaging the Italian's morale. Cramer's plan would ultimately backfire as FJR produced a peach of a car to win both championships, and to further the embarrassment, it was Trulli who won the drivers championship. As for Gui Racing's season, he had brought in Kimi Raikkonen and Felipe Massa, but with the Bridgestones and naturally aspirated cars still relatively uncompetitive, the season was more or less a write-off, with Massa's 3rd place at Barcelona being the only highlight on the team's way to 8th in the constructors championship. To date, this is Gui Racing's lowest championship placing.
Most of the troubles Gui Racing had encountered during 2004 were looked into by the AFIA for the 2005 season, as other teams had similar problems, particularly MRD who were unhappy with their team's uncompetitiveness. Rules changes included a single tyre supplier and a tweak to the engine regulations to ensure that the performance gaps between the turbo and naturally aspirated cars would be much more equalised. Massa also had a new teammate in the form of Timo Glock, who spent 2004 in FF2M with STV Racing. Although the Cosworth engine was nothing like as powerful as the Mercedes, it was much more reliable. This allowed Glock to finish every race in the points aside from at the Nurburgring, where his teammate took his maiden win. Overall, Massa was comprehensively outperformed by Glock, who went on to take two wins at Silverstone and the Hungaroring. The first of those wins ended in highly unusual circumstances as coming round the final corner, a lapping manoeuvre on Rubens Barrichello went a bit wrong, sending the Shannon driver into a sequence of barrel rolls. Glock took the chequered flag with no front wing. His consistency was such that he was part of a three-way championship showdown at Interlagos with both Pedersen drivers. Although it was Mark Webber who led the championship, he suffered a race ending puncture very early into the race. This left Glock to battle with former Gui Racing favourite Ralf Schumacher, but Glock struggled on a heavy one-stop strategy and could only finish 5th, while Ralf went on the win the race and the drivers championship. Although he was no longer a Gui Racing driver, his dual Brazilian citizenship sent his adoring fans wild once more and the Brazilian team owner held a celebratory party for his former driver. Meanwhile, Massa's season ended early in favour of Nico Rosberg for the final three races, but Gui Racing still finished a solid 2nd in the constructors championship.
The original plan for 2006 was to have Rosberg and Glock as teammates, but Michael Schumacher was available and was more than happy to drive for Gui Racing in what would be his last season. It was also to be Cosworth's last season in FF1M, so the relevant parties were looking for a spectacular end to what had been a tremendous partnership considering their earlier history. Sadly, 2006 didn't quite work out the way all had hoped as Gui Racing's car had become uncompetitive. Both Michael and Glock could only manage a single podium finish each at Montreal and Hockenheim, and going into the Belgian Grand Prix, Cramer made the sensational decision to end Schumacher's career early in favour of 2006 FF2M champion Lewis Hamilton, whose form was such that he didn't need to complete that season. Hamilton also managed a single podium, this time at Shanghai, but the uncompetitive car had resulted in 7th place in the constructors championship. To rub salt into that particular wound, Michael was recruited by FJR for the final four races, helping the British squad to both championships.
Nearly Retired - The Final Years as Gui Racing (2007-2011)
Cosworth's final hurrah was to hold an enormous party shortly after the 2006 Brazilian Grand Prix, where teams and engineers enjoyed some drinks and very hearty Chicago-style pizzas made by Cramer himself. Many team bosses were impressed with his culinary skills, particularly Exolite boss James Whiteley who asked for a SOAD pizza, and Cramer got it absolutely spot on. The party ended with the boss of Gui Racing's new engine partners, Toyota, strapped to the roof of Whiteley's 1995 white Vauxhall Corsa automatic, nicknamed the 'Passion Wagon', with Massa pounding it round Interlagos.
The 2007 season saw pretty much everything change in the Gui Racing line-up as Robert Kubica was brought in to partner Christian Klien, Hamilton's closest challenger for the 2006 FF2M European championship. The partnership proved to be a productive one as both drivers worked diligently to develop the new Toyota V8 engine, which was hopeless in the previous season. Kubica even showed that it could be a good engine as he topped a few sessions during pre-season. During the season, he certainly had the measure over his Austrian teammate as he took his maiden win at Sepang, followed by three more at Spielberg, Hockenheim, and Interlagos. Klien was no slouch either, as he was a consistent points scored plus thrice podium finisher. Although neither driver could challenge for the championship, Gui Racing were 2nd in the constructors championship, not far off of Dark Wolf.
The line-up remained identical for the 2008 season aside from a change of test driver as Massa returned to the team, replacing compatriot Bruno Senna. In a minor reversal to 2007, it was Klien who provided the majority of points finishes and strong results, albeit marginally as Kubica was just as strong. Klien took his first career win at the Nurburgring, while Kubica took his second consecutive win at Spielberg. In the first nine races, Klien had finished in the top five in all nine races and was leading the championship. He should've made it ten from ten at Hockenheim, but it all went catastrophically wrong at half distance. On lap 21, Kubica cleanly overtook Klien going into the Jim Clark chicane, but the Austrian was still in the slipstream going into the Ostkurve. Kubica defended, but Klien still went for it. Both collided and speared straight into the tyre barriers resulting in immediate retirements for both. That proved to be the turning point for the whole season as despite two more wins for Kubica at Spa and Singapore, Tornado's Jenson Button found another gear and took himself and the team to both championships.
The relationship between Kubica and Klien deteriorated throughout the remainder of 2008 with both continuing to blame each other and refusing to accept responsibility for the Hockenheim fracas. Klien was apparently quoted saying "Kubica overtook me cleanly, I overtook him 'Klienly'." This led to Angus McBarnes distributing a press release, unilaterally declaring that "neither one of our race drivers will be with Gui Racing for 2009 because their childish behaviour had destroyed our championship chances. Crashing into each other is bad enough, but bearing toddler-like grudges because of it is disgraceful." Before Kubica and Klien got the chance to reconcile, another press release was distributed announcing the 2009 driver line-up of Sebastian Vettel and Lucas Di Grassi, as well as a switch to Mercedes engines. In a season characterised by KERS and three different tyre compounds, only Shake 'n' Bake and Tornado won races as they had the set-ups and strategies sussed out. In an effort to understand the regulations, Di Grassi was swapped for test driver Anthony Davidson for the Spanish Grand Prix only. In the end, Gui Racing's one highlight was a 2nd for Vettel at Hockenheim, and the team finished 4th in the constructors championship. The team's low point of the season was failing to qualify for the British Grand Prix. FJR also failed to qualify for the United States Grand Prix, so both teams still hold and share the record for most races competed in within the main series (FJR took part in the one-off 1950 race whereas Gui Racing didn't).
Rumours of retirement by Gui Racing's supremo began making their way on the paddock but the show had to go on. 2010 saw the return of Robert Kubica after he had spent a year away from Gui Racing for being a naughty boy. With Christian Klien unable to find a drive, the Polish driver had one less thing to worry about, but this was negated by having a former world champion as his teammate in the form of Nico Rosberg, who was back with the team having last drove for them towards the end of the 2005 season. In the seasons between his Gui Racing stints, he had become the 2006 world champion with FJR, only to be sacked by them mid-season in 2008. He then spent a season with Dark Wolf and despite multiple pole positions, he couldn't convert them into race wins due to the soft tyres' inability to work well in the races. Rosberg was therefore desperate for a return of his winning days, and with an equally hungry driver as his teammate, the season promised much. The season was riddled with outrageous unreliability, but Gui Racing's wasn't as bad as some, with five retirements for Rosberg and eight for Kubica. However, the car wasn't as quick as they had hoped, with just one podium all season courtesy of Kubica at Interlagos. It wasn't quite the usual frenzy, but it still resulted in Angus McBarnes dancing in the suburbs of downtown São Paulo wearing nothing but underwear and red knee-high socks, repeatedly shouting "Vamos España!" Gui Racing finished somewhere in the middle of a densely packed midfield battle with 7th in the constructors championship.
In an effort to try curb his latest lean spell and in a prelude to the Sean Connery Motorschhh switch, Cramer dramatically altered much of his team for the 2011 season with Felipe Massa returning after a year off. He was originally supposed to partner Kubica, but Robert had given rallying a go during the off-season and suffered a bad accident that left him with a broken arm. All teams wished him a speedy recovery and thankfully, he would be back for the 2012 season. In Kubica's place was Bruno Senna, making it an all Brazilian line-up for the first time since Season 4… well, 2001 if Ralf's Brazilian citizenship is taken into consideration. It had been a few seasons since Gui Racing last won a race, and with customer Honda engines and greatly restricted funds invested into the team, expectations were very low, so it came as an enormous surprise when Massa won in the very first race, thanks to a clever one-stop strategy. Win number two for Massa came at the Nürburgring, where he used the opposite strategy of two stops to win by more than a minute, as seemingly every other was more interested in fumbling around. At this stage, Massa led the drivers championship, but he couldn't keep up the momentum as the Gui Racing car lost its competitive edge throughout the season. Felipe ended the season 4th in the drivers championship. By contrast, Senna's season was dreadful, only scoring six points to Massa's 60, and this resulted in Gui Racing finishing 6th in the constructors championship.
Name Change, Change of Fortune (2012-Present)
The big change for 2012 was that Cramer had decided to retire the legendary Gui Racing name, but still remain in the sport after extensive negotiations - although future results would still count towards Gui Racing's overall statistics. To further confuse the matter, Cramer revived the Sean Connery Motorschhh name and designed an interesting new livery honouring the Scottish flag, with petrol blue as the dominant colour and steering wheel manufacturer MOMO as the main sponsor. Nico Rosberg was back after spending the previous season shaking and baking with Shake 'n' Bake, and he had Lucas Di Grassi as his teammate, so there was still a bit of Brazilian left in a team named after a Scottish actor. The ace in the pack for 2012 was the Ferrari. SCM had obtained a works deal with Tornado using a customer version, and both teams developed the engine to be strong and reliable all season. Rosberg was easily the best qualifier with 12 out of 17 pole positions, but he could only convert one of these into a win at Imola, and even then, he benefited from Lewis Hamilton suffering a mechanical problem from the lead. Nico's two other wins were at Interlagos where he executed the one-stop strategy perfectly, and Spa, where he benefitted from Hamilton inexplicably spinning off under no pressure. Meanwhile, Di Grassi started off slowly before experiencing a breakthrough at Monaco where he pressured race winner Bruno Senna until the end. From then, he was a regular points scorer and scored two more podiums at Hockenheim and Singapore. Both drivers' efforts resulted in SCM finishing 2nd in the constructors championship.
The SCM name was retired after just one season in favour of a completely new name for 2013. Gui assured the paddock he would be ready to re-invest into his team's exploits, and thus Sean Connery Motorschhh became Gojira AutoSport, with the team re-registered as a Brazilian-Japanese entrant and featuring a black livery and Sega sponsorship. They also acquired two new drivers in the form of Kimi Raikkonen and Sergio Perez. Crucially for the team, they maintained their works deal with Ferrari and managed to keep Tornado and lure Exolite and Shake 'n' Bake to further the development of the engine, which was by far the best engine in the field. As in 2012, Cramer's Gojira team were the pole sitter kings with Raikkonen taking ten pole positions and Perez taking four. Wins were harder to come by but Raikkonen managed to overcome an unscheduled pitstop to win the first race of the season, although this was unseen as the director spent the last couple of laps watching the other Gojira finish 5th. It was until seven races later when Gojira would next win, courtesy of Perez's maiden win at Montreal, taking advantage of track position on a circuit that proved almost impossible to overtake on. A second win for Raikkonen at Spielberg immediately followed before the embarrassment of Silverstone, where after locking out the front row, Raikkonen's suspension failed on the 3rd lap, and then Perez spun off at Copse corner one lap later and waited for four laps to rejoin. Shake 'n' Bake's Courtney Cass reckon he fancied building sandcastles for a bit. Despite losing a late win at the Hungaroring thanks to an unusual tyre failure in wet conditions, Raikkonen took two more wins at Spa and COTA to put himself in contention for the championship at Interlagos. He had a six point lead over Romain Grosjean going into the race, but he decided to win the championship in style with pole position and the win. Amazingly enough, despite his long career, this was his first drivers championship in either era of FF1M. As for the constructors championship, it was a much closer contest between Gojira and Tornado, but Raikkonen's late surge helped the Brazilian-Japanese team edge Tornado by a single point to take Cramer's record-breaking constructors championship, his first since the 2000 season.
Brand new regulations for 2014 saw Gojira change their entire set-up with three time champion Lewis Hamilton rejoining the team for the first time since his brief tenure in 2006. His teammate would be Kamui Kobayashi, a driver keen to take his first ever win after a few close calls. With a brand new Mugen engine plus three customers at his disposal, Gojira were billed as championship contenders with Hamilton predicted to win the drivers championship. The Brit was immediately competitive, but his victory in the opening race in Melbourne was a controversial one after a collision sent Sebastian Vettel upside down at the turn 3 gravel trap. Begrudgingly, Courtney Cass had to concede that it was just a racing incident. The battle for the drivers championship was a titanic struggle between Vettel and Hamilton as both were evenly matched throughout, but costly reliability issues crept in for Gojira as Hamilton lost at least three podium finishes at the Hungaroring, Spa, and Singapore due to various mechanical failures. Come the end of the season, the only difference between the two drivers was an addition 5th place for Vettel as all other points finishes were identical. As for Kobayashi, despite two podium finishes at Hockenheim and the Hungaroring, he was nowhere near the pace of Hamilton, and his lowly points haul meant that Gojira had to settle for 3rd in the constructors championship.
Only the manufacturer Mugen engine was the common denominator for 2015 as Robert Kubica fancied a 3rd stint with the Brazilian-Japanese team alongside Jean-Eric Vergne. The Frenchman had been involved in a bidding war with Gojira, Pedersen, and Tornado, but Vergne favoured Cramer's team due to the favourable position in the championship at the time.
Results and Statistics
Gui Racing/SCM/Gojira
Year
Engine
Ch. Pos.
Races
Points
Wins
Drivers
Ch. Pos.
Races
Points
Wins
Season 1
Ferrari
7th
16
45
2
Nigel Mansell
6th
16
45
2
Jenson Button
19th
16
0
Season 2
Ferrari
3rd
16
71
5
Nigel Mansell
1st
16
67
5
Rubens Barrichello
15th
16
4
Season 3
Ford
6th
17
39
Nigel Mansell
13th
17
12
Ayrton Senna
7th
17
27
Season 4
Ferrari
7th
17
44
1
Nelson Piquet Snr
9th
17
39
1
Rubens Barrichello
19th
11
3
Nelson Piquet Jnr
21st
6
2
Season 5
Ferrari (Works)
4th
16
69
1
Ayrton Senna
4th
16
69
1
Nico Rosberg
21st
4
0
Luca Filippi
22nd
12
0
Season 6
Renault (Works)
2nd
16
87
4
Ayrton Senna
2nd
16
67
3
Timo Glock
13th
16
20
1
Season 7
Renault (Works)
2nd
16
101
3
Mika Hakkinen
7th
16
47
1
Nico Rosberg
4th
16
54
2
Season 8
Renault (Works)
1st
17
171
6

 

Fernando Alonso
1st
17
118
4
Nico Rosberg
6th
17
53
2
1996
Ford (Works)
3rd
16
96
2

 

Jacques Villeneuve
6th
16
47
2

 

Rubens Barrichello
5th
16
49
1997
Ferrari (Works)
1st
17
175*
7

 

Jacques Villeneuve
2nd
17
93
3
Damon Hill
1st
17
94
4
1998
Ford (Works)
2nd
17
136
5

 

Ralf Schumacher
2nd
17
110
5

 

Jean Alesi
12th
17
26
1999
Ford (Works)
1st
17
159
3

 

Ralf Schumacher
2nd
17
85
1

 

Michael Schumacher
5th
17
74
2
2000
Cosworth (Works)
1st
16
154
6

 

Ralf Schumacher
3rd
16
75
2

 

Jarno Trulli
1st
15
79
4
Dario Franchitti
23rd
1
0
2001
Cosworth
3rd
17
125
1

 

Ralf Schumacher
8th
17
43
1
Cristiano Da Matta
1st
17
82
2002
Cosworth
3rd
16
104
1

 

Jarno Trulli
8th
16
39
1
Dario Franchitti
4th
16
65
2003
Cosworth
5th
16
56

 

Jarno Trulli
7th
16
36
Dario Franchitti
13th
16
20
2004
Cosworth V8
8th
17
32
Kimi Räikkönen
20th
17
7
Felipe Massa
11th
17
25
2005
Cosworth V8
2nd
17
112
3
Timo Glock
2nd
17
81
2
Felipe Massa
10th
14
28
1
Nico Rosberg
22nd
3
3
2006
Cosworth V8
7th
17
36
Timo Glock
17th
17
12
Michael Schumacher
7th
11
39**

 

Lewis Hamilton
18th
6
9
2007
Toyota V8
2nd
17
130
4
Robert Kubica
3rd
17
85
4
Christian Klien
6th
17
45
2008
Toyota V8
2nd
17
152
4
Robert Kubica
5th
17
68
3
Christian Klien
2nd
17
84
1
2009
Mercedes V8
4th
17/18
56
Sebastian Vettel
5th
17
51
Lucas Di Grassi
22nd
16
5

 

Anthony Davidson
28th
1
0
2010
Mercedes V8
7th
17
52
Robert Kubica
13th
17
26
Nico Rosberg
14th
17
26
2011
Honda
6th
17
66
2
Bruno Senna
19th
17
6
Felipe Massa
4th
17
60
2
2012
Ferrari (W)
2nd
17
130
3
Nico Rosberg
3rd
17
81
3
Lucas Di Grassi
6th
17
49
2013
Ferrari (W)
1st
18
183
5
Kimi Räikkönen
1st
18
111
5
Sergio Pérez
6th
72
2014
Mugen (M)
3rd
18
125
4

 

Lewis Hamilton
2nd
18
105
4

 

Kamui Kobayashi
11th
18
20
2015
Mugen (M)
Robert Kubica

 

Jean-Eric Vergne
* - Gui Racing were stripped of their 12 points in the Australian Grand Prix for bringing the sport into disrepute (Lewd pictures of a former James Bond actor were revealed alongside James Allen's commentary).
** - 24 points were scored in the final 4 races with FJR.
Sean Connery Motorschhh (Season 8)
Year
Engine
Ch. Pos.
Races
Points
Wins
Drivers
Ch. Pos.
Races
Points
Wins
Season 8
Ford (Works)
11th
17
1
Luca Badoer
20th
17
1
Karl Wendlinger
21st
17
0
Classic History
Cramer has also participated in the Classic FF1M series. For the 1986 season, the Sean Connery Motorschhh name was revived and Cramer recruited the highly experienced Nelson Piquet and Jacques Laffite to drive the Ligier-Renault chassis and engine combination. Despite their talents, the car wasn't quite a match for the likes of Tornado and Dark Wolf, but Piquet was a regular points scorer and finished 6th in the drivers championship. SCM also finished 6th in the constructors championship.
1987 saw a return to the familiar Gui Racing name, as the team owner was jubilant over the signing of compatriot Ayrton Senna, and German Christian Danner, who would be driving the Puma-Honda combination. Prospects were high with the Brazilian ace behind the wheel but there was always question on the engine's reliability. Senna had a fantastic season of extremes with five retirements and five victories in ten races. The championship was an exciting nail-bitter as heading into the showdown in Adelaide, Alain Prost led the Brazilian by four points. In the race, the Brazilian was again spectacular and was seemingly a man possessed as he led the race from the very start. Prost's retirement meant Senna had to finish at least in second place but given the shaky reliability, it was an unnerving last few laps for Gui, who saw his driver cross the line in first to secure both championships, leaving the team owner very emotional.
Gui Racing once again changed names for 1988, opting for Cramer Motorsports instead. The level-headed Riccardo Patrese and Thierry Boutsen were recruited to drive a Ferrari engined car. A handful of podium finishes for Patrese was the highlight, but the season was declared void due to hardware failure resulting in many results being lost.
The fourth classic season saw the now inevitable name change to Gojira, a driver line-up of Gerhard Berger and Derek Warwick, and the powerful Honda engines. It proved to be a dependable package with Berger taking two wins. While Phoenix was a lonely drive aided by Ayrton Senna's gearbox going wrong, Suzuka was superb as an early pitstop saw him jump Nigel Mansell and Alain Prost and grimly hold them off until the end. Warwick's highlight was a podium at Monza, and their combined efforts resulted in 3rd in the constructors championship.
Year
Chassis-Engine
Ch. Pos.
Races
Points
Wins
Drivers
Ch. Pos.
Races
Points
Wins
1986
Ligier-Renault
6th
10
17
0
Nelson Piquet
6th
10
14
0

 

Jacques Laffite
13th
10
3
0
1987
Puma-Honda
1st
10
46
5
Ayrton Senna
1st
10
45
5
Andrea De Cesaris
17th
10
1
0
1988
Ferrari-Ferrari
6th
8*
10*
N/A
Riccardo Patrese
7th*
8*
8*
N/A
Thierry Boutsen
15th*
8*
2*
N/A
1989
Honda
3rd
10
36
2
Gerhard Berger
3rd
10
27
2

 

Derek Warwick
10th
10
9
0
FF2M
Gui Cramer also runs an FF2M team initially under the name Cramer Motorsports. The team's best championship finish to date was 2nd in 1998 and 2001. The focus of the team is to give young and promising drivers a chance to develop into better racers and eventually reach FF1M. The most famous case is of Jarno Trulli, discovered in 1998 and then nurtured into a talent that took FF1M by storm winning two titles in a row (1999 and 2000). Cristiano da Matta was also discovered by Cramer, however he finished 2nd in his debut FF2M season and earned a test spot in FF1M. In the 2001 season, he willfully won the FF1M championship despite the car lacking in speed.
Cramer Motorsports took a sabbatical year in 2003, returning successfully with 3rd in the constructors championship in the 2004 Asia series. They were also absent for the 2006 Asia series, the 2007 Europe series, and the 2009 Europe series. For the 2012 season, they raced under MacLeod Racing before reverting to Gojira AutoSport from the 2012-13 Asia series onwards.
Season
Engine
Ch. Pos.
Races
Points
Wins
Drivers
Ch. Pos.
Races
Points
Wins
1998
Mugen Honda
2nd
8
76
3
Jarno Trulli
1st
8
74
Tarso Marques
19th
8
2
1999
Renault
3rd
12
121
3
Enrique Bernoldi
8th
12
35
Cristiano Da Matta
2nd
12
86
3
2000
Renault
3rd
12
109
1
Dario Franchitti
4th
12
59
1
Bruno Junqueira
6th
12
42
2001
Renault
2nd
12
138
4
Dario Franchitti
2nd
12
86
4
Bruno Junqueira
6th
12
52
2002
Renault
6th
12
55
1
Bruno Junqueira
10th
12
33
Tomas Enge
15th
12
22
1
2004 (Asia)
Mecachrome
3rd
8
55
1
Tiago Monteiro
4th
8
42
1
Gary Paffett
10th
8
13
2004 (Europe)
Mecachrome
6th
8
49
1
Tiago Monteiro
3rd
8
37
1
Gary Paffett
14th
8
12
2005 (Asia)
Renault
Robert Doornbos
Lucas Di Grassi
2005 (Europe)
Renault
8th
8
17

 

Alexandre Premat
18th
8
4

 

Borja Garcia
12th
8
13
2006 (Europe)
Renault
1st
19
121
4
Lewis Hamilton
1st
15
93
4

 

Alexandre Premat
25th
4
0
Lucas Di Grassi
7th
19
28
2006-07 (Asia)
Renault
10th
14
15
Antonio Pizzonia
21st
14
5
Adrian Zaugg
15th
14
10
2007-08 (Asia)
Renault
1st
12
99
6
Lucas Di Grassi
1st
12
69
6

 

Kamui Kobayashi
4th
12
30
2008 (Europe)
Renault
8th
20
30
Giedo Van Der Garde
12th
20
17
Brendon Hartley
16th
20
13
2008-09 (Asia)
Renault
5th
16
34
1
Nico Hulkenberg
6th
16
33
1
Mikhail Aleshin
18th
16
1
2009-10 (Asia)
Renault
1
Mikhail Aleshin

 

Jules Bianchi
1
2010 (Europe)
Renault
5th
20
59
2
Luca Filippi
6th
20
46
2
Luiz Razia
14th
20
13
2011
Renault
11th
14
38

 

Stephane Richelmi
17th
14
21
Luiz Razia
20th
14
17
2012 (Asia Pacific)
Renault
5th
10
24
Jerome d'Ambrosio
8th
10
18
Felipe Nasr
15th
10
6
2012 (Europe)
Renault
9th
16
25
1
Jerome d'Ambrosio
10th
16
25
1
Felipe Nasr
19th
16
0
2012-13 (Asia)
Renault
8th
14
29
2

 

Carlos Sainz
8th
14
29
2
Mitch Evans
21st
14
0
2013 (Europe)
Renault
6th
20
44

 

Carlos Sainz
7th
20
44

 

Kazuki Nakajima
21st
20
0
2013-14 (Asia)
Renault
4th
14
61

 

Charles Pic
2nd
14
61

 

Kazuki Nakajima
22nd
14
0
2014 (Europe)
Renault
4th
20
92
3

 

Charles Pic
2nd
20
81
3
Felipe Nasr
14th
20
11
2014-15 (Asia)
MRD
Daniil Kvyat
Max Verstappen