FF1M Season 2 was the second season of FF1M. It began at the Australian Grand Prix at Melbourne. The Drivers Championship was won by Nigel Mansell driving for Gui Racing whilst AquinoPlus successfully defended their Season 2 Teams Championship crown.
The season contained drivers and engines from many different years over the 90's and 2000's, while the calendar was based off of the 2000 Formula One Season with the Malaysian Grand Prix omitted. The season also saw the debut of Ajay Motorsports, who replaced the short-lived Jordan team.
Teams and Drivers
The following Teams and Drivers took part in Season 2
Team
Engine
Tyre
No.
Race Drivers
Test Driver/s
AquinoPlus
Ford
1
Michael Schumacher
2
Alain Prost
Maestro Motorsport
Honda
3
Ayrton Senna
4
Kimi Raikkonen

ARacing

Honda
5
Gerhard Berger
6
Riccardo Patrese
Exolite
Ford
7
Lewis Hamilton
8
Olivier Panis
Willow Images
Ford
9
Damon Hill
10
Juan Pablo Montoya
M-Sport
Ferrari
11
Nelson Piquet
12
Fernando Alonso
Gui Racing
Ferrari
14
Nigel Mansell
15
Rubens Barrichello
British Lions
Ford
16
Mika Hakkinen
17
Martin Brundle
FJ's Fast Squad
Ferrari
18
Jean Alesi
19
Johnny Herbert
Pedersen
Ferrari
20
Jenson Button
21
Jacques Villeneuve
Ajay Motorsports
Renault
22
David Coulthard
23
Giancarlo Fisichella
Season Review
Round 1 - Australia
Reigning champion Michael Schumacher had a difficult qualifying session at Melbourne as he could only manage 11th. Taking pole position was M-Sport's Fernando Alonso, but he was unable to convert to to a win. In fact, he didn't even finish, and it was left to Maestro Motorsport's Kimi Raikkonen to win the first race of Season 2. ARacing's Gerhard Berger finished 2nd, while Schumacher put in a strong recovery in his AquinoPlus to finish 3rd.
Round 2 - Brazil
After his failure to finish in Australia, Fernando Alonso bounced back to dominate the Brazilian Grand Prix having once again started from pole position. After a difficult race in Melbourne, Willow Images' Damon Hill had a strong race from 10th on the grid to finish 2nd, while Michael Schumacher once again had to work his way through the field to finish 3rd having started ten places further back. Both Willow Images and AquinoPlus were running Ford engines, and it was clear that their qualifying power output was nowhere near Ferrari's level.
Round 3 - San Marino
Fernando Alonso once again utilised his Ferrari powerplant as well as his talent to take his third pole position in a row at Imola, and he followed this up with his second win in a row in yet another crushing display. This time around, he was joined on the podium by Jacques Villeneuve, a driver who was absent last season but had managed to secure a seat for the Pedersen team. This was in fact the Danish team's first ever podium finish. Completing the podium was last season's best qualifier, Nigel Mansell,
Round 4 - Great Britain
The British Grand Prix made an earlier than usual appearance on the FF1M calendar due to the Fantasy Football World Cup taking place, therefore necessitating an earlier calendar slot for the race at Silverstone. Seven British drivers were participating, but it was Finland's Kimi Raikkonen who took pole position. The British crowd were still hopeful of a home win, and they received just that as their Nige took his first win of the season. In fact, there would be two Brits on the podium as Exolite's Lewis Hamilton put in a stellar drive to go from 12th to 3rd. Sandwiching the two was Kimi Raikkonen.
Drivers Championship
| Position | Driver | Team | Points |
| --- | --- | --- | --- |
| 1st | Fernando Alonso | M-Sport | 20 |
| 2nd | Nigel Mansell | Gui Racing | 17 |
| 3rd | Kimi Raikkonen | Maestro Motorsport | 16 |
Constructors Championship
| Position | Team | Points |
| --- | --- | --- |
| 1st | M-Sport | 24 |
| 2nd | Maestro Motorsport | 18 |
| 3rd | Gui Racing | 17 |
Round 5 - Spain
Having triumphed at Jerez the season before, Fernando Alonso was looking to do the same at Barcelona. Unfortunately, he had a disastrous race as an earlier off left him down in 14th before another off at turn 3 led to a slow rejoin and being shunted into retirement by the Ajay of David Coulthard.
Rain arrived during the race which caused a big crash for Damon Hill as well as a tangle between the other Willow Images of Juan Pablo Montoya and Lewis Hamilton. But it was Jacques Villeneuve who stayed out of trouble to take his and Pedersen's first career win. Finishing 2nd was AquinoPlus' Alain Prost, who like Villeneuve, was surprisingly absent for the previous season. Taking 3rd and his first podium since the very first FF1M race was British Lions' Mika Hakkinen.
Round 6 - Europe
The first of two German races of the season took place at the Nurburgring, the first time FF1M has visited the circuit. They were treated to an epic battle between their home hero Michael Schumacher and an in-form Alain Prost, not just in qualifying, but in the race as well. In the end, Prost converted his first pole position into his first win, with Schumacher not far behind. This result was the first 1-2 finish in FF1M as both drivers were with AquinoPlus, and it was clear their Ford engine had caught up in terms of power. Taking 3rd was Jacques Villeneuve, who also took the championship lead thanks to Alonso's poor form.
Round 7 - Monaco
The principality of Monaco was next up on the 16-race calendar, and Nigel Mansell mastered qualifying to take his second pole of the season. Alain Prost lined up alongside him on the front row and made a better start to take the lead. However, he pushed too hard and crashed out at the swimming pool on the 4th lap. His teammate did the same at the first Portier shortly after half distance, and just to rub salt in the wound, the M-Sport of Nelson Piquet shunted into the German's rear.
Once Prost crashed out, Mansell controlled the race to take his second win of the season and with it, the championship lead. Ayrton Senna finished in 2nd place, while Fernando Alonso returned to form with 3rd place. His result moved him to within two points of Mansell.
Round 8 - Canada
Fernando Alonso took his fourth pole position and converted it into the lead by the first corner. A scrappy first lap saw Martin Brundle collide with David Coulthard, and the British Lions driver followed this up by creating a traffic jam and driving into Olivier Panis. At the final chicane, Nigel Mansell tried to outbrake Michael Schumacher for 2nd but ran off circuit. Upon rejoining, he drove into the AquinoPlus and spun round. Having righted the car, he was shunted into retirement by the other British Lions of Mika Hakkinen.
Despite an enormous lead at the end of the first lap, Alonso suffered a retirement, and it was Schumacher who survived the Mansell assault to win his first race of the season. He was joined on the podium by Nelson Piquet and Alain Prost.
Drivers Championship
| Position | Driver | Team | Points |
| --- | --- | --- | --- |
| 1st | Michael Schumacher | AquinoPlus | 30 |
| 2nd | Nigel Mansell | Gui Racing | 27 |
| 3rd | Fernando Alonso | M-Sport | 25 |
Constructors Championship
| Position | Team | Points |
| --- | --- | --- |
| 1st | AquinoPlus | 53 |
| 2nd | M-Sport | 37 |
| 3rd | Gui Racing | 27 |
Round 9 - France
The second half of the season began at the remote Magny-Cours circuit, and having taking the lead of the championship in the previous race, Michael Schumacher was on top form as he took his second win of the season. It wasn't an easy win however as he faced an unlikely challenge in the form of an inspired Jean Alesi, who took 2nd for FJ's Fast Squad and was less than a second behind Schumacher. Although Nigel Mansell suffered another race retirement, it was the other Gui Racing of Rubens Barrichello who took his first podium of the season.
Round 10 - Austria
Despite two retirements in a row, Nigel Mansell bounced back in the best possible way by taking pole position and converting it in his third win of the season and closing to within seven points of Michael Schumacher's championship lead. The championship had finished this race in 3rd, with Jacques Villeneuve sandwiching the pair.
Round 11 - Germany
Championship leader Michael Schumacher had a dismal time during qualifying with only 11th on the grid. Worse than that, his main rival, Nigel Mansell, was on pole. The Gui Racing driver had a perfect start to lead coming out of the first corner, but further back, Martin Brundle tipped Nelson Piquet into a spin and then accidentally drove into his teammate. Further round the first lap, 6th-placed Riccardo Patrese left his braking way too late when trying to overtake Juan Pablo Montoya, and ended up clattering into Ayrton Senna.
Schumacher wasn't having a good race, and it got worse after Pedersen's Jenson Button smothered him at the first chicane. Fortunately, it was Button who came off second best. A recovering Nelson Piquet did something similar to Jean Alesi at the same corner.
More spectacularly, Olivier Panis was tipped onto his side by David Coulthard, and then lost his front wheels as he came crashing back down to earth. With no way of steering or braking, Panis then skidded into the path of Damon Hill, ripping the left rear corner off the Willow Images in the process. Jealous of Panis' exploits, Jacques Villeneuve was launched into a barrel roll by Schumacher and had his car demolished in the process.
Almost unnoticed amongst the chaos, Mansell dominated the race to take back-to-back wins with Fernando Alonso some 36 seconds further back in 2nd place. Finishing 3rd and giving AquinoPlus some consolation was Alain Prost. The result put Mansell back in the lead of the championship by three points.
Round 12 - Hungary
The high-downforce nature of the Hungaroring suited Michael Schumacher as he took his first pole position of the season. Despite a poor start, Schumacher just managed to hold on to the lead from Nigel Mansell. Further back, it was kicking off as Lewis Hamilton ran wide and spun at turn 9. He was then collected by compatriot Jenson Button causing the retirement of both. Meanwhile, Giancarlo Fisichella understeered into the barrier at the penultimate corner.
Schumacher had controlled the race brilliantly for the first 67 laps, but then he lost his brain as first, he spun coming out of the penultimate corner, losing the lead to Fernando Alonso, and then he just drove into the barrier and smashed his front wing. Six laps later after a nose change, he pulled off the circuit after a transmission failure.
After being gifted the race lead, Alonso was left to take his third win of the season and cement himself as a firm championship contender. Completing the podium were Ayrton Senna and Jacques Villeneuve.
Drivers Championship
| Position | Driver | Team | Points |
| --- | --- | --- | --- |
| 1st | Nigel Mansell | Gui Racing | 50 |
| 2nd | Fernando Alonso | M-Sport | 44 |
| 3rd | Michael Schumacher | AquinoPlus | 44 |
Constructors Championship
| Position | Team | Points |
| --- | --- | --- |
| 1st | AquinoPlus | 72 |
| 2nd | M-Sport | 59 |
| 3rd | Gui Racing | 54 |
Round 13 - Belgium
The final quarter of the season began at Spa-Francorchamps, and three drivers were realistically battling for the championship. For one of those three, the Belgian Grand Prix was a disaster. From pole position, Nigel Mansell had a bad start on a wet track and dropped down to 5th going into La Source. Desperate to make up places, contact with Mika Hakkinen at Eau Rouge sent the Gui Racing driver hurtling into the barriers and immediately out of the race.
Hakkinen managed to continue and then decided to disrupt the race even further as being distracted by blue flags on lap 29 meant that he went straight on at the second bus stop and crashed into the concrete. The impact sent him into the path of the race leader, Alain Prost, and both were out on the spot.
For the second race in a row, Fernando Alonso was handed another win, propelling him into the lead of the championship in the process. With Michael Schumacher finishing 3rd, the gap between the top three was still six points, but in a slightly different order. Ayrton Senna finished 2nd and moved onto 25 points. With Alonso on 54, Senna still had a mathematical chance, albeit a completely unrealistic one.
Round 14 - Italy
The final European race of the season took place at Monza, and after losing the championship lead, Nigel Mansell was on a mission to regain it, and from pole position, he had the perfect result as he dominated to take his fifth win of the season. With Michael Schumacher and Fernando Alonso failing to score, Mansell moved back into the championship lead. Having taken FJ's Fast Squad's first ever front row start, Jean Alesi converted that into a fine 2nd place, while Kimi Raikkonen finished 3rd.
Drivers Championship
| Position | Drivers | Team | Points |
| --- | --- | --- | --- |
| 1st | Nigel Mansell | Gui Racing | 60 |
| 2nd | Fernando Alonso | M-Sport | 54 |
| 3rd | Michael Schumacher | AquinoPlus | 48 |
Constructors Championship
| Position | Team | Points |
| --- | --- | --- |
| 1st | AquinoPlus | 76 |
| 2nd | M-Sport | 69 |
| 3rd | Gui Racing | 64 |
Round 15 - United States
A new venue for the United States Grand Prix was next in the form of the historic Indianapolis Motor Speedway. In qualifying, Nigel Mansell confirmed himself as one of the fastest drivers with pole number seven of the season. He couldn't quite match his pace in the race as he finished 3rd, one place ahead of Michael Schumacher, and many ahead of Fernando Alonso, who suffered an untimely retirement. It was Ayrton Senna who took his first win of the season ahead of Jean Alesi.
Round 16 - Japan
Going into the final race, Nigel Mansell had a ten point lead in the championship over Fernando Alonso. If Alonso won at Suzuka and Mansell failed to scored, then Alonso would win the championship by virtue of having five wins and one second place compared Mansell's five wins and two third places.
In the end, the complicated permutation wasn't needed as Michael Schumacher took a superb win in the wet after taking the lead on lap 5 from Mansell. With teammate Alain Prost in 3rd, this secured the constructors championship for AquinoPlus, but Mansell's 4th place secured him the drivers championship. Sandwiching the two AquinoPlus drivers was Kimi Raikkonen.
Results and Standings
Grands Prix
| Rnd | Country | Circuit | 1st | 2nd | 3nd | |
| --- | --- | --- | --- | --- | --- | --- |
| 1 | Australia | Melbourne | Kimi Raikkonen (Maestro Motorsport) | Gerhard Berger (A Racing) | Michael Schumacher (AquinoPlus) | |
| 2 | Brazil | Interlagos | Fernando Alonso (M-Sport) | Damon Hill (Willow Images) | Michael Schumacher (AquinoPlus) | |
| 3 | San Marino | Imola | Fernando Alonso (M-Sport) | Jacques Villeneuve (Pedersen) | Nigel Mansell (Gui Racing) | |
| 4 | Great Britain | Silverstone | Nigel Mansell (Gui Racing) | Kimi Raikkonen (Maestro Motorsport) | Lewis Hamilton (Exolite F1) | |
| 5 | Spain | Barcelona | Jacques Villeneuve (Pedersen) | Alain Prost (AquinoPlus) | Mika Hakkinen (British Lions) | Highlights |
| 6 | Europe | Nurburgring | Alain Prost (AquinoPlus) | Michael Schumacher (AquinoPlus) | Jacques Villeneuve (Pedersen) | |
| 7 | Monaco | Monte Carlo | Nigel Mansell (Gui Racing) | Ayrton Senna (Maestro Motorsport) | Fernando Alonso (M-Sport) | Highlights |
| 8 | Canada | Montreal | Michael Schumacher (AquinoPlus) | Nelson Piquet (M-Sport) | Alain Prost (AquinoPlus) | Highlights |
| 9 | France | Magny Cours | Michael Schumacher (AquinoPlus) | Jean Alesi (FJ's Fast Squad) | Rubens Barrichello (Gui Racing) | |
| 10 | Austria | A1 Ring | Nigel Mansell (Gui Racing) | Jacques Villeneuve (Pedersen) | Michael Schumacher (AquinoPlus) | |
| 11 | Germany | Hockenheim | Nigel Mansell (Gui Racing) | Fernando Alonso (M-Sport) | Alain Prost (AquinoPlus) | Highlights |
| 12 | Hungary | Hungaroring | Fernando Alonso (M-Sport) | Ayrton Senna (Maestro Motorsport) | Jacques Villeneuve (Pedersen) | Highlights |
| 13 | Belgium | Spa | Fernando Alonso (M-Sport) | Ayrton Senna (Maestro Motorsport) | Michael Schumacher (AquinoPlus) | Highlights |
| 14 | Italy | Monza | Nigel Mansell (Gui Racing) | Jean Alesi (FJ's Fast Squad) | Kimi Raikkonen (Maestro Motorsport) | |
| 15 | USA | Indianapolis | Ayrton Senna (Maestro Motorsport) | Jean Alesi (FJ's Fast Squad) | Nigel Mansell (Gui Racing) | |
| 16 | Japan | Suzuka | Michael Schumacher (AquinoPlus) | Kimi Raikkonen (Maestro Motorsport) | Alain Prost (AquinoPlus) | Highlights |
Drivers Championship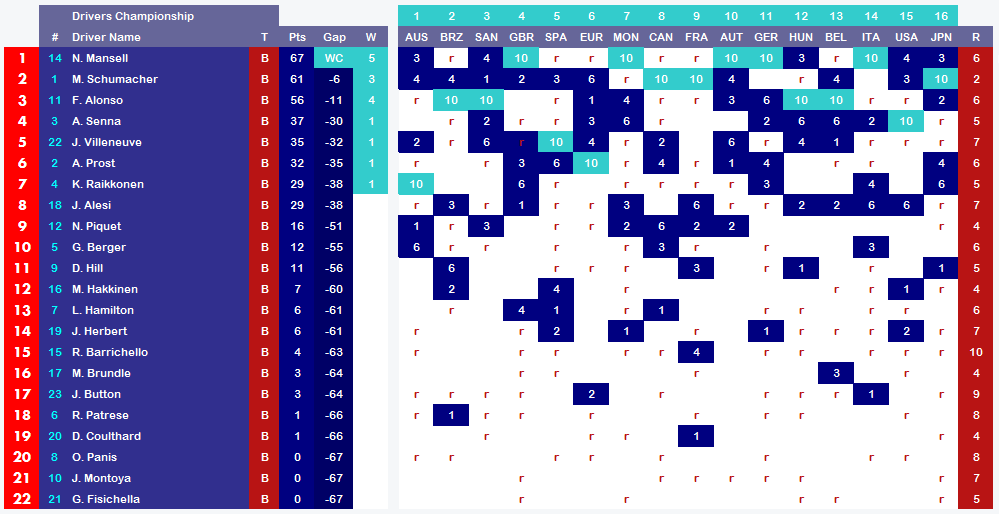 Teams Championship

Qualifying Positions