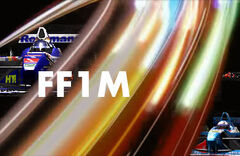 Overview
FF1M is a simulated racing league conceived and run by Ajay Motorsports (In universe called the AFIA) and hosted on theracingline.net forums and run using the Grand Prix 3 2000 software.
At the start of each season entrants create their team, signing drivers, engines, tyre suppliers and sponsors in the hope of winning races and eventually claiming the title of the Drivers and/or Teams Championship.
In the first few seasons the series was billed as a masters event with drivers from different F1 era's competing for the title. However in recent seasons this has changed and each season now follows a specific year, with drivers, engines and circuits from that year.
Rules
Teams Bosses and Team Entry
Main Article: Pre Season
Teams are entered at the start of each season. In order for an entry to be accepted by the AFIA the team must have 2 Drivers, an Engine and a Tyre Supplier. They can also choose to run a dedicated test driver if they wish.
Once entries are completed Team Bosses can choose which areas to focus on in testing, and after the first race of the season, hire and fire their drivers. They can also extend their current contracts at any point during the season for the price given at the start of the season. At the Monaco Grand Prix each season they make sponsorship bids in an effort to attract sponsorship to the team for the subsequent season. After the mid point of the season, the silly season begins and Team Bosses can choose to sign next seasons drivers early, but must compete with other Team Bosses to get their desired drivers.
Drivers
Drivers in FF1M are signed during pre season or from Season 11 onwards, during the Silly Season and can assume Race Driver or Test Driver roles.
In the first few seasons the drivers used in the series were drivers who had won a race between 1990 and 2007 in Formula One. However in later seasons this was changed and gradually the series changed so that each season would match a particular year of F1 history and drivers were added that drove or tested in that year.
From the 1996 season onwards all "future drivers" including 3 time FF1M World Champion Fernando Alonso were dropped, they will however return when the series reaches the year that they came into Formula One.
Rookie Drivers
Rookie Drivers are drivers under 30 years of age who have not scored a single point in the previous 2 seasons of FF1M. As a Rookie Driver they earn double Development Points for their teams during testing.
Driver Development
Each driver has a Driver Talent Rating which is his or her starting performance. As FF1M Progresses, the driver performance rating can Improve or Deteriorate according to a number of factors.
To improve this Driver Performance a Driver must either be a Rookie Driver or take part in FF2M. Every driver who takes part in FF2M will improve in performance for each point they score meaning a driver with 16000 performance at the start of the season, who scores 100 points in FF2M, will have 16100 points at the start of the next season.
Rookie Drivers can be improved through testing. For each development point a Rookie Driver earns for his team, the corresponding amount will be added to their Driver Performance.
However, all drivers are subject to the ravages of age. Each year a driver ages they will lose a small amount of performance.
Engines
Engine Suppliers in FF1M are signed during pre season only and are contracted to teams in much the same way as drivers are. They can supply two types of engines: Works or Customer. A Customer engine will generally be cheaper than a Works engine, and starts the season with the same power however they develop at half the rate of a works engine and as such at the end of the season their performances can be extremely different.
The presence of an engine supplier in FF1M is determined by the year of Formula One history that the particular season is linked to. For example BMW will enter FF1M in Season 13 which is set to follow the 2000 Formula One Season, they will then stay in FF1M until Season 22 which will follow the 2009 Formula One Season, where they will depart as their real life counterparts have.
Testing
See Main Article: Testing
Race Weekend
FF1M Race's take place on Wednesday's and Sunday's and are held over the same distance as a normal Formula One race (approx. 200 miles). There is also a 45 minute unlimited lap Qualifying Session the previous day to decide the grid. On most Friday's during the season the series feeder series FF2M is run except at the opening round of the championship where an extra 2 hour practice session is held.
Points System
For the first three seasons, FF1M used the same points system as Formula 1 used between 1991 and 2002. However during season 3 a new system was decided through a vote between the team owners at the time. The following points system has been used ever since.
| | |
| --- | --- |
| Finishing Position | Points |
| 1st | 12 |
| 2nd | 8 |
| 3rd | 6 |
| 4th | 5 |
| 5th | 4 |
| 6th | 3 |
| 7th | 2 |
| 8th | 1 |
Race Coverage
At the start of a race weekend a "Bumper" is posted in the current seasons forum thread which contains circuit data including previous winners of the event, lap records and a basic weather report. Results of FF1M Race Weekend sessions are then posted along with Fastest Lap data, Championship standings and for most races a Lap Chart. From the 1989 FF1M Season onwards there have been Race Highlights posted on YouTube for some races. In later seasons the frequency of these highlights videos has grown and in the 1998 FF1M Season every race had a YouTube highlights package for the first time. The YouTube highlights package generally contains race action only however there are plans to add Race Results and Championship Tables to the highlights in the near future.
Seasons
Fantasy F1 Masters
Fantasy F1 Management
Community content is available under
CC-BY-SA
unless otherwise noted.