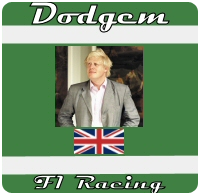 Dodgem are a former team in FF1M, formerly called British Lions. The team is owned by ClarkF1 and its team principal is bumbling politician Boris Johnson. The team has a sister team, Super Dodgy, which has run in both FF1M and FF2M.
History
Dodgem's parent company Dodgy Racing Inc. LLC Ltd. began life in 1978 as Chas n' Dave's East End Karting Kompany with Ross Kemp at the helm. They held illegal karting races in Regent Street at night using the unique night life of Soho for corporate sponsorship.
After lots of entertaining and fine dining in the best strip clubs of London, in 1979 a Spearmint Rhino Championship run by Prime Minister-elect Margaret Thatcher was formed.
The team had managed to sign a couple of Karting superstars - young Jenson Button (aged -1) and Enzo Ferrari (aged 81).
In 1980 after the series failed, the team joined the Formula Junior Kart Management (FJKM) series run by intrepid entrepeneur Bing Crosby. They won the Formula Junior Kart Management (FJKM) "Michael Schumacher Is Teh Best" Marty McFly Time Travel memorial trophy at the first attempt.
After an acrimonious split with the series organisers, they set up the rival "Ralf Schumacher will never live up to his elder brother" Doc Brown Memorial Trophy. However the series was a failure due to no other teams competing and circuits made completely of gravel with tarmac run-off areas.
After this fiasco the driving side of the team was put on hiatus with the technical side known as Useless Sods F1 (USF1) providing poor technical support to other teams competing to take part in the inaugural FF1M season and conducting denial-of-service attacks on their rivals' websites.
The Team as we see it today started life as British Lions who were amongst the original 11 teams in the first season of FF1M, but changed their name to Dodgem Racing shortly before the 1990 FF1M Season. They have competed in every season of FF1M and won the Drivers and Teams Championships in 1998. This was notable because coming into that season they were yet to win a race. This changed however when Michael Schumacher won the opening round of that years championship for the team. Schumacher went on to win the Drivers Championship with the most points ever scored by a driver in a single season.
The team holds the honour of being the only team in the history of FF1M to go through a championship season without scoring a single point twice. A feat that it achieved during 1990 and 2002.
On 14th December 2012, Dodgy Racing Inc. LLC Ltd. announced that their Super Dodgy FF2M team had completed its final season and that 2009 would be the final season for Dodgem F1 Racing.
After the first 6 races of their final season, Dodgem decided to rely on old technology and withdraw from testing to avoid taking up a spot in races that could go to a team continuing in the FF1M championship next season. After talks with series guru Ajay, Dodgem were allowed to reinstate their 2009 technology for the final race of the season at Suzuka. 
Nick Heidfeld did well qualifying in 10th with team-mate Giorgio Pantano not far behind in 13th. In the race the positions were switched with Pantano finishing a creditable 9th with Heidfeld finishing 12th after a suspension failure near the end of the race.
Results
FF1M
Year
Engine
Ch. Pos
Races
Points
Wins
Drivers
Ch. Pos
Races
Points
Wins
British Lions
1988
BMW
8th
16
12
Johnny Herbert
11th
16
6
Martin Brundle
10th
16
6
1989
Ford
9th
16
10
Mika Hakkinen
12th
16
7
Martin Brundle
16th
16
3
Dodgem Racing
1990
Ilmor
11th
17
0
Ralf Schumacher
21st
17
0
Takuma Sato
22nd
17
0
1991
Ford
10th
17
5
Johnny Herbert
25th
15
0
Giorgio Pantano
24th
2
0
Giancarlo Fisichella
17th
17
5
1992
Honda
5th
16
68
Alain Prost
6th
16
55
Jenson Button
13th
13
13
Riccardo Patrese
21st
3
0
1993
Ford (Works)
10th
16
17
Nigel Mansell
18th
16
10
Martin Brundle
19th
16
7
1994
Ferrari
7th
16
27
Nigel Mansell
13th
16
23
Felipe Massa
18th
16
4
1995
Mercedes (Works)
6th
17
56
Gerhard Berger
12th
17
23
Damon Hill
8th
17
33
1996
Ferrari
10th
16
18
Martin Brundle
13th
16
18
Pedro De La Rosa
22nd
11
0
Oliver Gavin
25th
5
0
1997
Ferrari
8th
17
17
Olivier Panis
12th
17
10
Mark Blundell
14th
17
7
1998
Ferrari (Works)
1st
17
173
8
Michael Schumacher
1st
17
124
7
Mika Hakkinen
4th
17
49
1
1999
Ferrari
5th
17
56
Jacques Villeneuve
8th
17
36
Rubens Barrichello
11th
17
20
2000
BMW
5th
16
74
Jacques Villeneuve
10th
16
31
Mika Hakkinen
7th
16
43
2001
Mercedes
8th
17
30
Justin Wilson
13th
17
16
Giancarlo Fisichella
15th
17
14
2002
Ferrari
10th
16
0
Justin Wilson
20th
16
0
Giancarlo Fisichella
19th
16
0
2003
Ferrari
6th
16
54
Heinz Harald Frentzen
8th
16
31
Rubens Barrichello
12th
16
23
2004
Ferrari
4th
17
67
Michael Schumacher
5th
17
50
2
Pedro De La Rosa
16th
17
17
2005
Ferrari
3rd
17
93
Sebastien Bourdais
8th
17
34
1
Michael Schumacher
4th
17
59
2
2006
Ferrari
5th
17
75
Sebastien Bourdais
3rd
17
55
1
Rubens Barrichello
12th
17
20
2007
Ferrari
9th
17
24
Sebastien Bourdais
12th
17
18
Ralf Schumacher
17th
17
6
2008
Ferrari
10th
13
10
David Coulthard
23rd
13
0
Timo Glock
13th
13
10
2009
Toyota
13th
7
1
Giorgio Pantano
25th
7
0
Nick Heidfeld
24th
7
1
Super Dodgy

Super Dodgy began life as a second team entered by ClarkF1 during the 1995 FF1M Season due to extra grid slots being available. Starting off as a financially and legally independent team from Dodgem Racing, it became incorporated into Dodgy F1 Racing Inc LLC Ltd. just before the 1998 FF1M-3000 Season. The team now races in FF2M.
It was announced after the final race of the 2008 FF2M season that Super Dodgy were not entering the 2009 season.
Results
FF1M
Season
Engine
Ch. Pos
Races
Points
Wins
Drivers
Ch. Pos
Races
Points
Wins
1995
Ferrari
9th
17
10
Mika Salo
16th
17
5
Mark Blundell
18th
17
5
FF1M-3000
Season
Engine
Ch. Pos
Races
Points
Wins
Drivers
Ch. Pos
Races
Points
Wins
1998
Mugen Honda
11th
8
9
Oliver Gavin
16th
8
7
Christian Horner
21st
8
2
Community content is available under
CC-BY-SA
unless otherwise noted.