The 2014 FF4M Series will be the third season of the FF4M regional series and will be split across three regional championships with each taking place across seven rounds, with two races at each.
Series Changes
With a reduced number of available circuits of sufficient quality the South American FF4M Series was discontinued. For the 2014 season the North American championship has been expanded to include a South American round and will feature South American drivers. The North American championship will therefore be rebranded as the FF4M PanAm Series.
Points system
The points system for FF4M will see a maximum of 30 points awarded per driver, per event.
Championship points were awarded as follows:
| | | | | | | | | | | |
| --- | --- | --- | --- | --- | --- | --- | --- | --- | --- | --- |
| Position |  1st  |  2nd  |  3rd  |  4th  |  5th  |  6th  |  7th  |  8th  | Pole | Fastest Lap |
| Points | 12 | 8 | 6 | 5 | 4 | 3 | 2 | 1 | 2 | 1 |
2014 FF4M PanAm Season
Teams and Drivers
Team
Tyre
No.
Race Drivers
Aitken
1

Mason Reed

2

Raul Garcia

Andersen
3
Bruno Ortiz
4

Benjamin Brooks

Arnold
5

Jorge Diaz

6

Kristen Lunger

Cooper
7

Davi Santos

8

Sarah Hollister

De Palma
9

Alix Schell

10
 

Franco Soto

Duray
11
John Hayes
12

Clinton Jackson

Lockhart
14

Marcelo Pace

15
Charles Eaton
Milton
16

Eric LaBelle

17

Luis Cruz

Murphy
18

Luiz Sallas

19

Harper Ray

Wilcox
20

Hector Rodriguez

21

Robinson Hall

Woodbury
22

Erika Gurney

23
Hunter Donohue
Race calendar and results
Rnd
Circuit
Pole Position
Fastest Lap
Winning Driver
Winning Team
1
R1
Autódromo Internacional Nelson Piquet
Clinton Jackson
Clinton Jackson
Clinton Jackson
Duray
R2
Luiz Sallas
Erika Gurney
Hunter Donohue
Woodbury
2
R1
Indianapolis GP Circuit, Indiana
Luiz Sallas
Jorge Diaz
Jorge Diaz
Arnold
R2
Clinton Jackson
Marcelo Pace
Sarah Hollister
Cooper
3
R1
Elkhart Lake, Wisconsin
John Hayes
John Hayes
John Hayes
Duray
R2
Kristen Lunger
Marcelo Pace
Kristen Lunger
Arnold
4
R1
Circuit Gilles Villeneuve
Luiz Sallas
Clinton Jackson
Bruno Ortiz
Andersen
R2
Charles Eaton
Benjamin Brooks
Sarah Hollister
Cooper
5
R1
Mid Ohio, Ohio
Charles Eaton
Davi Santos
Charles Eaton
Lockhart
R2
Charles Eaton
Bruno Ortiz
Charles Eaton
Lockhart
6
R1
Sonoma Raceway, California
Bruno Ortiz
Bruno Ortiz
Bruno Ortiz
Andersen
R2
John Hayes
John Hayes
Hunter Donohue
Woodbury
7
R1
Mexico City, Mexico
Benjamin Brooks
Marcelo Pace
Benjamin Brooks
Andersen
R2
Charles Eaton
Sarah Hollister
Charles Eaton
Lockhart
Championship Positions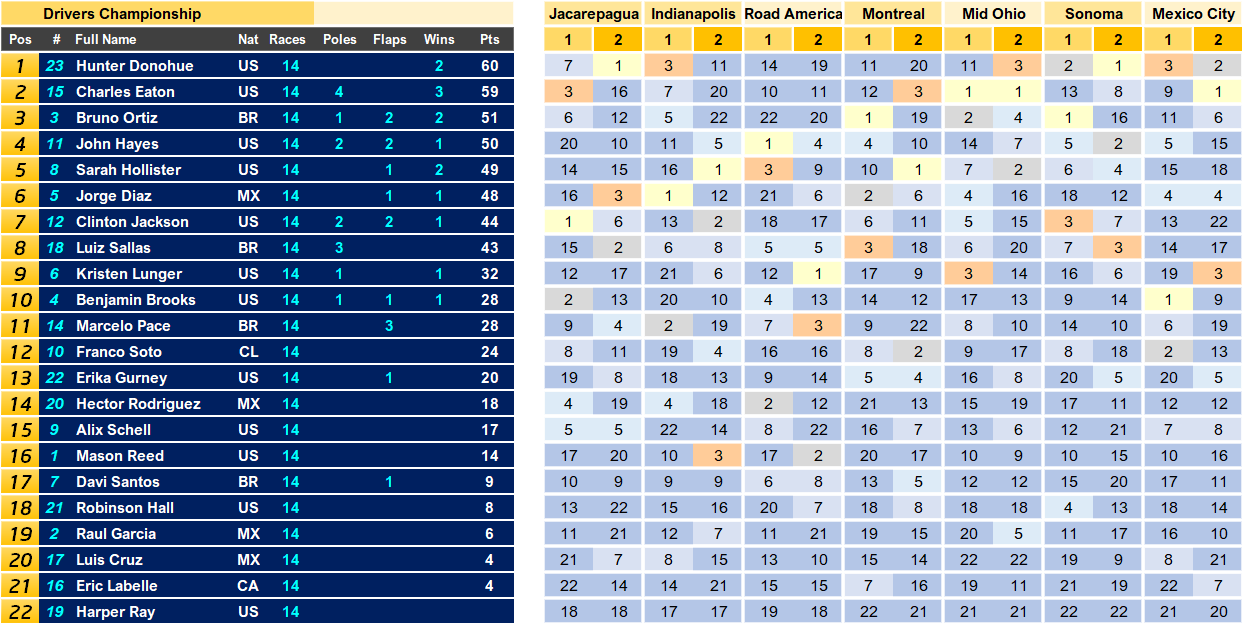 2014 FF4M Nippon Season
Teams and Drivers
Team
Tyre
No.
Race Drivers
 ASM Future
1

Satoru Takamaki

2

Paul Engels

Typhoon Racecraft
3
Joo-Young Park
4
Daisuke Sekiya
Sundo
5

Kazuyoshi Nijima

6

Masahiro Sakura

Shimizu
7

Joshua Williams

8

Kunimitsu Akechi

Tasman Motorsport
9

Makoto Ahn

10

Lucas Anderson

Masuka Realm
11

Mike Cunningham

12
Hideki Soken
Leyton House
14

Shun Nakamura

15

Takao Kitagawa

Takagi Mspt
16

Emily Davison

17

Ryunosuke Abe

Team Katayama
18

Sora Suzuki

19

Dixon Cooper

Team Inoue
20

Yoshiyasu Hasegawa

21

Zikri Yang

JavaSport
22

Arashi Zubotoi

23
Yuji Wada
Race calendar and results
Rnd
Circuit
Pole Position
Fastest Lap
Winning Driver
Winning Team
1
R1
Sepang International Circuit
Satoru Takamaki
Daisuke Sekiya
Daisuke Sekiya
Typhoon Racecraft
R2
Yuji Wada
Hideki Soken
Hideki Soken
Masuka Realm
2
R1
 Suzuka Circuit
Joo-Young Park
Daisuke Sekiya
Hideki Soken
Masuka Realm
R2
Daisuke Sekiya
Daisuke Sekiya
Daisuke Sekiya
Typhoon Racecraft
3
R1
 Fuji Speedway
Joo-Young Park
Joo-Young Park
Joo-Young Park
Typhoon Racecraft
R2
Daisuke Sekiya
Yuji Wada
Daisuke Sekiya
Typhoon Racecraft
4
R1
 Okayama Circuit
Joo-Young Park
Sora Suzuki
Joo-Young Park
Typhoon Racecraft
R2
Yuji Wada
Yuji Wada
Yuji Wada
JavaSport
5
R1
 Fuji Speedway
Sora Suzuki
Joo-Young Park
Satoru Takamaki
 ASM Future
R2
Joo-Young Park
Yuji Wada
Joo-Young Park
Typhoon Racecraft
6
R1
 Suzuka Circuit
Joo-Young Park
Joo-Young Park
Joo-Young Park
Typhoon Racecraft
R2
Joo-Young Park
Joo-Young Park
Joo-Young Park
Typhoon Racecraft
7
R1
Guia Circuit, Macau
Daisuke Sekiya
Yuji Wada
Yuji Wada
JavaSport
R2
Joo-Young Park
Joo-Young Park
Joo-Young Park
Typhoon Racecraft
Championship Positions
2014 FF4M Euro Series Season
Teams and Drivers
Team
Tyre
No.
Race Drivers
MacPherson Racing
1
Catharina Caracciola
2
Massimiliano Fagioli
Ricco Racing
3
Toni Fischer
4
Alexandra Ferreira
Puma
5

Ethan Wright

6
 

Emilio Munoz

Omega
7

Heitor Pereira

8
 

Araav Khatri

Lascelles
9

Phillipe Manzon

10

James Tennant

Perroni
11

Freddie Davies

12

Louis Frere

Campos
14

Unai Fernandez

15

George Miller

LeClerc
16

Giuseppe Villoresi

17

Raphael Bernard

Scuderia Rascasse
18
 

Finn Bakker

19

Santiago Lopez

Blaze
20

Eoin Murphy

21

Gabriel Steiner

Gordon
22

Glenn Hawthorn

23

Sebastian Le Blanc
Race calendar and results
Rnd
Circuit
Pole Position
Fastest Lap
Winning Driver
Winning Team
1
R1
Ciudad del Motor de Aragón
Toni Fischer
Alexandra Ferreira
Freddie Davies
Perroni
R2
Massimiliano Fagioli
Toni Fischer
Toni Fischer
Ricco Racing
2
R1
Circuit de Pau-Ville
Catharina Caracciola
Catharina Caracciola
Catharina Caracciola
MacPherson Racing
R2
Toni Fischer
Toni Fischer
Toni Fischer
Ricco Racing
3
R1
Autodromo Nazionale Monza
Massimiliano Fagioli
Alexandra Ferreira
Massimiliano Fagioli
MacPherson Racing
R2
Catharina Caracciola
Catharina Caracciola
Catharina Caracciola
MacPherson Racing
4
R1
Autodromo Internazionale del Mugello
Massimiliano Fagioli
Massimiliano Fagioli
Alexandra Ferreira
Ricco Racing
R2
Massimiliano Fagioli
Catharina Caracciola
Phillipe Manzon
Lascelles
5
R1
Spa, Belgium
Phillipe Manzon
Phillipe Manzon
Phillipe Manzon
Lascelles
R2
Catharina Caracciola
Heitor Pereira
Heitor Pereira
Omega
6
R1
Circuit de Barcelona, Catalunya
Catharina Caracciola
Heitor Pereira
Heitor Pereira
Omega
R2
Catharina Caracciola
Catharina Caracciola
Catharina Caracciola
MacPherson Racing
7
R1
Portimao
Catharina Caracciola
Massimiliano Fagioli
Toni Fischer
Ricco Racing
R2
Catharina Caracciola
Massimiliano Fagioli
Massimiliano Fagioli
MacPherson Racing
Championship Positions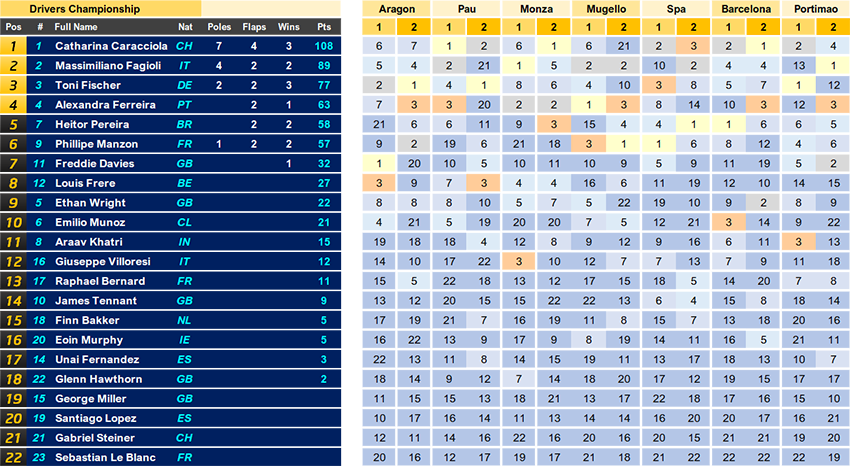 Graduates
The top four drivers from each region were awarded an AFIA B-licence enabling them to run in FF3M in 2015
Series
Race Drivers
SudAm
Hunter Donohue
Charles Eaton
Bruno Ortiz
John Hayes
Nippon
Joo-Young Park
Daisuke Sekiya
Yuji Wada
Hideki Soken
Euro Series
Catharina Caracciola
Massimiliano Fagioli
Toni Fischer
Alexandra Ferreira