The 2012 FF4M Season was the first season of the FF4M regional series and was split across four regional championships (South America, Europe, Asia & Australasia, North America). For the 2012 season each regional championship contained six events.
Series Specification
For the first season of the FF4M championship there will be only one 20 minute race per event, however this is due to be expanded in future seasons.
Points system
The points system for FF4M will see a maximum of 30 points awarded per driver, per event. As the 2012 season featured just one race per event the points system was changed to reflect this.
Championship points were awarded as follows:
| | | | | | | | | | | |
| --- | --- | --- | --- | --- | --- | --- | --- | --- | --- | --- |
| Position |  1st  |  2nd  |  3rd  |  4th  |  5th  |  6th  |  7th  |  8th  | Pole | Fastest Lap |
| Points | 24 | 16 | 12 | 10 | 8 | 6 | 4 | 2 | 4 | 2 |
2012 FF4M SudAm Season
Teams and Drivers
Team
Tyre
No.
Race Drivers
Alpha
1
Valentina Perez
2
Santino Garcia
Beta
3
Alejandro Martinez
4
Antonio Lopez
Gamma
5

Emilio Munoz

6
Lorenzo Fernandez
Delta
7
Nicolas Silva
8

Davi Santos

Sigma
9

Martin Cabrera

10
Juan Diaz
Zeta
11
Cristóbal Alvarez
12
Juan José Gomez
Theta
14
Tomás Rojas
15
Angel Ayala
Kappa
16

Franco Soto

17
João Vítor Oliveira
Omicron
18
Edoardo Ferreira
19
Valentino Rodriguez
Carlos Sanchez Racing
20
Tomas Gonzalez
21
Guilherme Sousa
Omega
22

Heitor Pereira

23
Javier Sosa
Race calendar and results
| Round | Circuit | Pole Position | Fastest Lap | Winning Driver |
| --- | --- | --- | --- | --- |
| 1 | Autódromo José Carlos Pace, São Paulo | Tomas Gonzalez | João Vítor Oliveira | Cristóbal Alvarez |
| 2 | Autódromo Oscar Alfredo Gálvez, Buenos Aires | Tomas Gonzalez | Cristóbal Alvarez | Cristóbal Alvarez |
| 3 | Autódromo Termas de Río Hondo | Tomas Gonzalez | Tomas Gonzalez | Tomas Gonzalez |
| 4 | Autódromo Internacional Nelson Piquet | Tomas Gonzalez | Cristóbal Alvarez | Cristóbal Alvarez |
| 5 | Autódromo Internacional de Tarumã | Franco Soto | Tomas Gonzalez | João Vítor Oliveira |
| 6 | Autódromo José Carlos Pace, São Paulo | Tomas Gonzalez | Juan Diaz | Juan Diaz |
Championship Positions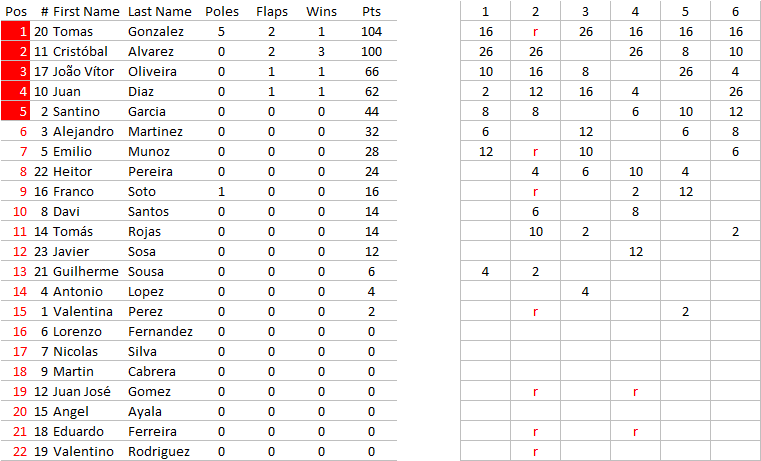 2012 FF4M SEA Season
Teams and Drivers
Team
Tyre
No.
Race Drivers
ASM Future
1

Lucas Anderson

2
Mason Taylor
Typhoon Racecraft
3
Safiya Teuku
4

Ryunosuke Abe

Shimizu
5
 Theerapat Suntornnitikul
6

Joshua Williams

Tasman Motorsport
7
 

Araav Khatri

8
Ethan Kelly
Javasport
9
Itsuki Yoshida
10
Cooper Lee
Masuka Realm
11

Shun Nakamura

12
 Genjo Tse
Team Kikuchi
14
 Yan Si Nguyen
15
Benjamin Pryor
Sundo
16
Hirato Inoue
17

Zikri Yang

Nakamoto Autosport
18
Lachlan Smith
19

Sora Suzuki

Syu Sports
20
 HuiK'o Xiao
21
Yuuma Sato
Mizuno Motors
22
Minato Tanaka
23

Makoto Ahn
Race calendar and results
| Round | Circuit | Pole Position | Fastest Lap | Winning Driver |
| --- | --- | --- | --- | --- |
| 1 | Melbourne Grand Prix Circuit | Cooper Lee | Itsuki Yoshida | Itsuki Yoshida |
| 2 | Phillip Island Grand Prix Circuit, Victoria | Mason Taylor | Itsuki Yoshida |  Genjo Tse |
| 3 | Sepang International Circuit | Cooper Lee | Itsuki Yoshida | Cooper Lee |
| 4 |  Shanghai International Circuit |  Genjo Tse |  Genjo Tse |  Genjo Tse |
| 5 | Twin Ring Motegi, Motegi | Cooper Lee | Cooper Lee | Cooper Lee |
| 6 |  Suzuka Circuit | Cooper Lee | Ethan Kelly | Cooper Lee |
Championship Positions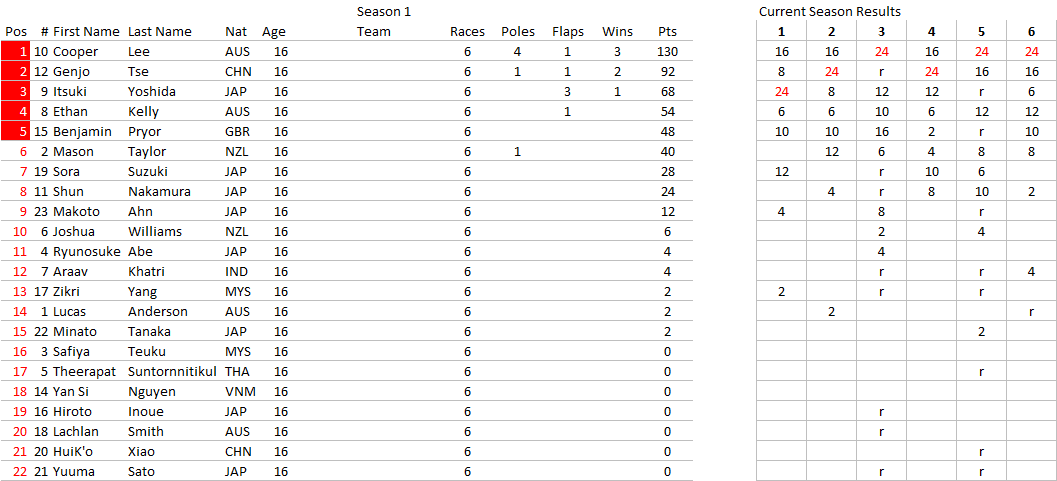 2012 FF4M Europe Season
Teams and Drivers
Team
Tyre
No.
Race Drivers
MacPherson
1
Harrison Evans
2
Jonas Meyer
Puma
3
Lukas Fischer
4

George Miller

Lascelles
5
Tobias Kowalski
6
Leonardo Bianchini
Perroni
7
Elias Schmidt
8
Isaac Weber
Farrell
9
Jakob Bauer
10

Ethan Wright

Bellini
11

Unai Fernandez

12

Gabriel Steiner

Gordon
14
Matias Gonzalez
15

Finn Bakker

LeClerc
16
Bram de Boer
17
Vincent Johansson
Blaze
18

Santiago Lopez

19
Mattia Alfonsi
Piratelli
20
Raphael Dubois
21
James Clark
Scuderia Racasse
22
Francesco Russo
23

Freddie Davies
Race calendar and results
| Round | Circuit | Pole Position | Fastest Lap | Winning Driver |
| --- | --- | --- | --- | --- |
| 1 | Autodromo Enzo e Dino Ferrari, Imola | Jonas Mayer | Mattia Alfonsi | Mattia Alfonsi |
| 2 | Circuit de Nevers, Magny Cours | James Clark | James Clark | James Clark |
| 3 | Oulton Park International | Bram De Boer | Jonas Mayer | James Clark |
| 4 | Hungaroring, Budapest | James Clark | James Clark | James Clark |
| 5 | Noisring, Nuremburg | James Clark | Jonas Mayer | Jonas Mayer |
| 6 | Circuit de Zandvoort | Isaac Weber | Mattia Alfonsi | Mattia Alfonsi |
Championship Positions
2012 FF4M NA Championship
Teams and Drivers
Team
Tyre
No.
Race Drivers
Andersen
1
Elijah Aster
2

Mason Reed

Wilcox
3
Lucas Phillips
4
Angel Rivera
Aitken
5

Luis Cruz

6
Levi Bradbury
De Palma
7

Benjamin Brooks

8
Noah Sharp
Murphy
9
Jacques Gauthier
10
Brad Newhouse
Milton
11
Mathieu Levesque
12
James Price
Duray
14
Oliver Burr
15

Harper Ray

Cooper
16
Jackson Santos
17
Logan Cook
Lockhart
18
William Harding
19
Alexander MacDonald
Woodbury
20
Theodore Gagnon
21
Juan Garcia
Arnold
22
Liam Green
23
Michael Stewart
Race calendar and results
| Round | Circuit | Pole Position | Fastest Lap | Winning Driver |
| --- | --- | --- | --- | --- |
| 1 | Belle Isle, Detroit | Benjamin Brooks | Brad Newhouse | Brad Newhouse |
| 2 | Circuit Gilles Villeneuve | William Harding | Benjamin Brooks | Alexander MacDonald |
| 3 | Elkhart Lake, Wisconsin | Juan Garcia | Alexander MacDonald | Alexander MacDonald |
| 4 | Mid Ohio, Ohio | Mason Reed | Jacques Gauthier | Jacques Gauthier |
| 5 | Sonoma Raceway, California | Juan Garcia | Jacques Gauthier | Logan Cook |
| 6 | Mexico City, Mexico | Alexander MacDonald | Alexander MacDonald | Alexander MacDonald |
Championship Positions