2009 FF1M Season

Previous: 2008
Next: 2010
Changes in 2009
Entry
All new teams must have raced in FF2M for one season prior to entering FF1M.
Chassis
New base chassis delivered to teams after final round of 2008
Wider front wing and narrower rear wing.
Technologies
Adjustable Front Wing is available to research
All Aerodynamic development is reset to zero.
Diffuser Technology replaced by Double Deck Diffuser and Blown Diffuser and can choose which development path to follow at the start of the season.
Teams may only have one of Double Deck Diffuser OR Blown Diffuser on the car at any one time and not both.
Teams allowed to use KERS for the first time
Engines
Honda pull out of the sport
Turbo boosted engines may now have a maximum boost of 300 (250 previously)
Teams
Exolite and SF1 pull out of the sport
Drivers and Teams
Entry List
Team
Engine
Tyre
No.
Race Drivers
Test Driver/s
 Vodafone TornadoF1
Mercedes V8
1
Jenson Button
Romain Grosjean
2
Kimi Raikkonen
RBS Gui Racing
Mercedes V8
3
Sebastian Vettel
Anthony Davidson
4
Lucas di Grassi
Anthony Davidson
Red Bull Shannon
Renault V8
5
Bruno Senna
Sakon Yamamoto
6
Pastor Maldonado
Heikki Kovalainen
FJR Petronas
FJR V10T
7
Robert Kubica
Alvaro Parente
8
Felipe Massa
ING Shake n' Bake Motorsport
SnB V10T
9
Lewis Hamilton
Gary Paffett
10
Timo Glock
Scuderia Pedersen Shell
Mercedes V8
11
Kamui Kobayashi
Kazuki Nakajima
12
Adrian Zaugg

Scuderia Andy Racing

Ferrari V8
14
Nelson Piquet Jnr
15
Adrian Sutil
Virgin Dark Wolf
BMW V8
16
Nico Rosberg
17
Marc Gene
Dodgem Racing
Toyota V8
18
Giorgio Pantano
Yelmer Buurman
19
Nick Heidfeld
Kingfisher Mitchell
BMW V8

20

Jarno Trulli

21

Sebastien Buemi
Ajay Motorsports
Ajay V10T

22

Fernando Alonso
Adam Carroll

23

Christian Klien
GR Motorsports
Renault V8

24

Sebastien Bourdais
Pedro de la Rosa

25

Rubens Barrichello
Autodynamics
Ferrari V8

26

Mark Webber
Javier Villa
27
Vitantonio Liuzzi
Driver Changes
Changed Teams
Kimi Raikkonen will take a place of Giorgio Pantano, who move to Dodgem, in TornadoF1, alongside 2008 World Champion Jenson Button.
Gui Racing change their squad from Robert Kubica, who take part with FJR, and Christian Klien, 2008 runner-up (he move to Ajay), for 2007 World Champion, Sebastian Vettel, and a Brazilian debutant Lucas Di Grassi, former FF3M and FF2M driver.
Felipe Massa will return to FF1M after one-year absence, joining FJR alongside Robert Kubica.
Timo Glock will move change Dodgem to Shake n'Bake, with Lewis Hamilton as a team-mate, who takes his third season with this team.
Pedersen will hire two debutants, Japanese Kamui Kobayashi and South African Adrian Zaugg. Taking two inexperienced drivers to the team of top looks risky.
Nick Heidfeld, former Pedersen driver, will join Dodgem, moving from Ajay.
Two drivers from 2008 World Championship podium - Fernando Alonso and Christian Klien will move Ajay.
Sebastien Bourdais, 2006 3rd placer, and Rubens Barrichello will join GRM.
Mark Webber will join his home team, Autodynamics, with Vitantonio Liuzzi alongside.
Left FF1M
Vitaly Petrov and Heikki Kovalainen had a contracts with SF1 Racing, but German team at none to soon pull out of the sport. Both drivers will now race for Spaniel in the 2009 FF2M Season. However Heikki find a work in Shannon from Monaco Grand Prix, replacing Pastor Maldonado.
2008 Shake n'Bake driver, Neel Jani, stay for 2009 without a work.
It was possible that Anthony Davidson will stay in Exolite for 2009, but after team's decision of retirement, Anthony out of the battle for the places. Davidson has instead joined Gui Racing as the teams test driver and start once in Spanish Grand Prix on place of Lucas di Grassi.
Giancarlo Fisichella out of GRM and of the field.
Romain Grosjean also out of GRM, but caught up as TornadoF1 test driver.
Javier Villa lost the race-position in Autodynamics, but stays in the team as their test driver.
Retired Drivers
David Coulthard, Takuma Sato and Alexander Wurz all retired from the sport at the end of 2008
Testing Schedule
Test
Date
Country
Circuit
Fastest Driver (Team)
Pre Season
1
31st January 2009
Spain
Barcelona
 Adrian Sutil (Andy)
1st February 2009
 Adrian Sutil (Andy)
2
7th February 2009
Great Britain
Silverstone
 Nick Heidfeld (Dodgem)
8th February 2009
 Pedro de la Rosa (GRM)
3
21st February 2009
Italy
Monza
 Sebastien Buemi (Mitchell)
22nd February 2009
 Adrian Sutil (Andy)
4
28th February 2009
Japan
Suzuka
 Pedro de la Rosa (GRM)
1st March 2009
 Nico Rosberg (Dark Wolf)
Mid Season
1
17th April 2009
China
Shanghai International Circuit
 Adrian Sutil (Andy)
18th April 2009
 Adrian Sutil (Andy)
19th April 2009
 Pedro de la Rosa (GRM)
2
20th June 2009
France
Magny Cours
 Heikki Kovalainen (Shannon)
21st June 2009
 Felipe Massa (FJR)
22nd June 2009
 Nico Rosberg (Dark Wolf)
3
21st August 2009
Italy
Imola
 Felipe Massa (FJR)
22nd August 2009
 Kimi Raikkonen (Tornado)
23rd August 2009
 Nico Rosberg (Dark Wolf)
Young Driver Test
1
2nd November 2009
Japan
Suzuka Circuit
Jean-Eric Vergne (Mitchell)
22nd August 2009
Valterri Bottas (Dark Wolf)
Race Calendar
| Round | Grand Prix | Circuit | Date |
| --- | --- | --- | --- |
| 1 | Australian GP | Albert Park, Melbourne | 29 March |
| 2 | Malaysian GP | Sepang International Circuit, Kuala Lumpur | 5 April |
| 3 | Bahrain GP | Bahrain International Circuit, Sakhir | 26 April |
| 4 | San Marino GP | Autodromo Enzo e Dino Ferrari | 10 May |
| 5 | Spanish GP | Circuit de Jerez | 17 May |
| 6 | Monaco GP | Circuit de Monaco | 24 May |
| 7 | European GP | Nurburgring, Nurburg | 31 May |
| 8 | Canadian GP | Circuit Gilles Villeneuve, Montreal | 14 June |
| 9 | British GP | Silverstone Circuit, Silverstone | 28 June |
| 10 | Austrian GP | A1 Ring, Spielberg | 5 July |
| 11 | German GP | Hockenheimring, Hockenheim | 19 July |
| 12 | Hungarian GP | Hungaroring, Budapest | 26 July |
| 13 | Belgian GP | Spa-Francorchamps, Spa | 30 August |
| 14 | Italian GP | Autodromo Nazionale Monza, Monza | 13 September |
| 15 | Singapore GP | Marina Bay Circuit, Singapore | 27 September |
| 16 | United States GP | Sonoma Raceway, California | 4 October |
| 17 | Brazilian GP | Autodromo Jose Carlos Pace, Sao Paulo | 18 October |
| 18 | Japanese GP | Suzuka Circuit, Suzuka | 1 November |
Championship Standings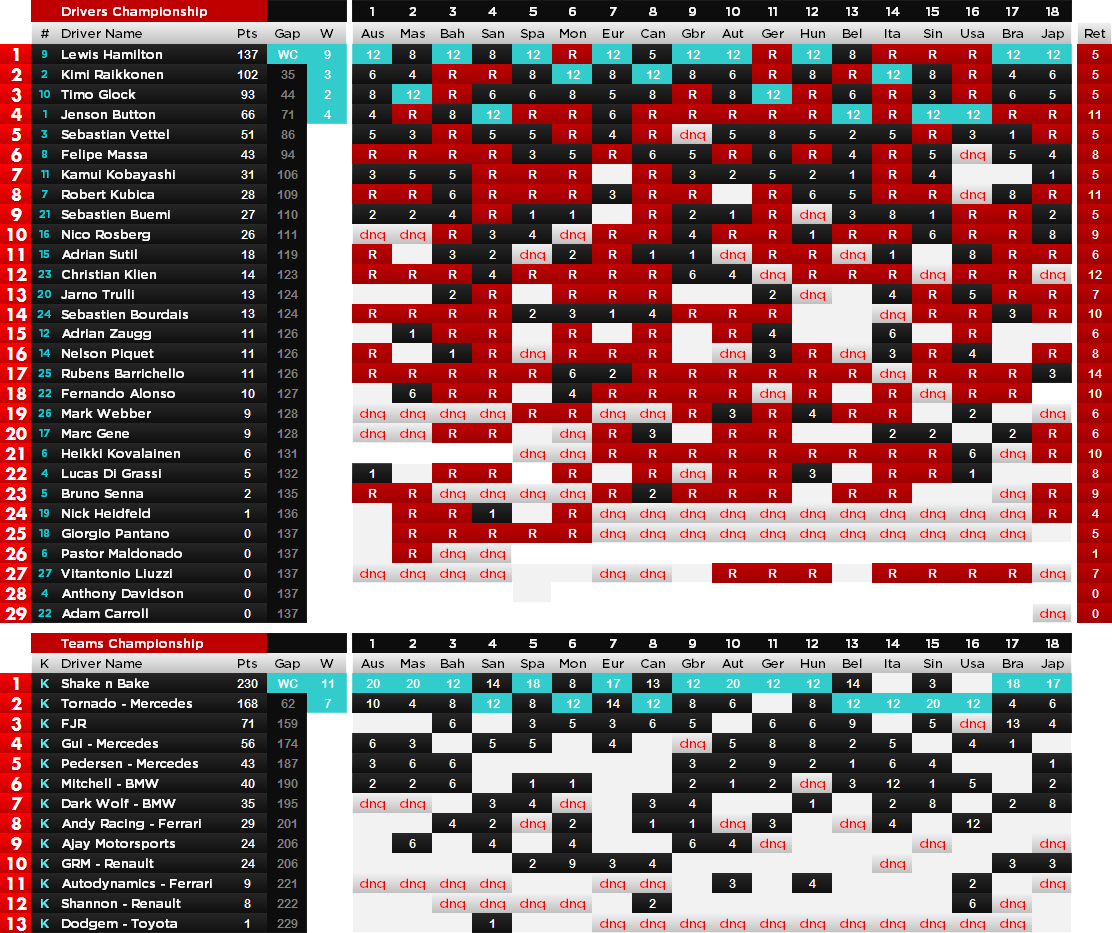 Community content is available under
CC-BY-SA
unless otherwise noted.