2007-2008 FF2M Asia Series Season

Previous: 2007
Next: 2008
Summary
The 2007-08 FF2M Asia Season is the fifth season of FF2M Asia. As in the 2006-2007 Season, each team is required to field at least one driver whose passport does not come from Western Europe or the traditional American Motorsport countries (United States, Brazil, Canada). For the avoidance of doubt, Turkey and Russia are not included in the list of "European" countries.
Teams and Drivers
Entry List
Team
Entrant
Engine
Tyre
No.
Race Drivers
Michael Pedersen Racing
Danish Racing
Renault
1
Romain Grosjean
David Valsecchi
2
Vitaly Petrov
FJR
STV Racing
Renault
3
Gary Paffett
4
Ho-Pin Tung
Mitchell
OLM Racing
Renault
5
Jerome D'Ambrosio
6
Kazuki Nakajima
Tornado
Spaniel
Renault
7
Michael Ammermueller
8
Andreas Zuber
Andy Racing Team
LiquiTarget
Renault
9
Javier Villa
Alvaro Parente
10
Adam Khan
Dodgem Racing
Super Dodgy
Renault
11
Yelmer Buurman
12
Brendon Hartley
Shannon
Shamrock
Renault
14
Hiroki Yoshimoto
15
Sakon Yamamoto
Gui Racing
Cramer
Renault
16
Lucas Di Grassi
17
Kamui Kobayashi
SF1 Racing
SF1 Asia
Renault
18
Giedo Van Der Garde
19
Karun Chandhok
ExoliteF1
Darkfire
Renault
20
Mike Conway
21
Mikhail Aleshin
SRJR
SRJR
Renault
22
Fairuz Fauzy
23
Adrian Zaugg
2006-07 Schedule
Round
Location
Circuit
Date
Supporting
1
R1
Fuji Yama, Japan
Fuji International Circuit
5th October 2006
2006 Japanese Grand Prix
R2
6th October 2006
2
R1
Singapore
Marina Bay Circuit
31st December 2006
Standalone Event
R2
1st January 2007
3
R1
Suzuka, Japan
Suzuka Circuit
20th January 2007
Standalone Event
R2
21st January 2007
4
R1
Abu Dhabi
Yas Marina Circuit
26th February 2007
FF1M Pre Season Test
R2
27th February 2007
5
R1
Kuala Lumpur, Malaysia
Sepang International Circuit
22nd March 2007
2007 Malaysian Grand Prix
R2
23rd March 2007
6
R1
Okayama, Japan
TI Aida
2nd April 2007
FF1M Mid Season Test
R2
3rd April 2007
Results and Standings
Race by Race
Round
Circuit
Pole Position
Fastest Lap
Winning Driver
Winning Team
1
R1
Fuji International Speedway
Ho-Pin Tung
Adrian Zaugg
Adrian Zaugg
SRJR
R2
Lucas Di Grassi
Karun Chandhok
SF1 Jr
2
R1
Marina Bay
Vitaly Petrov
Lucas Di Grassi
Vitaly Petrov
Danish Racing
R2
Romain Grosjean
Romain Grosjean
Danish Racing
3
R1
Suzuka Circuit
Andreas Zuber
Karun Chandhok
Lucas Di Grassi
Cramer Msport
R2
Lucas Di Grassi
Lucas Di Grassi
Cramer Msport
4
R1
Yas Marina Circuit
Romain Grosjean
Romain Grosjean
Vitaly Petrov
Danish Racing
R2
Kamui Kobayashi
Mikhail Aleshin
Darkfire
5
R1
Sepang International Circuit
Lucas Di Grassi
Lucas Di Grassi
Lucas Di Grassi
Cramer Msport
R2
Lucas Di Grassi
Lucas Di Grassi
Cramer Msport
6
R1
Okayama Circuit
Vitaly Petrov
Lucas Di Grassi
Lucas Di Grassi
Cramer Msport
R2
Lucas Di Grassi
Lucas Di Grassi
Cramer Msport
Championship Standings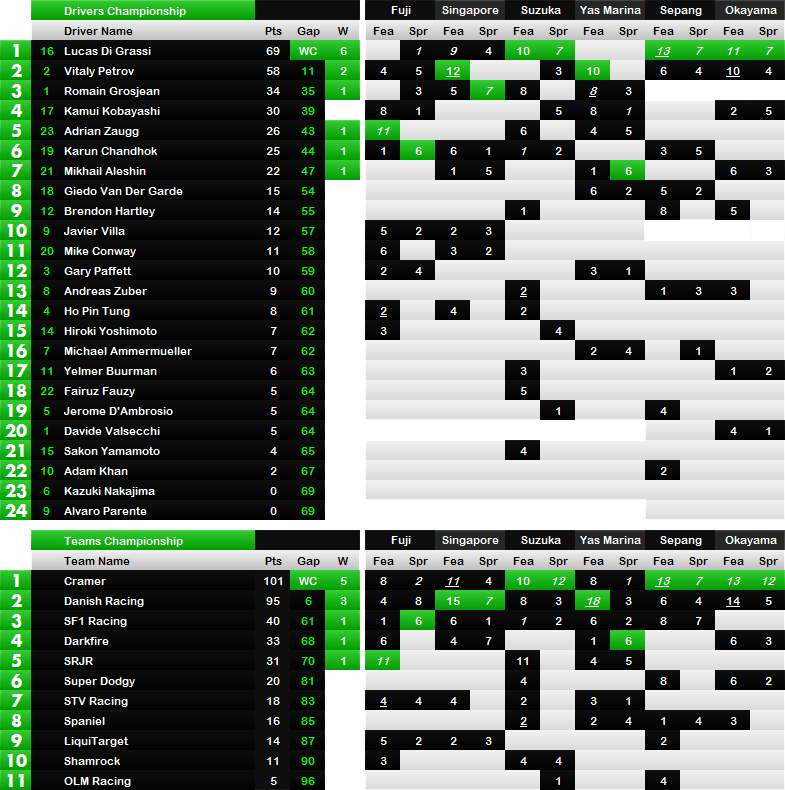 Community content is available under
CC-BY-SA
unless otherwise noted.