2005 FF1M Season

Previous: 2004
Next: 2006
Overview
The 2005 FF1M Season is be the eighteenth season of FF1M. It began with the Australian Grand Prix on the 8th May 2011 and will conclude at the Brazilian Grand Prix in July.
Pre Season
Changes
Technologies
CFD is now available for research - having CFD doubles the amount of DP earned from "Own Car" testing.
Own Car testing is now capped at 1000 DP, once a team reaches this figure all teams will have their Own Car grip halved.
Engines
All Engines reduced by 100BHP to a base level of 800BHP
The range of Turbo engines in races will be increased from 100BHP to 200BHP however the reliability factor will stay the same meaning a team choosing to use the full 200BHP will have double the unreliability of a team using 100BHP this season.
Turbo Engines run a minimum level of an extra 100BHP in Qualifying. Teams that choose to run over 100BHP in the race will be their Qualifying level as well.
Testing and Development
General tightening of the testing system.
V8 Engined cars can do Power and Reliability testing.
Reliability testing much more effective than previously
V10 Engined cars cannot do Power or Reliability testing, anyone that tries will automatically do Turbo testing.
Teams and Drivers
Entry List
Team Predictions
Mitchell welcome former Drivers Championship runner up Jacques Villeneuve to the team alongside vastly experienced Alexander Wurz in what is a strong lineup but the problem lies in the BMW engine which is underpowered and with Mitchell the only team developing them this is unlikely to change. Prediction: 11th
Shake n Bake had a brilliant 2004 with a double podium finish at Spa the highlight of a season which saw a big improvement in its second half. The team will struggle to repeat that this season however. Their drivers Giancarlo Fisichella and Takuma Sato are solid but unspectacular and their Mercedes engine, whilst the class of the V8 field in terms of power is unreliable and they no longer have the advantage of the Michelin tyres to aide their cause. Prediction: 10th.
This could be a big season for Andy Racing as they've finally signed a driver of note, namely the two times championship podium finisher Juan Pablo Montoya. But the car lacks overall pace and with the V8's now truly competitive it could be a very difficult year for the team. Prediction: 9th.
TornadoF1 were very inconsistent in 2004, sometime pole sitters, other times not in the top half of the grid. This season may see some consistency for the team, but it will be the latter of last year's options as the team will struggle without their own car until midway through the season. A late season improvement could net them some good points but its set to be another disappointing year for the team which burst onto the scene with a championship win in 2002. Prediction: 8th
There was a lot of doubt whether we would see MRD Racing this season with team boss Marc Downie complaining vigorously about the Turbo engines being unfairly competitive when compared to his chosen V8 Mercedes. There can be no excuses this season however as the Pedersen team have switched to the V8 Mercedes and look far more competitive. This will have to be rebuilding season for the team who must eagerly await the completion of their own car technology so that they can do some serious testing work on their car. Prediction: 7th
2004 was Shannon's break out season, a stunning couple of victories in Monaco and Shanghai for Vitantonio Liuzzi and a general competitiveness throughout the season saw the team finish 3rd in the Teams Championship. Despite those two wins Liuzzi has not been retained with veteran Rubens Barrichello joining late signing Anthony Davidson and the team will struggle to repeat such form in 2005 without the benefit of the Michelin tyres. Prediction: 6th
Dodgem had a very competitive 2005 and despite not winning a race finished a superb 4th in the standings. This season will be a lot more difficult without the tyre advantage given by the Michelins. However, in Sebastien Bourdais they have a very competitive driver who will give veteran team mate Michael Schumacher a run for his money. Prediction: 5th
The once powerful Gui Racing have had a quiet spell of late, no championship win since 2001 and last season they were very much a back of the field team despite having two talented drivers. This season however is looking much better, the Cosworth engine is still underpowered when compared to the V10 Turbo's and the V8 Mercedes but as usual with this team it should be more reliable than its rivals. The team has done a lot of testing this season on aerodynamics and In Timo Glock and Felipe Massa they have two very talented drivers who could easily win their maiden Grands Prix this season. Prediction: 4th
FJR were the class of the field without dominating in 2004 due to some excellent management of their turbo system and one resurgent Italian Jarno Trulli. It's no surprise that the World Champions have seen fit to keep the same line up for 2005 with Trulli and German Nick Heidfeld lining up once again. However it will be a much sterner challenge this season with the V8 engines truly competitive. Prediction: 3rd.
Dark Wolf may have lost out in the championship chase and lost their leading light Cristiano Da Matta to Champcar, but in the last three races of 2004 they showed that they meant business for 2005. It's an all-Spanish line up this season as returning Marc Gene is joined by four times World Champion Fernando Alonso. They start the season as the lead Turbo charger but they'll face some stiff competition from FJR and the V8's. Prediction: 2nd
Pedersen had a hugely disappointing 2004 with unreliability and lack of tyre performance costing them dear. Building their own car for the first time this season Team boss Michael Pedersen has taken a huge gamble by ditching the Turbo powered Toyota engines which some bosses had complained had an unfair advantage, for the Mercedes Normally Aspirated V8. This gamble could turn out to be a masterstroke however and the only real concern is still reliability as the Mercedes has had a lot of development over the past season and is likely to start the season in fragile shape. None the less if the team is able to get that engine reliable and keep up pace with its aerodynamic testing this could finally be Pedersen's season. Prediction: 1st
Race Calendar
| Round | Grand Prix | Circuit | Date |
| --- | --- | --- | --- |
| 1 | Australian Grand Prix | Albert Park Grand Prix Circuit, Melbourne | 6th March |
| 2 | Malaysian Grand Prix | Sepang International Circuit, Kuala Lumpur | 20th March |
| 3 | Bahrain Grand Prix | Bahrain International Circuit, Sakhir | 3rd April |
| 4 | San Marino Grand Prix | Autodromo Enzo e Dino Ferrari, Imola | 17th April |
| 5 | Turkish Grand Prix | Istanbul Park | 24th April |
| 6 | European Grand Prix | Nurburgring | 8th May |
| 7 | Monaco Grand Prix | Circuit de Monaco, Monte-Carlo | 22nd May |
| 8 | Canadian Grand Prix | Circuit Gilles Villeneuve, Montreal | 12th June |
| 9 | American Grand Prix | Indianapolis Motor Speedway | 19th June |
| 10 | British Grand Prix | Silverstone Circuit | 10th July |
| 11 | German Grand Prix | Hockenheimring | 24th July |
| 12 | Hungarian Grand Prix | Hungaroring, Budapest | 7th August |
| 13 | Belgian Grand Prix | Circuit de Spa-Francorchamps, Spa | 28th August |
| 14 | Italian Grand Prix | Autodromo Nazionale Monza | 18th September |
| 15 | Chinese Grand Prix | Shanghai International Circuit | 9th October |
| 16 | Japanese Grand Prix | Suzuka Circuit | 16th October |
| 17 | Brazilian Grand Prix | Autodromo Jose Carlos Pace, Sao Paolo | 30th October |
Results and Standings
Overview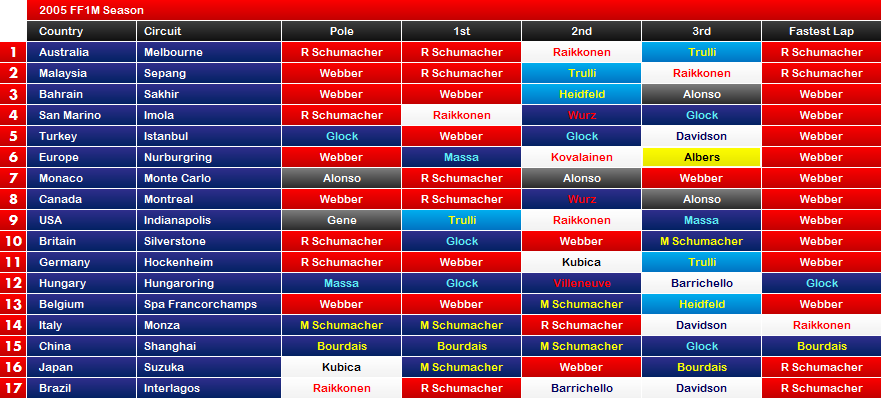 Testing
Test
Date
Country
Circuit
Fastest Driver (Team)
Pre Season
1
5th February
Spain
Circuit de Jerez
Fernando Alonso (Dark Wolf)
6th February
Sebastien Vettel (Mitchell)
2
12th February
Portugal
Estoril
Robert Kubica (Shake n Bake)
13th February
Timo Glock (Gui Racing)
3
19th February
United Arab Emirates
Yas Marina Circuit
Fernando Alonso (Dark Wolf)
20th February
Sebastien Vettel (Mitchell)
4
26th February
New Zealand
Taupo Motorsport Park
Timo Glock (Gui Racing)
27th February
Jarno Trulli (FJR)
Mid Season
1
16th April
Spain
Circuit de Catalunya, Barcelona
Juan Pablo Montoya (Andy Racing)
17th April
Alexander Wurz (Mitchell)
2
25th June
Italy
Autodromo Nazionale Monza
Fernando Alonso (Dark Wolf)
26th June
Timo Glock (Gui Racing)
3
3rd September
Germany
Nurburgring
Franck Montagny (Tornado)
4th September
Michael Schumacher (Dodgem)
Scoring system
Points are awarded to the top 8 classified finishers.
| | | | | | | | | |
| --- | --- | --- | --- | --- | --- | --- | --- | --- |
| Position |  1st  |  2nd  |  3rd  |  4th  |  5th  |  6th  |  7th  |  8th  |
| Points | 12 | 8 | 6 | 5 | 4 | 3 | 2 | 1 |
Championship Positions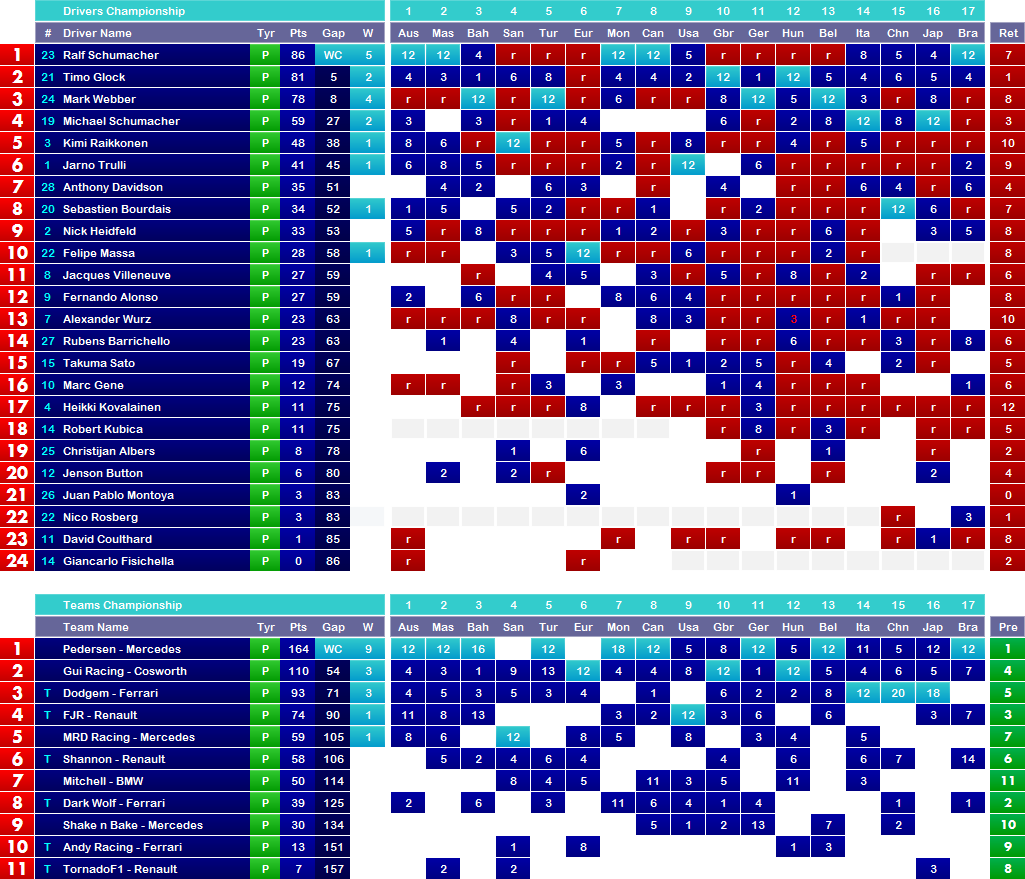 Community content is available under
CC-BY-SA
unless otherwise noted.