Overview
The 2004 FF2M Season was the first season of FF2M to be split into two eight race championships, one taking place during the pre season period in Asia and Australasia and a second more traditional series across Europe.
The Asian series was won by Frenchman Franck Montagny driving for Spaniel who also won the Asian Teams Championship. The European series was won by Giorgio Pantano driving for OLM Racing whilst Spaniel won the European Teams Championship.
Teams and Drivers
Team
Chassis
Engine
Tyre
No.
Race Drivers
OLM Racing
Dallara
Mecachrome
1
Giorgio Pantano
2
Jose Maria Lopez
STV Racing
Dallara
Mecachrome
3
Timo Glock
4
Christian Klien
Spaniel
Dallara
Mecachrome
5
Ricardo Zonta
6
Frank Montagny
Arden International
Dallara
Mecachrome
7
Bjorn Wirdheim
8
Tomas Enge
Coloni
Dallara
Mecachrome
9
Ernesto Viso
10
Enrico Toccacelo
LiquiTarget
Dallara
Mecachrome
11
Mathias Lauda
12
Luciano Burti
Light Wolf
Dallara
Mecachrome
14
Gianmaria Bruni
15
Neel Jani
Danish Racing
Dallara
Mecachrome
16
Patrick Friesacher
17
Nicolas Kiesa
Super Dodgy
Dallara
Mecachrome
18
Robert Doornbos
19
Antonio Pizzonia
Cramer
Dallara
Mecachrome
20
Tiago Monteiro
21
Gary Paffett
Shamrock
Dallara
Mecachrome
22
Ryan Briscoe
23
Ryan Fukuda
Results and Standings
Asia Series
Overview
Rd
Grand Prix / Event
Circuit
Pole Position
Race Winner
Fastest Lap
1
Abu Dhabi FF2M Grand Prix
Yas Marina
Giorgio Pantano
Giorgio Pantano
Giorgio Pantano
2
Indian FF2M Grand Prix
Chenai
Neel Jani
Ricardo Zonta
Ricardo Zonta
3
South Korean FF2M Grand Prix
Yeongham
Neel Jani
Neel Jani
Giorgio Pantano
4
Chinese FF2M Grand Prix
Shanghai
Neel Jani
Giorgio Pantano
Ricardo Zonta
5
Japanese FF2M Grand Prix
Suzuka
Tomas Enge
Timo Glock
Ricardo Zonta
6
New Zealand FF2M Grand Prix
Taupo
Christian Klien
Christian Klien
Christian Klien
7
Malaysian Grand Prix
Sepang
Tiago Monteiro
Tiago Monteiro
Tiago Monteiro
8
Bahrain Grand Prix
Sakhir
Tiago Monteiro
Frank Montagny
Ricardo Zonta
Championship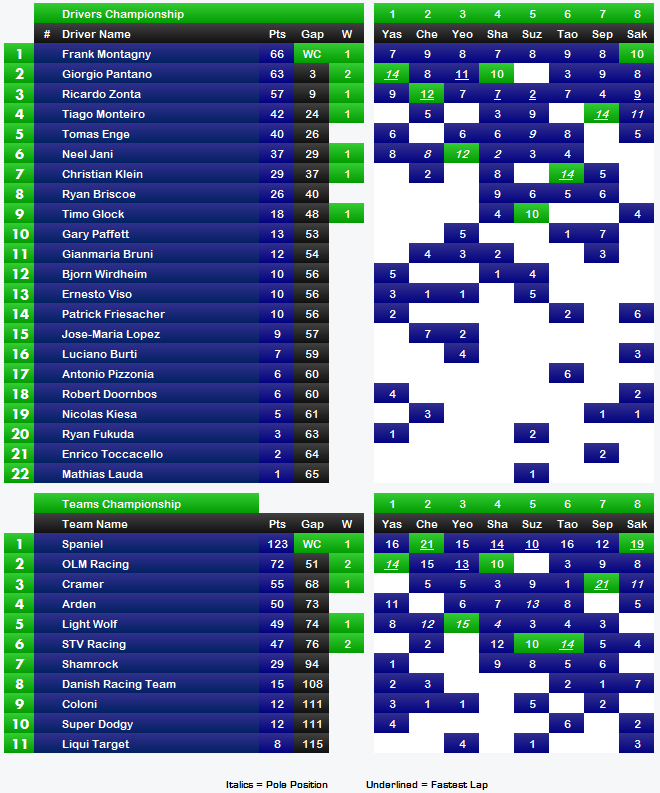 European Series
Overview
Rd
Grand Prix / Country
Circuit
Pole Position
Race Winner
Fastest Lap
1
San Marino Grand Prix
Autodromo Enzo e Dino Ferrari
Christian Klien
Ricardo Zonta
Ricardo Zonta
2
Monaco Grand Prix
Monte Carlo
Ricardo Zonta
Giorgio Pantano
Giorgio Pantano
3
British Grand Prix
Silverstone
Christian Klien
Ryan Briscoe
Timo Glock
4
Portuguese FF2M Grand Prix
Estoril
Timo Glock
Timo Glock
Giorgio Pantano
5
German Grand Prix
Hockenheimring
Giorgio Pantano
Tiago Monteiro
Ricardo Zonta
6
Belgian Grand Prix
Spa Francorchamps
Ricardo Zonta
Ricardo Zonta
Ricardo Zonta
7
Swedish FF2M Grand Prix
Anderstorp
Gianmaria Bruni
Giorgio Pantano
Giorgio Pantano
8
Italian Grand Prix
Monza
Timo Glock
Frank Montagny
Giorgio Pantano
Championship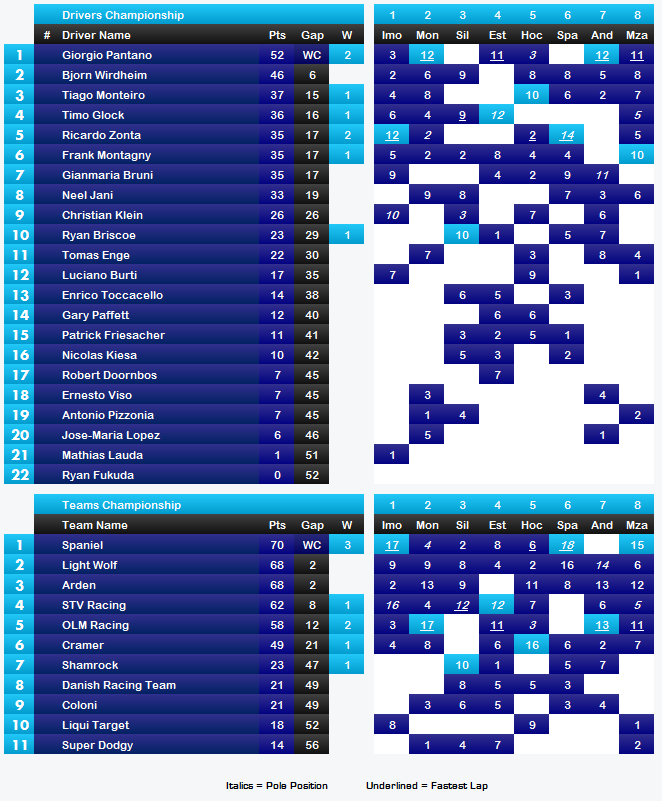 Community content is available under
CC-BY-SA
unless otherwise noted.