2000 FF2M Season

Previous: 1999
Next: 2001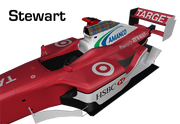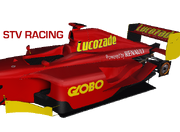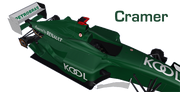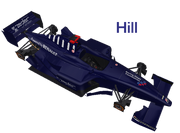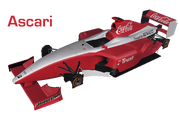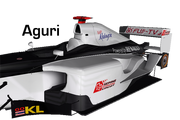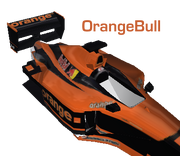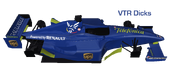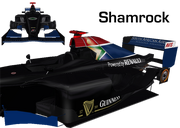 The
2000 FF2M Season
will be the 4th Season of
FF2M
. It will run alongside the
2000 FF1M Season
.
Rule Changes
The 2000 FF2M Season moved to GP4 for the first time and all teams (except for OrangeBull) would use standard cars designed by Dallara. After a dispute between the teams and the organisers, the AFIA announced that they would be changing the way prize money was given out for the 2000 season.
Teams and Drivers
Team
Entrant
Engine
Tyre
No.
Race Drivers
Paul Stewart Racing
Stewart
Renault
1
Darren Manning
2
Luciano Burti
STV Racing
STV Racing
Renault
3
Cristiano Da Matta
4
Oliver Gavin
Cramer
Cramer
Renault
5
Bruno Junqueira
6
Dario Franchitti
Graham Hill Racing
Hill
Renault
7
Justin Wilson
8
Sebastian Bourdais
Yellow Black Motorsport
Ascari
Renault
9
Tomas Enge
10
Christijan Albers
Team White
Aguri
Renault
11
Toranasuke Takagi
12
Alex Yoong
Team Green
Senna
Renault
14
Antonio Pizzonia
15
Tarso Marques
Dark Wolf
OrangeBull
Renault
16
Jos Verstappen
17
Enrique Bernoldi
VTR
VTR Dicks
Renault
18
Marc Gene
19
Stephane Sarrizan
Dodgem
Super Dodgy
Renault
20
Luca Badoer
21
Shinji Nakano
Shannon
Shamrock
Renault
22
Jan Magnussen
23
Stephen Watson
Team Changes
All team entries are currently provisional and will be until after entry is confirmed during the FF1M Pre Season Testing Period however all AFIA managed teams will be renamed in the honour of an ex Formula One driver for next season.
Race Schedule
Races will take place on the Friday's of FF1M weekends except for Standalone events which will have qualifying sessions on Saturdays and Races on Sunday's.
Results and Standings
Testing
The seasons shakedown test took place at Monza during the final week of pre-season. For the second year in a row Cristiano Da Matta was fastest driving for STV Racing for the first time. Justin Wilson was 2nd ahead of Marc Gene (VTR Dicks), Dario Franchitti (Cramer) and Jos Verstappen (OrangeBull).
Races
Round
Supporting Grand Prix
Circuit
City / Location
Notes
1
Standalone Event
Autodromo do Estoril
Estoril
2
San Marino Grand Prix
Autodromo Enzo e Dino Ferrari
Imola
3
British Grand Prix
Silverstone Circuit
Silverstone
4
Spanish Grand Prix
Circuit de Catalunya
Barcelona
5
European Grand Prix
Nurburgring
Nurburg
6
Monaco Grand Prix
Circuit de Monaco
Monte Carlo
7
Standalone Event
Brands Hatch GP
Brands Hatch
8
Austrian Grand Prix
A1 Ring
Spielberg
9
German Grand Prix
Hockenheimring
Hockenheim
10
Hungarian Grand Prix
Hungaroring
Budapest
11
Belgian Grand Prix
Circuit de Spa-Francorchamps
Spa
12
Italian Grand Prix
Autodromo Nazionale Monza
Monza
Championship Standings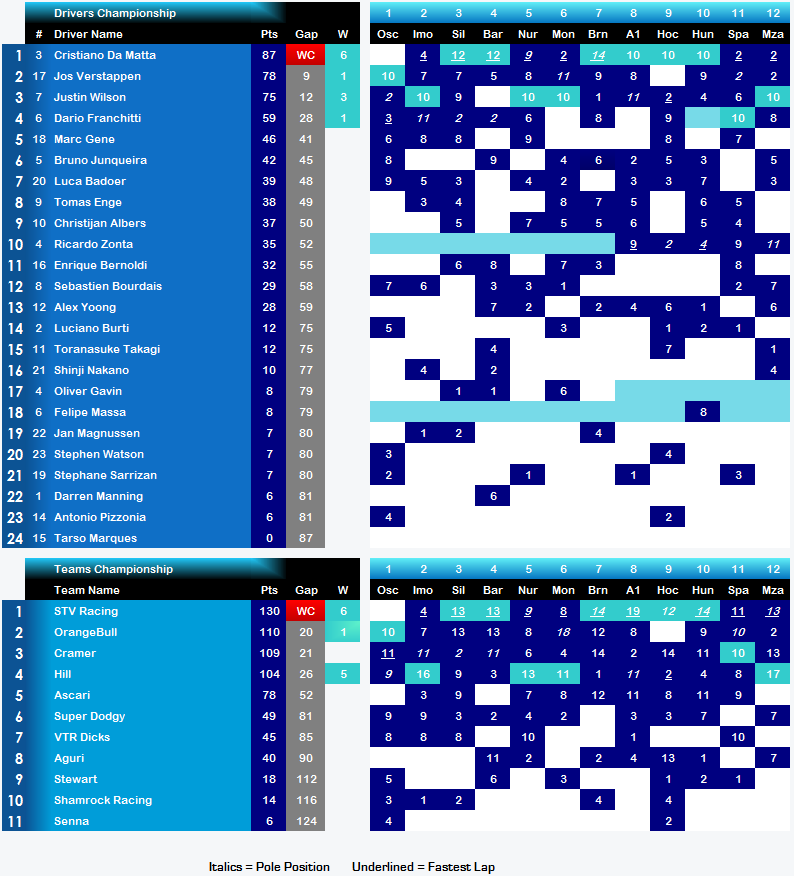 Community content is available under
CC-BY-SA
unless otherwise noted.