1999 FF2M Season

Previous: 1998
Next: 2000
The 1999 FF2M Season was the 3rd Season of FF2M and the first under that name. It ran alongside the 1999 FF1M Season at European FF1M events and also had its own stand-alone event in the middle of the season. The Drivers Championship was won by Brazilian Ricardo Zonta driving for Paul Stewart Racing after a season-long battle with fellow countryman Cristiano Da Matta driving for Cramer. Paul Stewart Racing also won the Teams Championship ahead of last seasons winners STV Racing.
Rule Changes
Aside from the series name changing from FF1M-3000 to FF2M, the main rule change for the 1999 Season is that only drivers of ages 30 or younger may now compete in the series. The Engine supplier has also changed from Mugen Honda to Renault.
Teams and Drivers
Entrant
Team
Engine
Tyre
No.
Race Drivers
Telefonica STV Racing
STV Racing
Renault
1
Pedro De La Rosa
2
Marc Gene
Cramer
Cramer
Renault
3
Enrique Bernoldi
4
Cristiano Da Matta
MotoGB
Team Blue
Renault
5
Jamie Davies
6
Stephen Watson
YB Motorsport
YB Motorsport
Renault
7
Luca Badoer
8
Pedro Lamy
Team Gray
Team Gray
Renault
9
Tomas Enge
10
Emmanuel Collard
Giancarlo Fisichella
Coca Cola
Team Red
Renault
11
Justin Wilson
12
Esterban Tuerro
Petrobras Racing
Team Green
Renault
14
Max Wilson
15
Tarso Marques
Team White
Team White
Renault
16
Shinji Nakano
17
Gaston Mazzacane
Paul Stewart Racing
Paul Stewart Racing
Renault
18
Ricardo Zonta
19
Jan Magnussen
Jos Verstappen
Gauloises Junior Team
Team Purple
Renault
20
Stephane Sarrizan
21
Laurent Redon
MRD Junior
MRD Racing
Renault
22
Toranasuke Takagi
23
Oliver Gavin
Team Changes
On 16th October 2009 it was announced that Super Dodgy would not be competing in FF2M for 2009 meaning a return to the sport for Team Purple running as Gauloises Jnr Team.
Mid Season Driver Changes
Jan Magnussen was signed by FF1M Team MPR following the Spanish Grand Prix and was replaced for the next round by Dutchman Jos Verstappen for the rest of the series.
Giancarlo Fisichella replaced Emmanuel Collard at Team Gray from the Portuguese Grand Prix onwards.
Results and Standing
Race Calendar
Round
Supporting
Circuit
City / Location
Winning Driver (Team)
1
San Marino Grand Prix
Autodromo Enzo e Dino Ferrari
Imola
Justin Wilson (Coca Cola)
2
Monaco Grand Prix
Circuit de Monaco
Monte Carlo
Cristiano Da Matta (Cramer)
3
Spanish Grand Prix
Circuit de Catalunya
Barcelona
Cristiano Da Matta (Cramer)
4
Portuguese Grand Prix
Autodromo do Estoril
Estoril
Marc Gene (STV Racing)
5
Standalone event
Motorsport Arena Oschersleben
Oschersleben
Giancarlo Fisichella (Team Gray)
6
 European Grand Prix
Nurburgring
Nurburg
Ricardo Zonta (Paul Stewart Racing)
7
British Grand Prix
Silverstone Circuit
Silverstone
Giancarlo Fisichella (Team Gray)
8
Austrian Grand Prix
A1 Ring
Spielberg
Jos Verstappen (Paul Stewart Racing)
9
German Grand Prix
Hockenheimring
Hockenheim
Cristiano Da Matta (Cramer)
10
Hungarian Grand Prix
Hungaroring
Budapest
Giancarlo Fisichella (Team Gray)
11
Belgian Grand Prix
Circuit de Spa-Francorchamps
Spa Francorchamps
Pedro De La Rosa (STV Racing)
12
Italian Grand Prix
Autodromo Nazionale Monza
Monza
Ricardo Zonta (Paul Stewart Racing)
Testing
The FF2M teams took part in a final shakedown test at the Estoril circuit in Portugal ahead of their season opener in Imola. Cramer Racing's Cristiano Da Matta set the fastest time of the day, ahead of STV Racings Pedro De La Rosa. Esterban Tuerro was 3rd, with Gui Racing test driver Enrique Bernoldi 4th ahead of Ricardo Zonta and Luca Badoer.
Championship Standings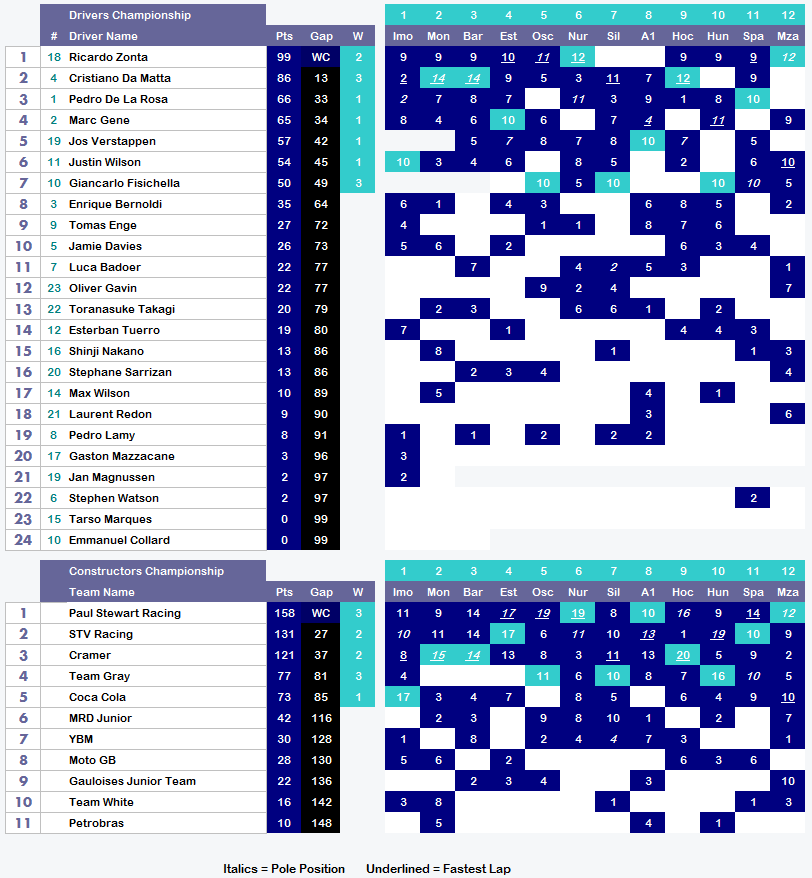 Community content is available under
CC-BY-SA
unless otherwise noted.