1999 FF1M Season

Previous: 1998
Next: 2000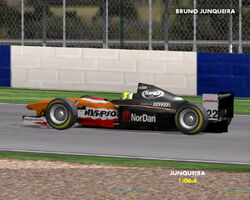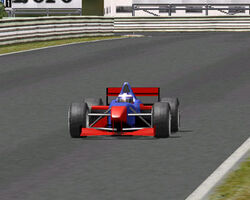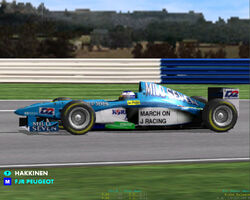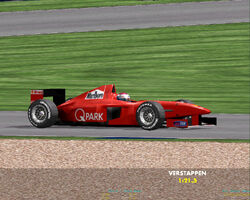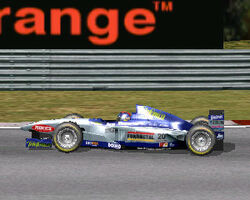 The 1999 FF1M Season was the 12th Season of FF1M. It loosely followed the 1999 Formula One Season and was supported by the 1999 FF2M Season on the first day of all European Race Weekends.
Rule Changes
This season will be the first where driver contracts have been signed during the previous season's silly season. Also the Rookie Driver rules have been changed, with only drivers of ages 30 years and younger allowed to be classified as Rookie Drivers.
Season Review
The season began as 1998 had finished with FJR's Heinz Harald Frentzen winning the first two back to back fly away events and he looked set to dominate the season. But as the teams returned to Europe he was struck by reliability gremlins and would not win again until the British Grand Prix midway through the season. Another German struggling with reliability was reigning world champion Michael Schumacher, now driving for Gui Racing who failed to finish five of the first seven events, winning the two that he finished in Imola and Barcelona. His brother and team mate Ralf Schumacher meanwhile did not suffered the same unreliability and was able to build his points tally and took a fortunate win in Canada to put him in a championship challenging position by mid-season.
Meanwhile a resurgent Maestro Motorsport team led by Columbian Juan Pablo Montoya quietly and consistently took points and a couple of wins with the Columbian taking over the championship lead from Frentzen. Meanwhile new team MRD Racing had shown pace beyond its years and was quickly scoring points, pole positions and even wins but was severely hampered by several key mistakes by their drivers, one such mistake coming at the Spanish Grand Prix when Jarno Trulli, looking certain for his maiden victory in FF1M, ran into the back of a backmarker. The same thing also happened in Canada leading to the Italian being given a ten second post race penalty, but inbetween the two races Trulli was able to capitalise on Schumachers reliability woes and snatch that first win at the Portuguese Grand Prix at Estoril.
After Canada the teams returned to Europe following a week of testing and whilst Gui Racing dominated qualifying at the Nurburgring, Maestro Motorsport's Montoya dominated the race. Up to this point Montoya had finished every race, all but one of them in the points but disaster struck at Silverstone when an Engine problem ruined his record three laps from the finish. Montoya would fail to finish the next two races after a collision with team-mate David Coulthard in Austria and another collision this time with Alessandro Zanardi at Hockenheim. Jarno Trulli was also about to embark on a run of unreliability failing to finish four consecutive races from the European Grand Prix to the German Grand Prix, Trulli's team-mate Nick Heidfeld ensured that there was some cheer in the MRD Racing camp however, capitalising on Trulli's late retirement at the A1 Ring to win his first race. Meanwhile FJR had quietly returned to the front after a difficult second quarter of the season, Frentzen won brilliantly in Britain and Hakkinen followed this up with victory at the German Grand Prix.
In Hungary Jarno Trulli put his bad reliability behind him to dominate a race which saw many accidents on the dusty twisty track, he then followed it up by winning the Belgian and Singapore Grands Prix putting himself in contention for a surprise title. Mid season leaders Montoya and Ralf Schumacher had both inherited Trulli's bad luck and bad driving when dealing with backmarkers and soon the championship became a six horse race when Mika Hakkinen won the Italian Grand Prix after a race long battle with Ralf.
Montoya's bad luck continued in Singapore and Malaysia, both races he had led before retiring with mechanical problems and allowing Jarno Trulli to win both races putting him in prime position for the title. Montoya would go on to win the final race of the season in Japan, but it was too little too late as Trulli finished 2nd doing enough to win the title.
Teams and Drivers
The following Teams and Drivers competed in the 1999 FF1M Season.
Team
Engine
Tyre
No.
Race Drivers
Test Driver/s
Gui Racing
Ford (Works)
1
Michael Schumacher
Enrique Bernoldi
2
Ralf Schumacher
Dodgem
Ferrari
3
Jacques Villeneuve
Luca Badoer
4
Rubens Barrichello
MPR
Mercedes (Works)
5

Jos Verstappen

Jan Magnussen
6

Giancarlo Fisichella

Mika Salo
FJR
Peugeot (Works)
7
Heinz-Harald Frentzen
Pedro De La Rosa
8
Mika Hakkinen
VTR
Supertec
9
Allan McNish
10
Johnny Herbert
Willow Images
Mugen Honda
11
Alessandro Zanardi
12
Jorg Muller
Talent Racing
Ilmor
14
Pedro Diniz
15
Ricardo Rossett
Dark Wolf
Peugeot (Works)
16
Alexander Wurz
17
Eddie Irvine
Maestro Motorsport
Ferrari
18
Juan Pablo Montoya
Franck Montagny
19
David Coulthard
MRD Racing
Ferrari (Works)
20
Bruno Junqueira

Jarno Trulli

Bruno Junqueira

Jarno Trulli
21
Nick Heidfeld
Ajay Motorsports
Supertec
22
Olivier Panis
Justin Wilson
Justin Wilson
23
Alex Yoong
Ricardo Zonta
Team Changes
At the end of the 1998 FF1M Season AquinoPlus announced that they were withdrawing from FF1M with immediate effect[1]. The AFIA immediately announced that new team MRD Racing would be replacing them. During the Pre Season Entry Period doubts were also raised about J Racings continued participation in the series [2]. These doubts proved correct and as a result Ajay Motorsports took their place.
Driver Changes (During the season)
After impressing in pre-season testing Jarno Trulli was promoted to a race driver at MRD Racing from round two of the championship onwards replacing Bruno Junqueira.
A poor start to the season led MPR to fire Jos Verstappen and Giancarlo Fisichella after just four races. They were replaced by Mika Salo and Jan Magnussen.
It was announced after the Hungarian Grand Prix that Alex Yoong would be replaced at Ajay Motorsports by the winner of feeder series FF2M following the Italian Grand Prix. Whilst Olivier Panis was also replaced to give team test driver Justin Wilson his chance.
Results and Standings
Grands Prix
Round
Grand Prix
Pole Position
Fastest Lap
Race Winner
1
Australian GP
Heinz Harald Frentzen (FJR)
Juan Pablo Montoya (Maestro Mspt)
Heinz Harald Frentzen (FJR)
2
Brazilian GP
Ralf Schumacher (Gui Racing)
Ralf Schumacher (Gui Racing)
Heinz Harald Frentzen (FJR)
3
San Marino GP
Heinz Harald Frentzen (FJR)
Michael Schumacher (Gui Racing)
Michael Schumacher (Gui Racing)
4
Monaco GP
Mika Hakkinen (FJR)
Heinz Harald Frentzen (FJR)
Juan Pablo Montoya (Maestro Mspt)
5
Spanish GP
Jacques Villeneuve (Dodgem)
Jarno Trulli (MRD Racing)
Michael Schumacher (Gui Racing)
6
Portuguese GP
Michael Schumacher (Gui)
Michael Schumacher (Gui Racing)
Jarno Trulli (MRD Racing)
7
Canadian GP
Jarno Trulli (MRD Racing)
Jarno Trulli (MRD Racing)
Ralf Schumacher (Gui Racing)
8
European GP
Ralf Schumacher (Gui Racing)
Juan Pablo Montoya (Maestro Mspt)
Juan Pablo Montoya (Maestro Mspt)
9
British GP
Jacques Villeneuve (Dodgem)
Heinz Harald Frentzen (FJR)
Heinz Harald Frentzen (FJR)
10
Austrian GP
David Coulthard (Maestro Mspt)
Jarno Trulli (MRD Racing)
Nick Heidfeld (MRD Racing)
11
German GP
Jarno Trulli (MRD Racing)
Nick Heidfeld (MRD Racing)
Mika Hakkinen (FJR)
12
Hungarian GP
Jarno Trulli (MRD Racing)
Michael Schumacher (Gui Racing)
Jarno Trulli (MRD Racing)
13
Belgian GP
Nick Heidfeld (MRD Racing)
Jarno Trulli (MRD Racing)
Jarno Trulli (MRD Racing)
14
Italian GP
Nick Heidfeld (MRD Racing)
Mika Hakkinen (FJR)
Nick Heidfeld (MRD Racing)
15
Singapore GP
Juan Pablo Montoya (Maestro)
Jarno Trulli (MRD Racing)
Juan Pablo Montoya (Maestro)
16
Malaysian GP
Jarno Trulli (MRD Racing)
Jarno Trulli (MRD Racing)
Jarno Trulli (MRD Racing)
17
Japanese GP
Jarno Trulli (MRD Racing)
Juan Pablo Montoya (Maestro)
Jacques Villeneuve (Dodgem)
Apart from the Season Opener and Season Finale, none of the races were on specific days in 1999
Testing
Test
Day
Country
Circuit
Fastest Driver
Team
Pre Season
1
1
Great Britain
Silverstone Circuit
Michael Schumacher
Gui Racing - Ford
2
Juan Pablo Montoya
Maestro Motorsport - Ferrari
2
1
Italy
Autodromo Nazionale Monza
Juan Pablo Montoya
Maestro Motorsport - Ferrari
2
Jarno Trulli
MRD Racing - Ferrari
3
1
Portugal
Autodromo do Estoril
Michael Schumacher
Gui Racing - Ford
2
Mika Hakkinen
FJR - Peugeot
4
1
Japan
Suzuka
Jarno Trulli
MRD Racing - Ferrari
2
Michael Schumacher
Gui Racing - Ford
Mid Season
1
1
France
Circuit Paul Ricard
Michael Schumacher
Gui Racing - Ford
2
Ralf Schumacher
Gui Racing - Ford
2
1
USA
Indianapolis
Heinz Harald Frentzen
FJR - Peugeot
2
Jarno Trulli
MRD Racing - Ferrari
3
1
Germany
Oschersleben
Michael Schumacher
Gui Racing - Ford
4
1
Spain
Circuito Permante de Jerez
Michael Schumacher
Gui Racing - Ford
2
Jarno Trulli
MRD Racing - Ferrari
Qualifying Positions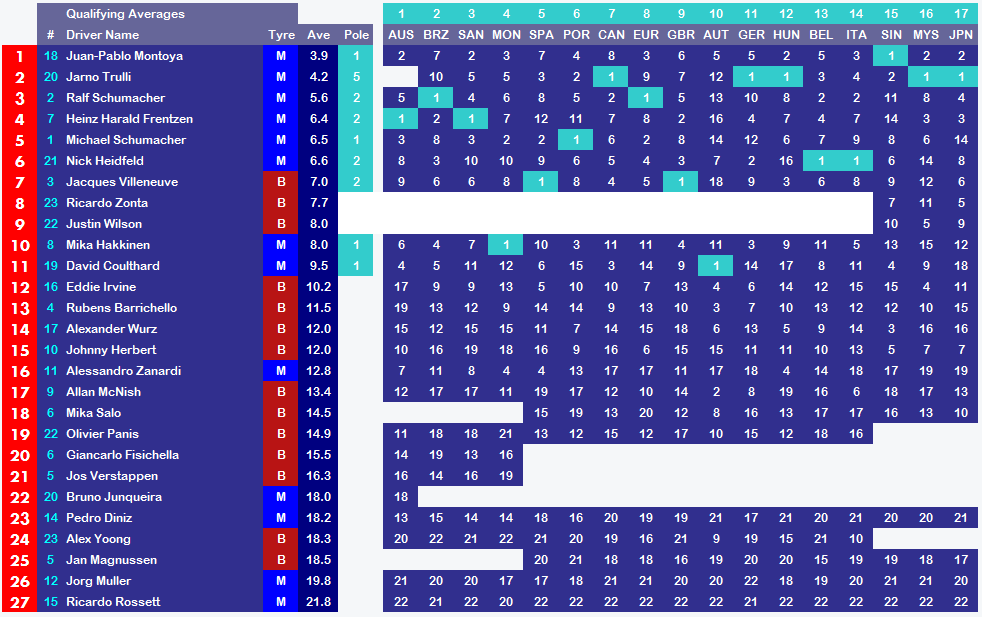 Championship Standings